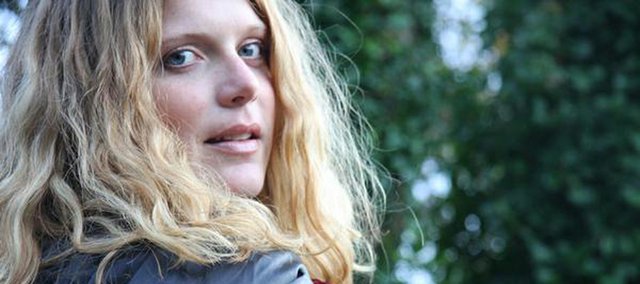 Audio clip
"Sea Blue Eyes"
Past Event
Sunday, March 14, 2010, 2 p.m.
Lawrence Arts Center, 940 New Hampshire St., Lawrence
All ages / $10
Past Event
Sunday, March 14, 2010, 7 p.m.
Lawrence Arts Center, 940 New Hampshire St., Lawrence
All ages / $20
"Where are you from?"
The question became so pervasive that when Ashley Davis was earning her master's in traditional Irish music at the University of Limerick, she learned how to respond in Gaelic.
Is as Kansas dom ach tá mé i mo chónaí i Nua Eabhrac anois.
Translation: "I am from Kansas, but I now live in New York."
"People get on me all the time because in New York City when people ask me where I'm from, I don't say, 'Hell's Kitchen,' I still say, 'I'm from Lawrence, Kansas, but I live in New York City,'" Davis explains.
Now in the seven years since the singer headed to New York to pursue music full time, she'll have to shuffle the phrase.
Davis moved back to Lawrence in October so her husband (having just gotten hitched in December) could study nursing at Kansas University.
"I love being back in Lawrence where I feel so relaxed and calm, and I have the space to be creative and not just think about surviving every day," she says.
Davis is hardly estranged from the nation's cultural capitol — she continues to commute, spending about 10 days a month there.
"I worked so hard over the past years in New York to make a name for myself there. And I've done it. I sell out my shows there. But when coming back the realization for me was I had completely neglected the Midwest this past decade," she says.
Davis is taking charge of setting things right. On Sunday she'll perform two concerts at the Lawrence Arts Center. One will cater to children, and the other will present her club set. Davis will be joined by Cormac De Barra, Ireland's leading harp player and a native Gaelic speaker.
The pair will perform tracks from her Davis' new album, "Down by the Sea," that she recorded last year in Dublin. The 11-song disc features a who's who of traditional Irish musicians, including The Chieftains' Paddy Moloney, Cherish the Ladies' Joanie Madden and Clannad's Moya Brennan.
Davis is especially proud of the heavy ratio of original music on the album — which is in direct contradiction to the strategy of most stylistically similar releases.
"One of my favorite quotes a journalist ever said was, 'If Irish traditional music is ever going to become anything other than a museum piece, it needs people like Ashley Davis,'" she says, citing Sean O Driscoll of The Irish Times.
"I see that it really needs to have people creating music that is a nod at the tradition but it's also new. It's not the same song being done in a different way over and over again. ... If they like the voice, they're going to buy your album. It doesn't have to have 'Danny Boy' on every record."
Strong stories
Upon graduating Lawrence High School in 1994, Davis headed to Belmont University in Nashville to help break into the country music scene. But after happening across a disc by Kansas City-based Celtic performer Connie Dover she instead began studying literature of the British Isles and Ireland.
Captivation with the culture became even more pronounced when she headed to Ireland to tackle her master's.
She says, "When people think of Irish music they immediately think of uilleann pipes, flutes, whistles and that type of thing. What I think of are two things: really pounding fast jigs that will light a fire under anybody. ... The other is the beautiful song side with gorgeous melodies and plainly beautiful lyrics that tell great stories. And I think that's why the literary world often collides with Irish music."
Indeed, Davis became increasingly immersed in the Irish literary scene. Author T.J. English ("Havana Nocturne") and the late Frank McCourt ("Angela's Ashes") were frequent attendees of her New York performances.
"She's a gorgeous singer. In old Irish we would say: 'She has a wren in her throat,'" says Colum McCann, winner of the 2009 National Book Award for "Let the Great World Spin."
"I first saw her perform about five years ago — she sang 'Raglan Road,' and it took all the oxygen from the air."
Political parties
It wasn't just Pulitzer Prize-winning authors who took a liking to Davis' pure tones and poignant songwriting.
"The Irish government is extremely supportive of the arts, so I started being invited to prestigious political parties in New York," she says. "I did a U.N. concert where I sang for all these different heads of state. The Irish have such a love of song and storytelling that you are just the jewel of the party if you have that ability."
No matter how austere the gathering proved to be, Davis says she'd inevitably be asked to sing.
"Midwesterners are like, 'We wouldn't want to impose on anybody,' in case somebody doesn't want to hear a song. But the Irish are like, 'Of course they want to hear a song!'" Davis explains.
"She has an extraordinary musical talent allied to a tremendous honesty and integrity. A truth, really," says Niall Burgess, Consul General of Ireland for New York City.
"Ashley is proof that you don't have to be born in Ireland to make great Irish music. It can emerge as powerfully from Kansas as from Clare."
Davis hopes to impart a bit of that Irish spirit while back in her hometown. She plans on teaching Celtic music and voice at the Americana Music Academy. And she promises that any local Lawrence merchant who writes her at Ashley (at) daisyrings (dot) com will get a copy of "Down by the Sea" delivered to their store.
"Not only did my parents raise me, but this community raised me," she says. "I truly look at Lawrence as a village effort in molding me as to who I walked out of here as an 18-year-old. I have a lot to pay back."