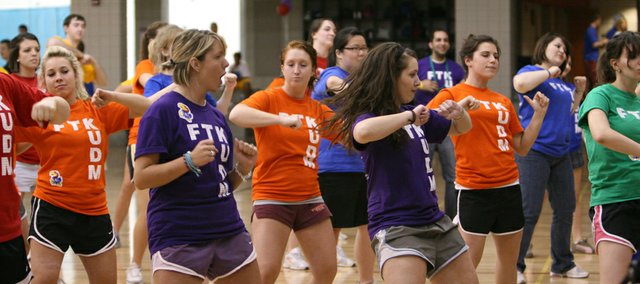 When staging a dance marathon, one would be wise to do some research.
A 1974 dance marathon at the University of Virginia for the benefit of Multiple Sclerosis resulted in a misdemeanor charge and a $363 bill for a stolen lamp. Organizers later discovered that the Code of Virginia banned events of physical endurance such as marathon dances, citing safety concerns.
Kansas University's Dance Marathon — scheduled to take place April 10 at the Ambler Student Recreation Fitness Center — will take heed of such historical guffaws and treat participants to a non-illegal, non-rigorous slate of activities to benefit the Children's Miracle Network.
"It's a 12-hour party," says Lauren Winchester, a KU student who serves as the event's associate director. "We teach all of the participants this eight-minute dance throughout the night, so that by the end of the night we all can perform the dance together. It gives everyone a feeling of accomplishment."
The event serves as a symbolic gesture of solidarity with the children who benefit from the Children's Miracle Network. The alliance of 170 children's hospitals includes two Kansas City-area providers that will split the proceeds from the marathon: Children's Mercy Hospitals and the Department of Pediatrics at the KU Medical Center. Neither turns away patients who are uninsured or underinsured.
Marathon organizers are making it a goal to donate $50,000 this year. Community members are welcome to attend for a suggested donation of $5, and local companies can sponsor the event and donate food and entertainment.
Topeka resident Yvonne Hamilton attended last year's inaugural KU Dance Marathon with her son Eric. Now 2 1/2 years old, Eric was born with Down syndrome and kidney problems that required multiple surgeries.
Hamilton says that her son enjoyed last year's marathon and a recent mini-marathon at Lawrence High School.
"It's really cool to see the turnout, and with the families there, the students get a sense of who they're helping," she says. "Eric gets so much attention, and he loves it."
Yvonne and Eric will be joined at this year's event by a number of other families who benefit from the Children's Miracle Network.
For marathon organizers like KU sophomore Hilary Ferguson, those interactions make the experience more tangible.
"You get to see where your money is going," Ferguson says. "(Last year) we got a little bit tired at the end, but there was always an event or a family speaking that got us back up and moving."
Pay it forward
The Children's Miracle Network held its first dance marathon 18 years ago at Indiana University for the benefit of HIV/AIDS victim Ryan White. The event was so successful that several universities across the country adopted the fundraising model.
Last year's KU Dance Marathon raised $20,000. According to Children's Miracle Network of Greater Kansas City executive director Ile Haggins, that amount more than doubled what a traditional first-year university donates.
"It was amazing," Haggins says. "Lawrence is a wonderful community to support something like this because the community is so involved with the university. Lawrence citizens have such huge hearts. It's a pay-it-forward kind of thing."
Haggins says that the economic recession has heightened the need for fundraising. In addition to offsetting the costs of treating the uninsured, donations help clinics purchase new pieces of equipment such as a $35,000 incubator.
"As everyone knows, the cost of health care is astronomical," Haggins says. "Most regions don't have two children's hospitals in their area, so we're blessed."
In addition to the money raised, Haggins witnessed another "miracle" at last year's KU Dance Marathon when a father who had lost his infant son to cancer participated in the volleyball tournament.
"He was a huge Mizzou fan and we got him to wear a KU shirt for the night," Haggins says with a laugh.
Apparently, miracles do happen.