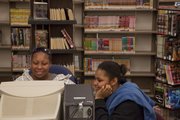 Teens who will spend spring break at home — or will need some reading material on a long car trip — may want to check out some new, and sometimes unsettling, reads for young adult readers. Rebecca Power, Lawrence Public Library's new teen services librarian, and other staff compiled some recommended reading for the vacation from textbooks.
"Highway to Hell" by Rosemary Clement-Moore
On their way to spend spring break on a Texas beach, Maggie, a psychic, and Lisa, a sorceress, become stranded in a town where some believe a chupacabra is sucking the life out of the livestock. A story about spring break gone awry, this book should make you feel better about staying at home this week. Plus, who doesn't love a chupacabra?
"The Chosen One," by Carol Lynch Williams
Kyra, 13, lives with her father, three mothers and 20 siblings in an isolated polygamist cult led by their Prophet. When the Prophet decrees that she will marry her 60-year-old uncle, Kyra is horrified and protests, but soon discovers she has no power. This suspenseful tale of life's choices and trade-offs is a quick, riveting read.

"Carter Finally Gets It," by Brent Crawford
Carter, a freshman, is trying hard to figure out high school but is forever distracted by boobs, belly buttons, bullies and his "boys." Guys, you'll love Carter's hysterical trials in love and sports, but girls, read this, too, to learn the truth about how guys think. The narrator of the audiobook is especially good, so get this one on CD. Then take advantage of spring break privacy so you don't embarrass yourself snorting with laughter.
"Freak Show," by James St. James
A self-proclaimed gender obscurist, Billy Bloom's flamboyant, technicolor, cross-dressing ways make him a prime target for bullying in his conservative new school. But he soldiers on, spirit strong, and shows the throngs what it is to be FABULOUS. His over-the-top, theatrical voice might take a bit of getting used to, but before long, you'll want Billy Bloom as your new best friend.
"Wicked Lovely," by Melissa Marr

Rule No. 3, don't stare at invisible faeries. Rule No. 2, don't speak to invisible faeries. Rule No. 1, don't ever attract their attention. Seventeen-year-old Aislinn manages to break all the rules and is drawn against her will into a centuries-old battle between the Summer King and the Winter Queen. Her life, her love and summer all hang in the balance. Spring break is plenty of time to bury yourself in this addictive series. Read all three books to prepare for the fourth, due out April 20.
"So Yesterday," by Scott Westerfeld
Where do you fall on the hierarchy of cool? Are you an innovator, creating cool from scratch; a trendsetter, spotting and spreading cool; or a consumer, buying what you're told is cool? Hunter, a trendsetter, feeds the latest cool to major corporations so they can market it to the masses. After meeting Jen, a rare innovator, his world turns upside down. Sharp social commentary goes down easy with this fast-paced, witty thriller.
"The Season," by Sarah MacLean
Showing no interest in the sumptuous balls, dinner parties and country weekends enjoyed by the rest of 19th-century London society, 17-year-old Lady Alexandra Stafford seeks adventure as she investigates the murder of the Earl of Blackmoor, father of devilishly handsome Gavin. A gripping mystery you won't be able to put down.
"Shiver" by Maggie Stiefvater
Bereft "Twilight" fans, your search for a worthy successor is over. Delve into the love story between Grace and her werewolf, Sam. Ever since Grace survived a wolf attack as a child, she's had a deep bond with one of the wolves. In a moment of trauma, her wolf takes on human form and they are united for the first time. Sam changes form with the season but will one day stay a wolf forever. Will Grace and Sam find a way to stay together?