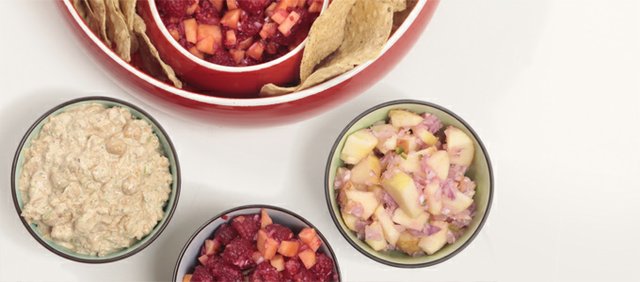 Wednesday, March 17, 2010
Special diets glossary
Definitions of the terms used in our watch party menu tailored to special diets:
Vegetarian: Not containing any meat, fowl or fish.
Vegan: Not containing any animal products.
Diet-friendly: Calorie-conscious.
Kosher: Abiding by Jewish dietary law.
Gluten-free: Made without the protein commonly found in wheat, rye and barley.
Nut-free: Made without peanuts, almonds, walnuts, cashews and other tree nuts.
Kid-friendly: Appealing for children and easy for small kids to handle.
Diabetic-friendly: Low in sugar and carbohydrates.
Lactose-free: Made without milk or milk products.
Sometimes it's a task more difficult than filling out a winning bracket: figuring out what to feed everybody at a March Madness watch party.
Inevitably, the love of basketball will bring together people with very different eating styles and considerations. Meaning that for every group gathered around the TV to root on the Jayhawks, there's at least one person watching his or her weight, a picky pint-sized eater or two, a friend with an allergy or sensitivity to nuts, lactose or gluten, someone trying to keep kosher, a diabetic or even a vegetarian or vegan.
"There are so many people today on special diets that every host should assume that someone attending will need to avoid one - if not all - of the big four: dairy, eggs, gluten, peanuts," says JoAnn Farb, a gluten-sensitive vegan and local author of "Get Off Gluten." "The savvy entertainer will select a menu that mostly, if not entirely, eliminates all four of these."
So, what to serve if you're a host or hostess expecting someone with special dietary restrictions? Lucky for you, we found recipes perfect for every type of party-goer. And we labeled each hoops-worthy snack with what type of diner for which it is appropriate, though the recipes are so tasty that there might be some major party-foul elbows thrown for the last bite.
And who knows? If the Jayhawks keep winning, one of the following dishes might become the lucky one you make for each and every game.
Raspberry Salsa
(Vegetarian, kosher, kid-friendly, vegan if you don't use the honey, gluten-free if served with gluten-free chips)
2 cups fresh raspberries
2 peaches, peeled and finely chopped
1/2 cup minced red onion
1 or 2 hot peppers, seeded and finely minced
Juice of 1 lime
1 tablespoon red wine vinegar
1 teaspoon honey, turbinado or brown sugar
1/4 teaspoon salt
Combine all ingredients. Refrigerate for at least half an hour to allow flavors to blend. Makes about 21/2 cups salsa.
Chickpea "Tuna" Salad
(Gluten-free, vegan, lactose-free, kosher, kid-friendly)
4 cups cooked or canned chickpeas (garbanzo beans)
2 teaspoon powdered kelp
4 teaspoons wheat-free organic tamari
1 tablespoon lemon juice
1/2 cup organic Veganainse
2 stalks of celery, finely diced
3 tablespoons of finely diced onion
1/4 teaspoon ground dill weed or ground dill seed
1/2 teaspoon paprika
Drain the chickpeas and put them into a large bowl. Use a potato masher and partially mash them - not to a totally blended mush, only enough so each bean is a little bit flattened, and a few chunks remain. Sprinkle in the kelp, add the tamari, lemon juice and Veganaise and mix well. Add the onion, celery, dill and paprika and stir. Serve on a bed of lettuce, with rice crackers, or as a sandwich filling with lettuce and tomatoes.
Apple Salad with Jalapeño-Lime Dressing
(Vegetarian, lactose-free, kosher, nut-free, diet-friendly, vegan if you do not use honey)
3 cups cubed, firm, sweet apple
1 cup coarsely chopped red onion
1 jalapeño, seeded and finely minced
1 teaspoon canola oil
3 tablespoons lime juice
1 teaspoon honey or brown sugar
1/4 teaspoon salt
1/8 teaspoon freshly ground cumin seed
Combine apples, onions and jalapeño pepper together in a medium-sized bowl. Combine remaining ingredients and pour over apple mixture. Toss to coat apples. Chill well. Serves 4.
Creamy Tuna Salad with Tomatoes
(Diabetic-friendly, diet-friendly)
3/4 cup low-fat cottage cheese
1 can (5 ounces) white tuna in water, drained, flaked
1/4 teaspoon dill weed
2 green onions, sliced, divided
1 tomato, cut into 4 slices
Combine cottage cheese, tuna, dill and half the onions. Place 2 tomatoes on each of 2 salad plates. Top with tuna mixture and remaining onions.
Want more gluten-free recipes?
JoAnn Farb, local author of "Get off Gluten," will be making her chickpea tuna salad and providing samples at a "Meat Out" event from 2:30 to 5:30 p.m. Saturday at the Lawrence Public Library, 707 Vt. There will also be movies, kids' games, free recipes and educational information.
Mini Pizzas
(Kid-friendly, nut-free)
4 English muffins, cut in half, toasted
1/2 cup pizza sauce
1 cup shredded mozzarella cheese
1/4 cup grated parmesan cheese
24 slices pepperoni
Heat oven to 400 degrees. Place muffin halves on foil-covered baking sheet; spread with pizza sauce. Top with remaining ingredients. Bake 8 to 10 minute or until cheese is melted.