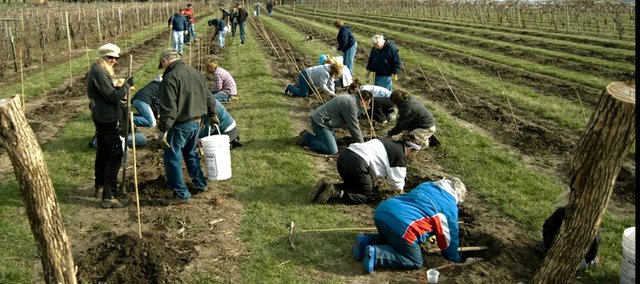 It's spring in Kansas, pruning time in the vineyards.
That seems an incongruous statement in the land of amber waves of grain, but time was when Kansas and the Midwest dominated American winemaking. If Kansas wineries have their way, that time will come again.
Prior to Prohibition in 1919, Kansas and Missouri produced most of America's wine, using sweeter native grapes like Concord and Catawba, along with a few native-French hybrids.
After Prohibition, the Midwest's wine industry stalled and California's European vinifera vines began producing the Chardonnays and Cabernet Sauvignons that eventually revolutionized the global wine market. In Kansas, commercial wine production was illegal until 1985.
According to the Kansas Department of Revenue, there are 23 active farm winery licenses in the state this year. Kansas' oldest farm winery — Bonded Winery No. 5 — is Holy-Field Vineyard and Winery in Basehor.
"When my dad decides to do something, it's all the way," says Michelle Meyer of her father, Les. "When we started, we were just growing grapes for ourselves and making wine for the family."
Variety matters
Holy-Field's vineyard, established in 1986 with 400 vines, now occupies 15 acres and produces around 8,500 gallons of wine per year, roughly 42,000 bottles.
"We have around 400 awards hanging on the wall in the tasting room," says Michelle Meyer. In 2009, Holy-Field won an impressive 12 medals at the annual Indy International Wine Competition in Indianapolis, an unlikely locale for one of the most prestigious wine events in the country.
"We grow French hybrids — Chardonel, Seyval, Melody, Vignoles, Chambourcin — and Native American or Labrusca grapes, like Cynthiana, also known as Norton," says Michelle Meyer. "We grow St. Vincent, too, which doesn't really fit in either category."
A couple of decades back, research was suggesting that Norton, not Zinfandel, might be America's true native grape. Six years ago, however, the American Wine Society discovered Dr. Norton's personal records, revealing that one of the Norton's parents was a vinifera vine.
"Some people call it the Cabernet Sauvignon of the Ozarks," says Michelle Meyer, who refers to Norton by its alias, Cynthiana. Meyer recently assisted the famed Riedel Crystal company in designing a wine glass specifically for Norton/Cynthiana wine.
"The Norton is a big red," says Greg Shipe, owner of the Davenport Winery in Eudora, the first licensed winery in Douglas County. "It doesn't have the astringency of a Cab, but we're working on it." Shipe also has hopes for the St. Vincent grape, a spontaneous vinifera hybrid discovered in a vineyard in Missouri.
"I think it may be Kansas' answer to Pinot Noir," he says.
In 1990, Shipe and his wife, Charlee Glinka, planted their first vines in the orchard founded in 1960 by Shipe's grandfather. In 2009, Davenport produced 4,500 gallons of wine (about half of Holy-Field's output), in 21 different varieties.
Industry challenges
Though Shipe notes significant improvements in the quality and cachet of Kansas wines, he also sees obstacles. "Drift damage and paperwork are the two biggest problems for our industry right now," Shipe says.
Drift damage is pesticide overspray from conventionally farmed crops nearby. Shipe lost 8 acres of fruit in 1999 due to drift of 2,4-D, a common broadleaf herbicide. And nothing, it seems, can check the drifts of paperwork that blow unceasingly from Topeka.
"The amount of bookkeeping we have to do is mind-boggling," says Shipe. "We're small producers; we can't afford an office staff."
The greatest challenge facing Kansas winemakers, however, is some of the strictest alcohol legislation in the country, much of it held over from Prohibition days.
The Meyers had to change state law to make and sell their Port, a sweet wine fortified with spirits. During testimony to a Kansas House subcommittee in 1997, Michelle was harangued by a member of the still-active Women's Christian Temperance Union, a group made famous in the 1880s by the axe-swinging, saloon-busting Carrie Nation.
"We do not need one more way for Kansans to get drunk!" the woman shouted from the gallery, as Meyer recalls.
It didn't take long for Pep Solberg to catch the drift of Kansas winemaking politics. "We still have a huge, conservative abolitionist movement in the state," he says. "Now they're talking about doubling our taxes."
Solberg and his wife, Vasuki, own BlueJacket Crossing Vineyard, also in Eudora. Starting in 2002 with 8 acres and some Norton vines, the Solbergs now grow eight types of wine grapes. In 2008, they opened their winery, producing 1,250 gallons of wine in 2009.
'Local wine trail'
New to the wine game, the Solbergs learned by doing. "I follow Holy-Field's lead," Pep says. When the Meyers and Greg Shipe founded the Kansas Viticulture and Farm Winery Association (KVFWA) in 2006, they brought the Solbergs on board. Pep is this year's president.
"The KVFWA is an alliance, a support group and an identity for Kansas farm wineries," Solberg says. "A big part of our mission is to define agritourism with the state." Since most wineries only sell their wines on premises, tourist traffic is crucial. And with Douglas County's newest winery, Whitetail Run, set to open later this year, Solberg sees "potential to establish a local wine trail."
Wine's future in Kansas
Grape growing and winemaking are, essentially, exercises in patience. Over the years, Holy-Field's Les Meyer — the tacit guru of local winemaking — has learned to keep his eyes on the prize.
"The future of Kansas wines is in the quality of the wine," he says. "If wineries put forth the effort in their vineyards, use more Kansas-grown grapes and plant appropriate varieties for our region, the wine will only get better. The wines have already improved in the last 15 years."
Greg Shipe has Meyer's back: "Les and I are on the same page," he says. "Holy-Field, Bluejacket and Davenport — we are the defenders of Kansas-grown wine."