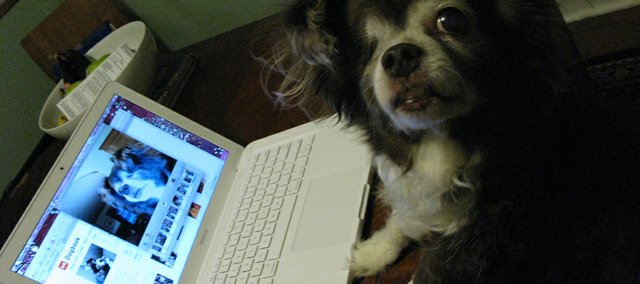 Twitter recently celebrated its 10 billionth "tweet." Not that surprising when you consider it receives 600 such postings per second, which equals roughly 10 million profound insights a day on the subjects of how much the iPad sucks and whatever Conan O'Brien had for lunch (at 140 characters or less).
Facebook has become one of the Internet's most dominant sites with over 400 million users. In mid-March, the networking hub stripped Google of the coveted title, Most Visited Online Destination (That Isn't Porn).

As with anything Internet-related, social media has a teeming underbelly of primitive behavior. That includes by actual animals — people's pets are turning social networking sites into online menageries.
Some owners have started Twitter accounts in their pets' names, and Facebook even has applications such as Dogbook, Catbook, Horsebook and — of course — Ferretbook. Yes, Ferretbook. Because your ferret really needs a forum to discuss ear mites and Phish.
"My motivation for joining Dogbook was to brag, pure and simple," says Adri Pendergrass, Lawrence resident and mother-from-another-species to Kodos Creampuff Casper Milquetoast (Casper for short), an 18-month-old black mutt. "It was the same reason new mothers put pictures of their wrinkly offspring as their profile pictures — pride."
Pendergrass didn't stop at Casper, maternal hubris driving her to also start profile pages in Dogbook and Catbook for the other fur-babies in her life: tabbies Lucinda Jean Jungle Queen and JuneBug Matthew-Butters McMuggins, and another dog, Bayou.
Well-aware that it may call into question their grip on sanity, these Facepetting owners will frequently speak as their animals. If you were to visit the Dogbook profile of Choco, a 14-year-old long-haired Chihuahua who's missing one eye and most of her teeth, you'd find she's surprisingly chatty considering her age and disabilities. And also considering she's a dog.
"As an older dog, I feel like Choco sometimes gets frustrated by her limitations," says Chavis Lickvar Armstrong, Lawrence resident and Choco's mom, about talking like her dog. "My husband and I will try to channel those frustrations for her.
"I don't worry about our sanity because it cracks us up, and ultimately it's our way of acknowledging that things could be a lot worse. Between the two of us we have all of our eyes and teeth, we're in the prime of our life, and we have the means to help the most fabulous Chihuahua in the world age as gracefully as she can. Those are things we are truly grateful for. OK, we might be a little crazy."
It's an insanity born of love, however, and one that has found new, endearingly unstable voice online. "I am sometimes guilty of anthropomorphizing Koshka by reading her 'looks' and applying words to them," says Kansas University student Synthia Somerhalder. "Koshka is decently active in social media…because I tweet about her extensively and my account, @Isaidtomycat, is strictly about things I say to her."
While the crazy-cat-lady or insane-dog-posse personas are mostly tongue-in-cheek on Twitter and Facebook pet profiles, the emotional connection between these owners and their surrogate offspring is always sincere. That connection is never laid more bare than when there's a death in the family, an intimate moment made awkward when the pet is in the shared sphere of social media. It was a collision of public and private that Somerhalder had to come to grips with after the death of her other cat, Bobby Sox. She chose to delete his Facebook profile rather than live with painful memory of his online presence.
"I loved Bobby Sox so much and thought he was just perfect, so I wanted to spread him to some of my fellow cat-lovers on Facebook. He also had a reputation among my friends for being evil. His nickname was Hitler," recalls Somerhalder fondly of her affectionately fascist cat. "I did not mention Bobby's death (on Facebook). I'm still hurting pretty badly from his death, and I don't really talk about it. He was the closest thing I ever had to a child, and I didn't want my mockery of his life to remain online. It just felt insensitive."

There are lessons to be had here in the permanence of digital information, issues of privacy in our Internet age and genuine human pathos — but let's not lose perspective. It's Facebook and Twitter for dogs and cats.
"It's just silly, really," admits Lickvar Armstrong of Choco's social media surfing. "They only 'friends' she interacts with on Dogbook are people or pups she already sees regularly. Honestly, I'd be pretty creeped out if some stranger with their own senior Chihuahua wanted to set up a play date at the park or something."