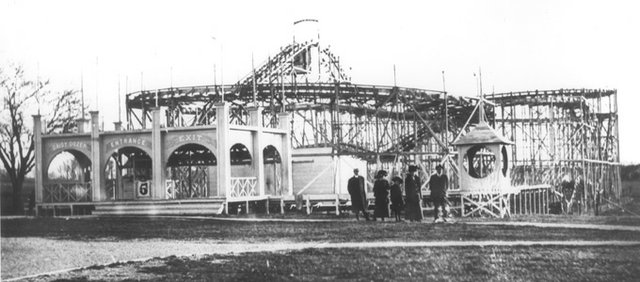 What is that thing?
This story is part of our new "What is that thing?" series, which takes a look at the stories behind unusual objects around our community. If you have a mysterious object that you'd like us to look into, e-mail it to features(at)ljworld.com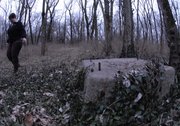 Lawrence has long prided itself on being a progressive town, a town that keeps up with the times.
It's perhaps little surprise then that it had one of the U.S.'s earliest roller coasters back in 1910, just 25 years after Coney Island opened the first one.
Or maybe that is a surprise?
Anyway, you could hardly be faulted for not knowing there was ever a roller coaster here, much less at the turn of the century. It didn't leave much of a mark - even the history books have but trace mentions of the "Daisy Dozer" and the once-grand Woodland Park.
Lawrencian-by-way-of-Wisconsin Jill Jevens knows about Woodland Park, though, thanks to one of the subjects she teaches at South Junior High School - namely, the work of former Lawrencian and world-renowned poet, Langston Hughes.
Hughes' first novel, "Not Without Laughter," alludes to Woodland Park:
"The first of its kind in the city, with a merry-go-round, a shoot-the-shoots, a Ferris wheel, a dance-hall, and a bandstand for weekend concerts."
Jevens also knew that Woodland Park had been located near her home in the Brook Creek neighborhood. So when she stumbled upon a concrete pillar that looked like it had been there for more than a few decades, she wondered ...
Place
1200 Brook St., Lawrence
"For some reason I pictured that those rides, like the roller coaster, were right here," she says while giving a tour through the wooded park north of 12th Street and Prospect Avenue. "Who knows, that stone could have been part of the roller coaster."
That certainly seems possible, but it's just as likely that no one will ever know for sure. Two known photos of the roller coaster - on file at the Watkins Community Museum of History - don't give much indication of where it stood in the 40-some acre park.
Even the location of the park itself was misidentified by David Dary in his 1992 book "Lawrence, Douglas County, Kansas: An Informal History." There, the west side of the park is identified as Thirteenth Street and Learnard Avenue.
Lawrencian Betty Mole wrote a letter to Watkins Museum on Jan. 25, 2002, to dispute Dary's account. Mole indicates, "the 1919 city directory ... lists Woodland Park at the east end of Twelfth Street."
Right where Jevens found the stone.
If the roller coaster was near the entrance to Woodland Park, the stone Jevens found might well have been from the Daisy Dozer.


Lawrence, pre-Depression
The 1910 Census recorded 12,374 people in town. Dary's "Pictorial History of Lawrence" notes that decade would yield 37 grocery stores, 22 doctors, 22 lawyers, 22 restaurants, 17 insurance agents, 11 car dealers, nine blacksmiths, three music stores, rail service to Bonner Springs and an electric street car service in town, among other amenities.
The street car service started in 1909 and proved to be as profitable as a recreation experience for Lawrencians as it was for transportation. The company providing the service decided making a recreational destination at its eastern terminus would encourage even more ridership. The July 10, 1909, Lawrence Daily-World records:
"A small amusement place is to be established in Lawrence this summer, the beginning of a real amusement park when the street car company gets ready to take up this matter. Permission has been given to put in a ferris wheel and other attractions on the two lots just next to the park where the skating rink formerly was."
In June of 1910, the Lawrence Amusement Co. took over Woodland Park and constructed the Daisy Dozer. The grounds' proximity to heavy rail lines made it a destination for traveling carnivals and circuses with exotic animals and celebrities like Buffalo Bill and his Wild West Show. A half-mile horse racing track was later built, as well as a baseball diamond, a football field and a large dance pavilion with a stage.
The Daily-World notes on Dec. 23, 1913, that, "The city enjoys a modern pleasure grounds, where old and young have been enabled to spend a day or evening under favorable weather conditions, without interference from an undesirable element. The attendance proved the popularity of Woodland Park."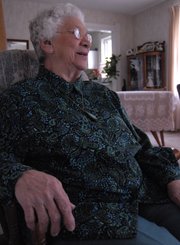 Audio clips
Oral history of Woodland Park, with Dorothy Roper
That's how Dorothy Roper remembers the park, too. The 87-year-old has lived in the Brook Creek neighborhood since she was 18 months old, and she has vivid memories of the park.
"From Friday to late Sunday night, this whole neighborhood smelled of fried chicken," she laughs, remembering the concession stands run by local churches. She spent a lot of time there with her friends, but she didn't go near the Daisy Dozer.
"Oh, no. No no no. I was never that brave!" Roper says. "I did ride the ferris wheel once. Roller coasters didn't interest me, and I never paid any attention to them. I wanted to live longer."


End of the ride
The park, though, was not destined to live much longer. When exactly it met its demise is obscured by history, but a 1923 article was foreboding:
"The owners were willing to deed the property to Douglas County on the condition that the county should improve the park ... No definite action was taken by the commissioners" (date and publication not preserved by newspaper clipping).
The next time a reference to "Woodland Park" appears in the papers was Nov. 24, 1932 (at least from what this reporter could find among the microfiche).
The park "had been offered to the City of Lawrence for park purposes free of cost, but with the obligation ... The commissioners refused to accept the park under such restrictions," reads the Douglas County Republican.
For years, the park's trustees refused the city's counter-proposal that they be allowed to use the park for "industrial sites, should the occasion for such ever arise."
The Republican laments what seems to be Woodland Park's imminent doom:
It is "the only piece of property adjacent to Lawrence suitable for general park and amusement purposes. It is the only place where a circus can pitch its tents and have city water and electricity available, and the only place where carnivals may be held. For years it has also been used for baseball and football games."
Dorothy Roper remembers Woodland Park slowly fading away. "Everybody just kind of went away, it just gradually ended," she says.
It's unclear what happened to Woodland Park over the next 40 years. A recently digitized version of a 1960 Lawrence Journal-World is available on Google by searching "Daisy Dozer Woodland Park," but holds no clue as to the park's demise. Also, the Rollercoaster Database records that the Daisy Dozer (a.k.a. "Casey's Coaster") operated "to 1920s," and then was SBNO — or standing but not operable — "from 1920s to 1951." Roper cannot recall exactly when she last saw the roller coaster operating.
It would seem that the owner - N.P. Dodge Corp., of Omaha - eventually sold portions of the land. At some point several houses were built on the land.
Starting in 1974, those houses precipitated the city's current ownership of the property. It was one of the first issues that Mike Wildgen dealt with as the new assistant city manager. He said the area was prone to frequent flooding, but improving drainage was not a viable option.
"There was no way to widen the creek without ripping out people's backyards," says Wildgen, who has since left city government and works at Watkins Museum. "So over time it was acquired by the city," and the houses were removed.
A small portion of the land was indeed turned into an industrial site for city crews, but most was returned to parkland. Fred DeVictor, who retired from the Lawrence Parks and Recreation Department three years ago, says it was restored to be a neighborhood park, called Brook Creek Park.
"The intent was to keep it natural, which is what the neighbors wanted," says DeVictor. "It's a beautiful woodland."


Not without laughter
Were it not for Langston Hughes, Woodland Park might have been all but forgotten. But Hughes' memory of the park is a problematic one for this Free State town. Although his school, New York Elementary, had been integrated some 40 years before Brown v. Board of Education of Topeka, at least one day at Woodland Park was not.
The story told in "Not Without Laughter" stems from a children's party thrown on Aug. 19, 1910. The Daily Journal had announced "all the children between the ages of 6 and 13" were urged to attend, but on Aug. 17 it clarified:
"The Journal has been asked if the colored children will be in attendance. The Journal knows the colored children have no desire to attend a social event of this kind and that they will not want to go. This is purely a social affair and of course everyone in town knows what that means."
For her part, Dorothy Roper was surprised to learn this piece of history.
"No colored people were barred (from Woodland Park) that I can remember," Roper says. She says one of her best friends, Dorris Suggs, was black, and they went to the park all the time. "But they didn't participate as much, I think, as they could have."
But, she says, no doubt a lot of things happened here that she missed out on - like riding the Daisy Dozer. "There's a lot of history here that people don't even know about."