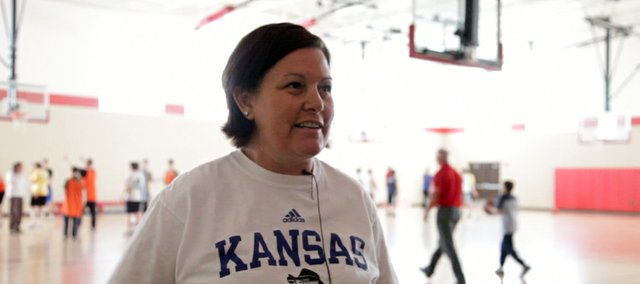 Hays — Douglas County Special Olympics athletes, coaches and other volunteers interact so easily that it makes the 80-member crew that traveled to the state basketball and cheerleading tournament in Hays last week seem like one large family.
And most are, in fact, family.
"My mom's here. My dad's coaching, and my cousins here, too," said athlete Becky Saathoff, 29, who took home silver medals in both basketball and cheerleading at the event. "And Nick," she adds of her future brother-in-law, Nick Walters, who helps Becky's sister Renae coach a team.
The Saathoffs, who've been involved with Special Olympics for years, are just one example of the family ties within the organization. Becky's mom, Sherrie, is the volunteer coordinator. Larry, Becky's dad, coaches, as have both of Becky's sisters, twins Renae and Rachelle.
Having family involved means a lot to many of the athletes, such as Ben Clark, 16, who made the trip with his big brother, Thomas, 18.
"Ben idolizes Thomas. It makes it even more fun for Ben because his big brother is here," said Carolyn Clark, mother of Ben and Thomas. "It's something they're doing together."
At practices and during games, Thomas can usually be found shadowing Ben on the basketball court, helping him get to the right spot on the floor, or providing encouragement.
"I might overdo it sometimes," Thomas said of his big brother duties.
In addition to spending time with his brother, the experience has given Thomas a unique perspective.
"It gives me a new appreciation that a person is a person," he said. "Some of them try so hard. They put in so much effort. It's amazing."
Johnson County Community College student Lindsay Gauthier traveled to the tournament with her sister, Rachel, 16, who has Down syndrome. Lindsay said the time she's spent with Rachel during Special Olympics has brought them closer.
"She's very, very stubborn, but so am I," Lindsay said. "I'm actually getting better dealing with her." The Special Olympics has "definitely improved our relationship as sisters."
Paul Parker, who traveled from Arizona and spent three weeks in Lawrence in preparation for the tournament with his son, Tony, 23, said they were both looking forward to the big event.
"The day before I left he called me every hour," Paul said. "He was so excited that I was going to get to see him play."
The much-anticipated Friday night dance, an annual part of the state tournament where the athletes get together at Hays High School, also gave Paul a unique opportunity.
"I've seen Tony play basketball a lot, but I've never seen him dance. He loved it," Paul said.
The experience exceeded expectations for Paul, who said he'll be back next year.
"It's an atmosphere I'm never going to forget," he said. "I'm probably never going to miss another one of these."
More like this story on Lawrence.com