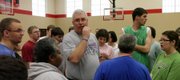 Reporter Shaun Hittle and photographer Kevin Anderson followed the Douglas County Special Olympics team to the State Basketball and Cheerleading Tournament in Hays March 18 to 20. This is a glimpse into the lives and experiences of these local athletes, their families and volunteers during the annual event.
The local Special Olympics group offers many ways to get involved. The all-volunteer organization participates in sports all year long, including bocce, bowling, golf, soccer, volleyball, basketball, swimming, and track and field.
Swimming an track and field practices begin April 3, and volunteers are needed. For more information, contact John Samuels, local program coordinator at 785-845-5871, or by e-mail at admin@dgsojayhawks.org. Check their Web site at www.dcsojayhawks.org for an updated events calendar.