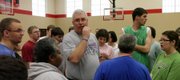 Reporter Shaun Hittle and photographer Kevin Anderson followed the Douglas County Special Olympics team to the State Basketball and Cheerleading Tournament in Hays March 18 to 20. This is a glimpse into the lives and experiences of these local athletes, their families and volunteers during the annual event.
Standing 5-foot-7 and about 250 pounds, Brady Tanner, 29, isn't exactly graceful on the basketball court, as he lumbers across the gym and waves his Popeye-like forearms for a rebound.
But the Special Olympian seems at home on the bench press or the squat rack, where Brady competes throughout the year at powerlifting events. He usually sweeps Special Olympics events, and competes at open meets across the country, maxing out on the bench at 425 pounds, and about 650 pounds on the squat.
At a recent training session at the Haskell Indian Nations University weight room, Brady was benching about 380 pounds, nearly double the weight load of Haskell football players training across the room.
Brady pumps out a fifth rep, returns the bar — which bends under the weight — to the rack and follows a ritual with his dad, Gary, who spots Brady. They clap and high five as Brady exits the bench and heads straight to the biceps curl.
Brady doesn't slow down, and he's always on the move with his job at Mrs. E's on Kansas University's campus and the list of Special Olympics sports he competes in: basketball, soccer, volleyball, softball, track and field, powerlifting and, more recently, cheerleading.
"Yes, I'm busy," Brady said, recounting his activities.
Brady is also a fixture at Haskell athletic events, working as the football ball boy for more than 20 years at the school where his dad coached the team for 14 years.
"He'll do anything they ask him to do," his father said.
It's that easygoing personality that makes Brady a favorite in the Lawrence community. Brady's become so popular, in fact, that he overshadows Gary, who runs the Haskell exercise science program.
"I'm not Gary Tanner anymore. I'm Brady's dad," Gary said, laughing.
Brady's personality actually helped launch his powerlifting career. One of the Haskell players took a liking to Brady and began training him in the weight room.
Born prematurely at 4 pounds, Brady was only 140 pounds when he graduated high school, and he had a long way to go when he started training, said Gary.
But weightlifting clicked, and Brady found the workouts to be fun.
And time and effort have helped Brady pack on more than 100 pounds and get to the point where he clearly out-muscles any Haskell football player in the weight room.
In his 20 years in Special Olympics, how many medals does he have?
"A whole bunch," Brady says, including a gold in basketball and a silver in cheerleading from the recent state tournament.
What's it feel like to bench 400 pounds?
"It feels good," he says.
And in just a few words, he seems able to convey what it takes others many more to say: What's his favorite part of Special Olympics?
"Everything," Brady says.