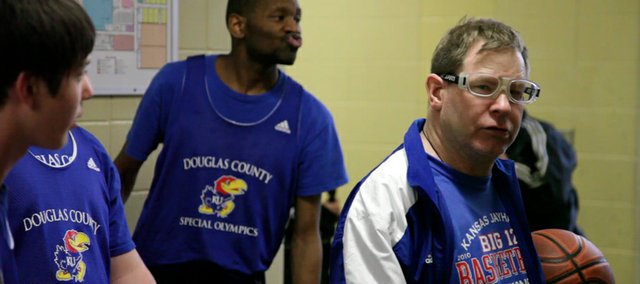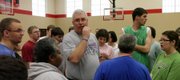 Reporter Shaun Hittle and photographer Kevin Anderson followed the Douglas County Special Olympics team to the State Basketball and Cheerleading Tournament in Hays March 18 to 20. This is a glimpse into the lives and experiences of these local athletes, their families and volunteers during the annual event.
Hays — When Todd "Leaper" Williams received the Most Inspirational Athlete award at the State Special Olympics Basketball and Cheerleading Tournament last weekend in Hays, he had one thing on his mind: Jayhawk football.
"We got a new coaching staff. Turner Gill, he'll do a really good job," Williams told the crowd, moments after receiving his award. "These guys have got some good recruits this year."
Typical for Williams, whose dedication to Special Olympics is only slightly trumped by his love for Kansas University athletics.
Williams is the second-longest tenured employee at the KU Athletic Department. Since 1971, he's worked in the football equipment room, and relishes the opportunity to work with every football player who's played at KU for nearly four decades.
"Being with a class group of players," Williams said of his favorite part of the job. "The players are really nice."
For more than 20 years, Williams has worked closely with Jeff Himes, head football equipment manager.
"It's like having a brother here," Himes said. And Williams keeps close tabs on the team, reading everything he can about KU football, Himes said.
"Every day, he'll run in and tell me some fact he learned," Himes said.
To the KU players, Williams is known as "Leaper," a nickname he said he earned playing basketball in junior high because "I can jump up high on the boards."
At 56, and with more than four decades of basketball under his belt, Williams has a little less of that bounce in his legs, and he now acts the role of floor general for the basketball team. In his characteristic sports goggles, he directs the younger players, and said he's known as a "defensive specialist."
"I'll do anything I can do to help them out," Williams said of his role on the basketball team, which won gold in Hays this year.
His desire to not only win, but to encourage others, epitomizes what Special Olympics is all about, said Danny Lenz, local sports coordinator.
"Todd's been involved for longer than anyone else," Lenz said. "He's a great example and role model for all our athletes, and I think athletes in general."
Williams can now add the Most Inspirational Athlete award to his previous honor of being inducted into the Kansas Special Olympics Hall of Fame in 1985.
And with multiple medals over the years from his activities with Special Olympics, it seems there can't be much more for Williams to accomplish. But that doesn't mean he won't continue to compete and support his favorite team through his work.
"I'm going to keep doing all the stuff I've been doing," he said.
More like this story on Lawrence.com