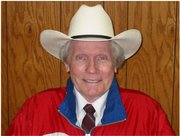 Fred Phelps, homophobe.
Fred Phelps, hatemonger.
Fred Phelps, publicity whore.
Fred Phelps, the matter with Kansas.
Fred Phelps, bile-spewing sociopath with a messianic complex.
Fred Phelps, humanitarian.
Yes, you read that last one right. Thanks to an enterprising student at the University of Illinois at Chicago, the Westboro Baptist Church became a fundraising engine for the very charities that the Phelps brood protest, such as the International AIDS Foundation.
Keep up the good work, Fred!

More like this story on Lawrence.com