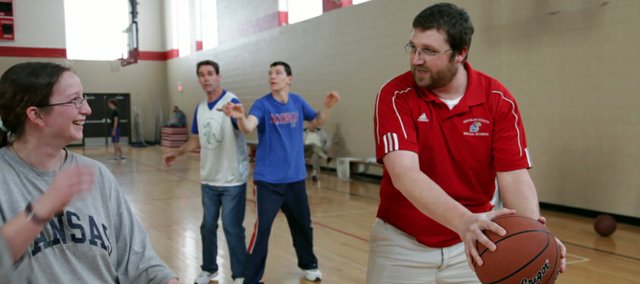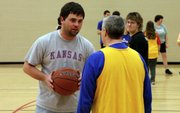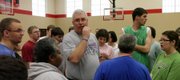 Reporter Shaun Hittle and photographer Kevin Anderson followed the Douglas County Special Olympics team to the State Basketball and Cheerleading Tournament in Hays March 18 to 20. This is a glimpse into the lives and experiences of these local athletes, their families and volunteers during the annual event.
Kansas University student David McKenzie has volunteered with the Douglas County Special Olympics for only a few months, but he's hooked.
"It's about the most incredible experience of my life," he said.
It's something Special Olympics coordinator Danny Lenz sees all the time.
"Those who show up two or three times, we know they're hooked for life," Lenz said. And he should know.
"I did one sport," Lenz said of his first volunteering with Special Olympics five years ago. "I've never looked back. The best vacations I have are these vacations."
Lenz had an aunt with Down syndrome, but had no other experience with those with developmental disabilities. He said it can be intimidating for volunteers at first, but it's easy to adjust.
Lenz said the athletes quickly pick up on those who don't view them as equals.
"They know that you're talking down to them, and they'll go, 'Eh, not interested,'" Lenz said.
There's an easy solution. "Treat them like you'd treat anybody else," he said. "Win or lose, always try your hardest. That's what we can learn from the athletes."
Nick Walters, who helps coach a basketball team with his fiancee, Renae Saathoff, said his biggest issue when he started volunteering four years ago was wanting to win too much. It's something he's learned to avoid.
"When they're still having fun, if they airball over and over again, let them have fun," Walters said, who appeared to be having fun on the sidelines recently.
McKenzie, who plans to go to medical school when he graduates from KU next year, said volunteering with the Special Olympians has helped prepare him for his career as a doctor. And he encourages others to give it a try.
"I would recommend it to anyone," he said. "It's life-changing."
All it takes, he said, is a little bit of time and patience.
"They'll love you for it," McKenzie said. "I couldn't be happier doing it."