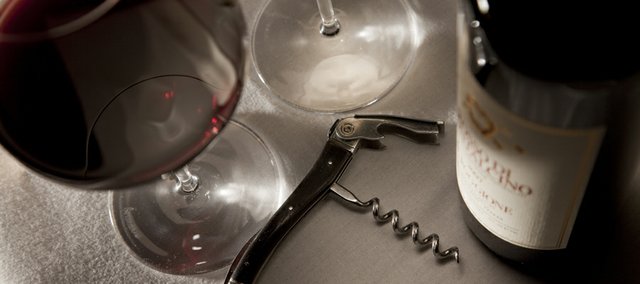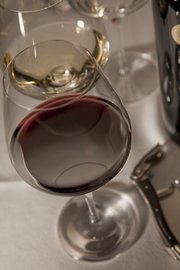 You've ordered the same dish several times at a favorite restaurant, and you keep thinking how well it would pair with a wine you have stored at home — a special bottle not on the restaurant's list. Now's the time to inquire about the restaurant's corkage policy.
Corkage is a fee charged by restaurants to customers who bring in their own wine. It covers the costs of service — opening, decanting, pouring — and the use and cleaning of glassware. A corkage fee also offsets the loss of wine sales to a BYOB table — and wine figures big in the restaurant business.
"Twenty-five percent of a restaurant's sales income is from wine," says Julia Peterson, general manager of Teller's, 746 Mass. "If we're not selling wine at every table, our costs go up." Teller's charges $20 corkage per bottle.
Costs go up when sales go down. In 2009, for the first time in 16 years, California posted a drop in wine sales, concurrent with a national decline in restaurant wine revenues. ABC News reported in January that California's sales fell by 1.6 percent last year, a significant number for the state producing 90 percent of American wine.
"Robert never minded telling a large group that for us to miss out on an alcohol sale was a problem, especially since we had very limited seating," says Molly Krause of her husband. The Krauses recently shuttered Krause Dining, their celebrated fine-dining temple in East Lawrence, to open Esquina, a popularly priced, Latin-style joint in the old Round Corner store at Eighth and Massachusetts.
"At Krause Dining we charged $25 per bottle opened, with no large group discount," says Molly Krause. "People didn't often bring in wine, and when they did, it was usually a special bottle."
For fine-dining restaurants featuring top-quality ingredients and skilled labor, the profit margins on liquor are far greater than those on food. Wine markups of 400 percent are not uncommon in trendy urban restaurants. Those inflated prices, however, are causing more and more customers to show up with their own wine.
"As a general rule, It is my impression that allowing patrons to bring in wine increases the likelihood of repeated visits from our community's oenophiles and foodies," says Ken Baker, chef and owner of Pachamama's, 800 N.H. "This ideal presents a catch, however."
A good restaurant wants to say "yes" as much as possible, but not to a fault in such a risky game. Pachamama's stays a few moves ahead through judicious pricing (Baker sells most of his wines at $14 above retail), lower corkage fees ($15 per bottle, no bottle limit) and by waiving corkage entirely on Tuesdays. "And," says Baker, "if customers who bring wine also buy a bottle from our list, I can usually find myself waiving the corkage."
Most of the time, customers bring in rare, expensive wines, seeking cuisine and ambiance to match. Corkage fees in Lawrence range from 15 to 25 dollars per bottle, on a par with national averages. More and more big-city restaurants, however, are upping corkage charges as a deterrent to BYOB customers — such as $85 per bottle at Jean Georges in New York City, reports Food & Wine magazine.
But if you can't rest until you pair that amazing braised rabbit at your favorite restaurant with that dusty bottle of Barbera stashed under the sink, here are the basics of corkage etiquette:
Do:
Call ahead to check on a restaurant's corkage policy. When you make your reservation, note that you'll be bringing wine. At the very least, says Julia Peterson: "Notify the server at first meeting that they have brought a bottle of their own."
Pour a taste for the server, sommelier or chef, particularly of a rare or interesting wine. This often results in corkage discounts.
Buy at least one bottle from the restaurant's list.
Factor the corkage fee into the tip.
Do the math. Considering corkage, you'll often find a better bottle for the money on the restaurant's list.
Don't:
Bring in wines that the restaurant sells. "Above all else, I would take bringing in a bottle currently on our list as a personal insult," says Ken Baker. An earlier vintage might be acceptable, but always check ahead.
Bring cheap, grocery store wines — though if you're happy to pay the corkage and Strawberry Hill is Granny's favorite, you might have some leverage.