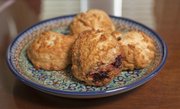 Karla Bhana of Lawrence adores the scones at Community Mercantile. That's why she asked Go! to score the recipe for her.
"That's the one thing I always buy when I go to the Merc," she says. "To me, nobody else has been able to do it exactly the way they do it."
Sula Teller, Community Mercantile's executive chef, was more than happy to oblige Karla's request.
"We're honored and, of course, humbled," Teller says. "Any time someone likes our food, we're very happy about that."
Sula credits bakery manager Mark Gregory for the popularity of the pastries.
"Mark is in charge of all the innovations," she says. "We sell a lot of scones, and we try never to make a mistake on them, because if it's the first thing someone's going to have in the morning, we want it to be absolutely perfect."
As a bonus, Teller says the scones are healthier now than they've ever been.
"We changed our recipe this year and reduced the calories down to 240 calories. We took out a lot of the cream, and I think they're even better. They're lighter, and they just melt in your mouth."
Merc Bakery Favorite Cream Scones or Biscuits
(adapted from La Brea Bakery)
Ingredients:
3 cups Heartland Mills Whole Wheat Pastry Flour
4 teaspoons baking powder
3/4 teaspoon salt
12 tablespoons cold (1 1/2 sticks) unsalted butter, cut into small pieces
1/2 cup plus 2 tablespoons Turbinado or granulated sugar

2 cups Iwig Dairy Heavy Cream
2 large farm eggs
1 vanilla bean, seeds scraped into the 1 1/2 cups cream or 1 teaspoon vanilla extract
Scones or Shortcakes:
In a food processor, pulse flour, baking powder, 1/2 cup sugar and the salt until combined. Add butter and pulse until mixture resembles coarse meal but with some pea-size bits of butter remaining, 10 to 12 times. In a medium bowl, whisk together 1/2 cup cream and the eggs; pour over flour mixture, and pulse until some large clumps begin to form, 25 to 30 times.
Using a half-cup measuring cup or scoop, gently pack dough, invert, and then tap out onto a baking sheet. Repeat to form 8 biscuits or shortcakes. Bake until lightly golden, about 20 minutes. Transfer to a rack to cool, about 15 minutes.
Whipped cream:
Beat remaining 1 1/2 cups cream (with vanilla beans) and 2 tablespoons sugar until soft peaks form.
Serve the scones or shortcakes with jam, fresh fruit and whipped cream for a wonderful summer breakfast or dessert.