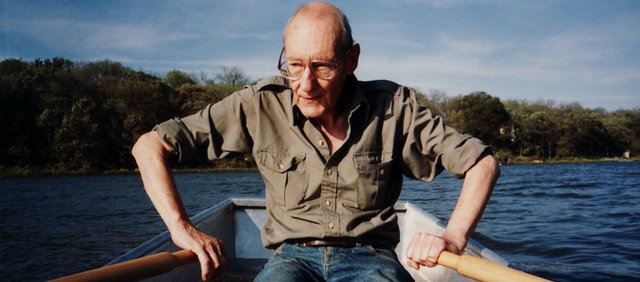 Getting thrown out of film school wasn't part of the career plan for Jonathan "Yony" Leyser.
"I was kicked out of (California Institute of the Arts) in 2004 for an art piece I created," says Leyser, director of the new documentary "William S. Burroughs: A Man Within."
"Burroughs has this needle-sharp ability for accuracy in his critique. I, at 19, didn't have that accuracy. I knew I wanted to critique things, but I did it in the wrong way."
Specifically, Leyser had taken aim at the dean of students, whom he had "butted heads" with while a member of student council.
"It had gotten to the point where she had been accused of some racist stuff, so I addressed a letter to myself on CalArts letterhead (pretending to be her) saying, 'Your strange nickname, big curly hair and olive complexion does not yield the conformity necessary to be a team player at CalArts. I hereby dismiss you,'" he recalls.
After posting the letter without authorization at a student group art show, the dean responded by indicting him with wrongly using the student computers and illegally using a student form.
Turns out that his film school dismissal was the best thing that ever happened to Leyser's filmmaking pursuit.
In 2005, Leyser decided to move to Lawrence because his sister, Ophra, was a graduate student at Kansas University. The Chicago native took some film classes at KU but was concentrating more on a journalism major. During that period he wrote an article for the University Daily Kansan titled "From Beatnik to Anarchist: Radical Eruptions in Lawrence."
"I incorporated some information about Burroughs. I knew I wanted to make a documentary about Burroughs, but I didn't know I'd be making THE documentary about Burroughs," he says.
Leyser eventually dropped out of KU (he later graduated from The New School in New York City), but his connection to Lawrence became even more intense when he began assembling the materials needed for his feature-length doc.
Leyser first contacted James Grauerholz, personal secretary and longtime companion of Burroughs, who is the executor of the late author's estate. Whereas other filmmakers contemplating a Burroughs documentary came and went, Leyser persisted.
Grauerholz says, "At some point I realized: 'Hey, this is not some wannabe-filmmaker-fanboy - and he keeps growing his reservoir of filmed interviews. This new Burroughs (documentary) is a project good and real enough to be worth my helping Yony see it through.'"
Originally, Leyser was going to just concentrate on making a short piece about the 1987 River City Reunion that Burroughs and Grauerholz organized in Lawrence. But gradually the project began to expand through accumulated interviews with Burroughs' circle of friends.
After four years, Leyser has completed "William S. Burroughs: A Man Within," which makes its Lawrence premiere Sunday at Liberty Hall.
The film examines this "uniquely American character," broken up into chapters based on Burroughs' sex life, drug use, gun fetish, snake interest, the shooting of his wife, punk rock, art, his son, his move to Lawrence and his death here in 1997.
"I had no idea there was so much. He was so multi-faceted," says Leyser, who knew little about the writer prior to coming to Kansas.
"I was so impressed about his amazing breaking away of conformity from the typical way of writing in the 1950s, from acceptable subject matter, from structure, from the ability to incorporate humor. I was fascinated about what kind of person would be able to do that - the dynamic between his personal life and his ability to create these amazing works of art."
Famous faces
"Yony's research of the personages, sociology and literature of post-WWII America is what impressed me most," says actor Peter Weller, who narrates "A Man Within."
The Oscar-nominated Weller, best known for his lead role in the "Robocop" franchise, got to play a Burroughs-inspired character in the 1991 feature film adaptation of "Naked Lunch." As such, he spent a lot of time with the author preparing for the part. It only made him more aware of how difficult it was to encapsulate the Beat Generation icon.
"No film captures the 'spirit' of Burroughs, nor ever will," Weller says. "To capture the spirit of Burroughs one might have to begin with a nihilist point of view, go to Harvard, then shoot dope as well as your wife. What Yony's film does is explicate a tenor, time and character of a social and literary topos of which Burroughs was on the vanguard. The gift of the film is its historiography on American cult, executed with charm and entertainment."
Weller believes his "Naked Lunch" (directed by David Cronenberg) has stood the test of time - which is why he will be presenting a screening of it at Hollywood's Egyptian Theatre on June 4.
He adds, "Yony's film is equally provocative; and it begged to (be) made for years. I am just happy that someone as clever and compassionate as Yony made the doc."
Weller is just one of many familiar faces that were interviewed for "A Man Within." Filmmakers Cronenberg, John Waters and Gus Van Sant, musicians Patti Smith, Laurie Anderson and Iggy Pop, and various poets, artists and eccentrics turn up during interviews Leyser shot.
"They seemed super excited to talk about Burroughs. These were his friends, and they hadn't really talked about it since his death. They just expounded really easily and readily," Leyser says.
Sound and motion
The filmmaker also recruited some of the musicians interviewed to help create the soundtrack. Notable punk pioneers Patti Smith and Sonic Youth donated unreleased tracks, re-recorded old songs or crafted new ones for "A Man Within." The soundtrack often functions as the aural equivalent of the "cutup style" Burroughs sometimes utilized.
Leyser also employed Aimee Goguen and Dillon Markey, animators he met at CalArts.
"Dillon has these wire sculptures that he uses stop motion to animate. It's the first time it's been used in a feature film," Leyser explains.
While he was very aware that Burroughs was famous for breaking away from the conformity of his medium, Leyser was careful not to go too far in challenging the conventions of a documentary.
He says, "I tried to make it a little more accessible to a wider audience. What I was trying to do with the film was introduce people who wouldn't have otherwise known much about William Burroughs and let them get more interested so they investigated his work. It broke away a little bit with the experimental wire animation. We used a little bit of the cutup style. But I also tried to keep somewhat of a cohesive narrative because he also did that, too, in 'Junkie' and 'Queer' and things like that."
The 25-year-old Leyser is currently on a whirlwind tour promoting "A Man Within." Today and Saturday he'll be in Baltimore to screen the picture, accompanied during a Q&A; by John Waters. Then he flies to Lawrence Sunday (joined in Q&A; by Grauerholz), back to Chicago Monday, then on to Berlin on Tuesday. His last stop will be a permanent one.
"I really enjoy that city, and I'm also a German citizen," says Leyser, whose parents were Israeli immigrants. "Now that the film is finished, I'm going to be traveling to film festivals all around the world. It doesn't really matter where I'm located."
That's a sentiment Burroughs would have no doubt appreciated.