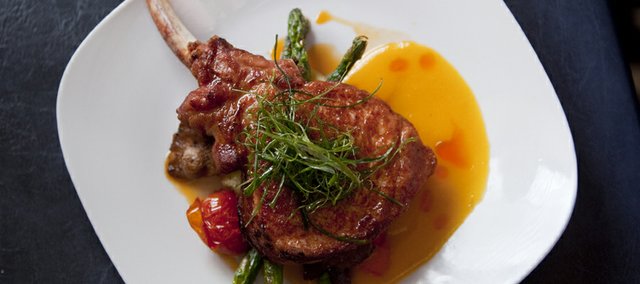 Lawrence's restaurant scene has come a long way since the turn of the century.
In 2000, the only places in town that sold sushi were Kokoro and Target (yes, that Target — pre-packaged). Now we have at least five sushi houses, not counting sushi offerings on various buffets. And Massachusetts Street — political nattering aside — has become a bona-fide Restaurant Row, an asset to local culture and prestige, and no small contributor to local tax revenues.
On the street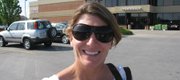 Lawrence is rich in inspired and talented chefs. So why not mine that resource for some insider tips and advice for home cooks? Many time-saving and flavor-enhancing professional techniques translate easily to home kitchens.
Truth is, a restaurant chef will no more give up secrets than a mushroom forager the happy hunting grounds. And getting a bunch of time-pressured culinary professionals together is usually no easier than herding cats. But of the 25 local food professionals contacted — either in person, by phone or via e-mail — we received 18 enthusiastic responses. Here, then, is a collection of snippets of kitchen wisdom from some of Lawrence's top chefs.
Note: A few chefs were out of town (Rick Martin, Free State; Shawn Miller, Teller's; and Suken, Cafe Beautiful), and for others, language hurdles impeded participation.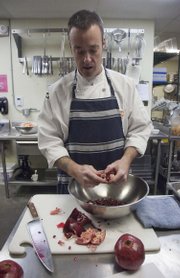 Ken Baker
Chef/owner, Pachamama's
• Texture and temperature are two major considerations. A good dish is balanced — crunchy with soft; hot with cold. ... A good example is our cauliflower soup: it's a veloute (a "velvet" puree), soft and rich. For textural contrast, we garnish it with curried, candied nuts. That way, the dish becomes more than just a bowl of creamy soup. It's a small touch, but it makes a much more interesting and satisfying dish.
Simon Bates
Chef/owner, Burger Stand at Dempsey's and Esquina
• I've been using a lot of turmeric lately. It's got a mild flavor and gives a nice golden color to pickles and vegetables. I use it in cauliflower dishes and in apple chutney.
• I add lemon or lime juice, or white wine vinegar, to every single thing I cook. Acid chemically enhances flavors. I use it like salt.
• The old stand-by is Sriracha sauce. We go through a lot of it. When a dish seems to be missing something, it's the first thing I reach for. It brightens things up.
Michael Beard
Chef/owner, 715
• All our recipes are in metric. This allows us to be more consistent on a daily basis. Conversions are much more simple. This also increases our efficiency by not having to track down every little cup or spoon for volume measurements. We just use a scale. It's the most beneficial system used in our kitchen.
• When salting food we normally use products with salt already in them, such as anchovies, pancetta, capers, olives, etc. ... Salt-packed anchovies create a wonderful foundation to work with.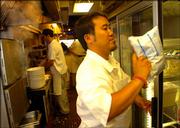 Subarna Bhattachan
Chef/owner, Zen Zero, La Parrilla and Genovese
• I try to use harmony in cooking, the Thai (Buddhist-inspired) principle of balanced flavors — sweet, spicy and sour. The other being simplicity — five ingredients or less. Let the ingredients speak for themselves. Cooking does not need to complicated, and using expensive ingredients does not necessarily lead to a great meal.
• People eat first with their eyes, so make a good presentation. I usually use a firm base like rice, salad or mashed potatoes in the center of the plate. Then put the meat or seafood on top. Drizzle some sauce around. Garnish with some fresh herbs. The idea is not to get carried away and have too many things on the plate. Keep it simple and clean.
Jesse Bonebrake
Executive chef, Marisco's
• The secret to moist, succulent pork is brining. Brining is basically marinating meat in a salt and water solution. There are numerous variations — you can add sugar, peppers and various herbs and spices. At Marisco's, I use a little bit of TCM — tinted curing mixture — in the brining solution for our chops. This technique is similar to curing a ham, which is why the cooked chops have a pink tint to them. Using salt, however, is an easier and cheaper way to make a great brining solution at home.
Hillary Brown
Chef/owner, Local Burger
• Eating food that has been raised or grown with the best practices makes for not only delicious food but good conversation, good dreams and good love.
• A good knife is better than a good man (just kidding, Scott). Ceramic or glass cutting boards were made to cause injury and ruin knives.
• Good salt can improve your cooking and health.
• A mixture of coconut oil and olive oil tastes like butter. And coconut oil is good for you.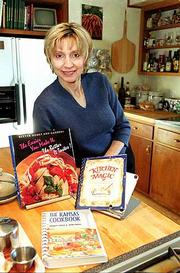 Jayni Carey
Cookbook author and TV host of "Jayni's Kitchen"
• For a taste of Provence, soak dried lavender stalks and place them in a grill smoker box or over hot charcoals when grilling leg of lamb, racks or chops.
• Use leftover egg whites to make individual meringue shells. Place scoops of ice cream or whipped cream in the shells and top with fresh fruit.
Kerri Conan
Cookbook writer/editor and food writer for The New York Times
• Use what you've got. If you don't have the exact ingredient called for in a recipe, substitute what you do have. It's the only way to become an intuitive cook. Ninety percent of the time your dish will still be delicious, and the other 10 percent of the time it will still be edible.
• Read the whole recipe through a couple times before starting to cook. I'm not saying you have to prep all the ingredients in advance — doing what chefs call "mise en place," which means getting everything in place before cooking — though for beginning cooks that certainly can be helpful. But surprise equals stress in the kitchen and the whole idea is to make cooking enjoyable.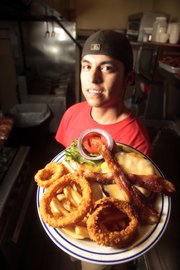 Marc Quirarte
Chef, Johnny's Tavern
• We make about 400 John Wilson burgers a week, our biggest seller. The proportion of meat to bun is important to a good burger. We get our buns from M&M; bakery just down the road — toasted, they're phenomenal. We use 80 percent lean beef and season it simply, just salt and pepper. We cook it to medium, add cheddar cheese and two slices of bacon, and serve it with the works.
Judith Fertig
Author of "200 Fast & Easy Artisan Bread Recipes," and cooking instructor at the Bay Leaf
• Barbecue isn't just about meat. I love to smoke Roma tomatoes and have them on hand for pasta sauces, a killer smoked tomato bisque, or a flavored butter. You just core the tomatoes, put them in a foil pan on the indirect side of the grill, throw some wood chips on the fire, close the lid, and smoke the tomatoes until they're burnished and have a smoky aroma. Peel, seed, chop, eat. Easy.
• Flatbreads are big on restaurant menus — great for entertaining, too — because they can change with the season, have crowd-pleasing flavor, and are inexpensive. Use a readymade pizza dough or packaged hot roll mix and roll out to a rectangle. Add your ingredients and drizzle of olive oil. Serve each piece with a handful of baby arugula or microgreens.
Lonnie Fisher
Dinner chef, Wheatfields
• I pan-fry about 80 pieces of chicken every Wednesday. The chicken usually is gone by around 6:15 p.m. Chicken should always be washed and checked for undesired sharp edges, feathers, etc. I marinate the chicken in buttermilk, Tabasco and garlic cloves. Breading is a matter of taste — anything from flour to cornflakes — but make sure it is properly salted. Incorrect oil temperature is probably the biggest mistake most people make — it should be at a constant 350 degrees. If your oil is too cold, you'll have greasy chicken; too hot and you'll burn your breading before the chicken is cooked through. Using a thermometer is of great benefit.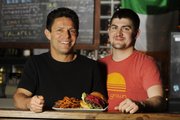 Robert Krause
Chef/owner, Esquina, Burger Stand at Dempsey's and Krause Dining
• Cook the food right. There are basically two cooking methods: hot and fast, and low and slow. The middle ground is where you get into trouble. Fish, for example, is frequently overcooked. Get some heat behind that fish, sear it quickly and serve it right up. But if we're talking short ribs, it has to be low and slow.
Jeff Lewis
Chef/owner, Angler's Seafood House
• Understanding your ingredients is key to creating successful dishes. Every good chef understands "fresh, seasonal, and simple," but great cooks go beyond that and take the time, and have the humility, to research the characteristics and attributes of ingredients.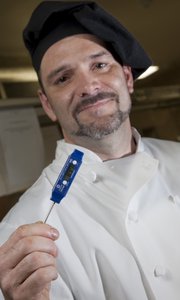 Matthew Michel-Cox
Executive chef, Alvamar Country Club
• My best advice — which should not be a secret — is to always season meat before cooking, and don't overcook anything. An example is chicken: if cooked internally between 160 to 165 degrees, it will always be fully cooked and juicy. Buy an instant-read thermometer, one of the handiest tools in the kitchen!
Paige Vandegrift
Private chef and cooking instructor, Community Mercantile
• Store-bought greens can be made to last longer if they are handled properly once you get them home. All greens should be washed. Fill a large bowl, or the kitchen sink, with cool water. Add the lettuces and swish them around. Let them sit for a minute so any dirt or grit that has been dislodged can settle to the bottom. Lift the lettuces out of the water. If they are very dirty or sandy, you may need to rinse them in several changes of fresh water. Continue to wash them until the water is clear. Dry the greens after washing. If you don't have a salad spinner, let the lettuces drain in a colander and then spread them on towels. Then, gently blot them dry. The washed lettuces should be stored in an airtight container in the refrigerator. Zip lock plastic bags and Tupperware-type containers work well. Line the bag or container with paper towels.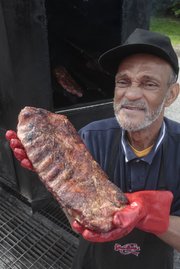 Courtee Smith Jr.
Chef/owner, Gran-daddy's BBQ
• For good BBQ, you should first pay attention to the quality of the meat. A lot of people think a lean cut of meat is better, but that's not usually true. Fat adds flavor and keeps the meat from drying out, and you can always cut the rest of the fat away after cooking.
• We smoke a lot of meat with fruit wood — peach, apple and pear. It adds a lot of flavor. But the real secret to our BBQ is in the rub. We use a dry rub, and the base is salt and pepper. That's all I'm going to say about that.
Chris Wofford
Executive chef, Ten at the Eldrige
• For an alternative to Filet Mignon or Tenderloin of Beef, buy Teres Major a/k/a Petit Tender or Shoulder Tenderloin — about half the cost of Filet Mignon, but equal in flavor. Trim off the silver skin and fat. It is excellent on the grill or sautéed.
• I grill corn on the cob in the husk. Place it on the grill over indirect heat and make sure to turn the corn often. When the corn is tender, remove from the husk. Brush with butter and grill for another minute or so, turning often.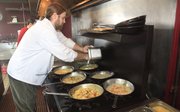 Bradley Walters
Chef/owner, Basil Leaf Cafe
• Always pull food before it is done and rest it out to eliminate dry meats or overdone food. Residual heat causes food to continue cooking once leaving the oven or pan. The key to moist turkey, chicken or beautifully cooked steaks is pulling it early and letting it rest.
• Dark beer cooks down better for sauces than light beer. A little sugar helps, too. Use good beer — Guinness is the best.