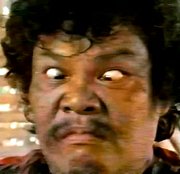 Two things I love—Southeast Asian archipelagos and the devil. That's why the following video has made me so happy.
It's a montage from the good folks at Everything Is Terrible for a film called "The Killing of Satan." It's a 1983 masterwork of cinema from the Philippines. It's apparently about a guy who can shoot lasers out of his hand and is really pissed off at Satan.

To all of you graduates walking the hill today, screw whatever b-list politician or public figure KU may have roped into delivering a few uninspired and uninspiring lines at your graduation—let this film act as your commencement speech. Especially if you majored in Satanic Combat with a minor in Philippine What The Hell Is Going On Here-ology.
You can be a leading light in the world and kill Satan. We believe in you, Demon Hunting Class of 2010.
More like this story on Lawrence.com