Read on for the scoop on the hottest heels for spring and summer:
Feminine detailing
The best part about shoes are the fun, frilly details and unique designs. Look for out-of-the-ordinary shoes that fit your personal style. Pearls, beads, feathers and lace are not tacky accouterments, but rather fabulous and feminine. See Nina Ricci Spring 2010 for a nude lace heel that is classic, modern and feminine.
Peep-toe booties
Peep-toe booties are a great solution for summertime, when closed-toe ankle booties feel a tad too hot or bulky. If you love the idea of a summer ankle-boot, look for lighter, softer fabrics. If this still feels too wintery, opt for a lace-up ankle sandal instead. Check out designs by Balenciaga, Vivienne Westwood, Gucci and Versace for some versatile looks.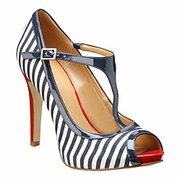 Nautical
Each spring and summer, a nautical theme seems to pop up in the world of fashion — shoes are not excluded. A cute pair of blue and white heels, perhaps with red soles and details, will dress up even a casual outfit. And although an entirely red-white-and-blue outfit is a trendy color palette, don't avoid wearing your nautical shoes with a more adventurous color palette. Charles David and Harajuku Lovers both feature some all-American footwear in their spring 2010 lines.
Bright spring suede
Dark shades of suede look out of place in the bright summer sun, the sweat pooling in your soles; however, suede shoes of brighter or lighter hues are youthful and suitable for spring and summer. Blue, coral or burnt-orange suede peep-toes look darling with a sundress or a cocktail dress at an evening cocktail party. Luella and Jil Sander both have blue-suede shoes in their Spring 2010 lines — girly, flower details on one and incredible, architectural heels on the other.
Oxfords
Although I've previously mentioned oxfords, new summer styles have made this shoe a key candidate for hot-weather wear. Look for oxfords in brighter, nontraditional colors. Check out options made from cooler fabrics, like cotton. Also, many ballerina flats are available in oxford-like styles with laces. Michael Kors still reigns with his gold-toe oxford shoe, but Dolce & Gabbana's muted-black oxford is a definite contender (both from Spring 2010).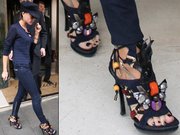 Tribal
Look for at least one distinctively tribal-inspired high heel for spring. Animal prints, feathers and beads — the wilder, the better! Wear your tribal-like heels with everything from everyday denim to bold, statement dresses. Look at Alexander Wang Spring 2010 for my favorite leopard-print, peep-toe wedges.
Kitten heels:
These slightly elevated heels (1 1/2 inches or less) are the perfect alternative to high heels, especially if you find heels uncomfortable or difficult to walk in. Their slight height is just enough to dress up an outfit. Oftentimes, flats feel much too casual. Look for a kitten heel that slowly tapers in, away from the back of the shoe. Marni's spring 2010 metallic kitten heel is one hip option with an interesting heel design, too.
More like this story on Lawrence.com