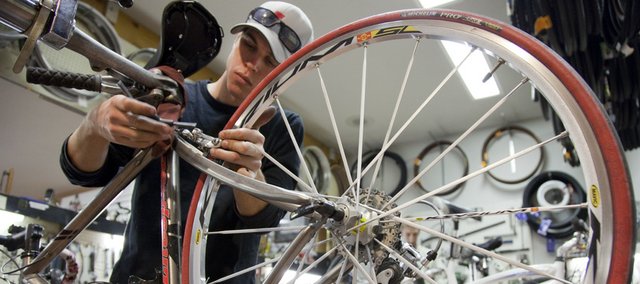 Past Event
Friday, May 21, 2010, 7:30 a.m. to 9 a.m.
Sunflower Outdoor & Bike Shop, 804 Massachusetts, Lawrence
All ages / Free
The letter of the law
The wording, as pertaining to "qualified bicycle commuting reimbursement" in the IRS's 2009 Employer's Tax Guide to Fringe Benefits:
For any calendar year, the exclusion for qualified bicycle commuting reimbursement includes any employer reimbursement during the 15-month period beginning with the first day of the calendar year for reasonable expenses incurred by the employee during the calendar year.
Reasonable expenses include:
The purchase of a bicycle and
Bicycle improvements, repair, and storage.
These are considered reasonable expenses as long as the bicycle is regularly used for travel between the employee's residence and place of employment.
One hundred percent of Gary Long's employees bike to work.
It's a staggering number, but not totally unsurprising given that Long owns a bicycle shop, Cycle Works.
All the same, as a business owner, Long was excited in 2008 when the Bicycle Commuter Act was signed into law as a small piece of the massive Renewable Energy Tax Credit legislation bill. The act, which went into effect Jan. 1, 2009, allows businesses to reimburse bicycle commuters up to $20 per month for reasonable expense incurred by the employee in conjunction with their work commute.
That would mean Long could encourage his employees, some who bike from as far away as Perry, to keep pedaling into his west Lawrence shop and get a tax benefit for his business, too.
Sounds like a perfect scenario, except for the fact that Long hasn't heard a peep about the act since he learned of its existence.
"I remember hearing about it awhile back and I pondered and pondered how it could possibly work," Long said. "And I got some kind of official notice, but it wasn't clear. Details were to come and that's about it."
Those details are still murky enough it seems that now, just before National Bike to Work Day — Friday — the Journal-World wasn't able to find any company in town providing the bicycle commuter benefit to its employees, despite the fact that Lawrence is on the League of American Cyclists' list of Bicycle Friendly Communities and, in 2007, had 2.3 percent of workers regularly commuting by bike — more than six times the national average at the time.
So, what's the problem?
There may be several hurdles all adding up to a collective lack of benefits, the first of which is that there is no one way to dole out the reimbursement.
"As I understand it, it's an exclusion of wages. If you get $20 a month from your employer for riding your bike to work, then that would be excluded from your income, under the law," said Michael Devine, IRS spokesman for Kansas and Missouri. "Everybody's circumstances are different. You have to read the criteria."
Meghan Cahill, director of communications for the League of American Cyclists, says there are two main ways to go about it: using a third-party benefits provider or setting up an in-house reimbursement program.
"You can do the commuter checks, some people do it as a reimbursement program through bike shops," Cahill said. "If the employer wants to set it up where they give you the cash through their paycheck, fine."
Cahill says that for most companies, using a benefits provider is the easiest course of action, because then employees can sign up for the benefit just as they would any other company benefit like health care or a flexible spending account. But there is one minor caveat: There's only one provider with a bicycle commuter product.
That singular provider is Massachusetts-based Accor Services. The company is the leading provider of commuter benefits in the United States and has offered the bicycle option since April 2009, says Jay Retkevicz, the company's affiliations manager.
"We already offered a voucher developed specifically for parking benefits and one for transit benefits, so we decided to add the Commuter Check for Bicycling voucher," Retkevicz said. "The voucher is designed to only be used and accepted by bicycle retailers or storage facilities. The voucher removes the hassle of (the) employer trying to administer the benefit through a reimbursement process."
However, Retkevicz says the bicycle product is by far the least popular of all of Accor's commuter offerings. Bonnie Zelter, director of corporate marketing for benefits business WageWorks, says that the small amount of money involved may be way the credit isn't yet offered by more providers, including her own, which is working on, but has yet to roll out, its bicycle product.
"People have been slow to adapt (to) it, because the provision is not as great as a commuter benefit, where you get to put aside $230 pre-tax money for your commute to work," Zelter said. "(The) bicycle (benefit) is $20 a month that you get a credit for, but it's not a whole lot. So, it would probably pay for your inner tubes on your bike."
Cahill disagrees. She bikes to work and receives the benefit and says the reimbursements helped offset the purchase of a bike, as well as its maintenance.
"For the employee it's a win-win, you get the $20. For the employer … they'll get a tax write-off," she said. "And also, your employees are happier, healthier and more productive because they're biking to work and have this incentive to encourage them to bike."
However, she acknowledges that the benefit may be difficult to swallow because of all the paperwork involved for such a small advantage on both sides. She says Washington is listening and that congressmen close to the act, including its author, Rep. Earl Blumenauer, D-Ore., are looking to streamline the reimbursement system for employers and may even end up increasing the cash involved to up to $50 a month.
Long says that would be spectacular, not only as an employer with biking workers but also for the people of Lawrence.
"(Biking is) good for your body, soul, your pocketbook and the economy," he said. "I'm all in favor of doing whatever we can."