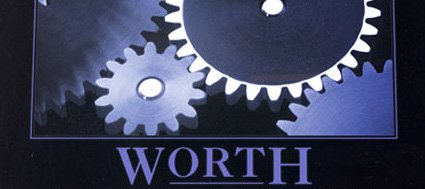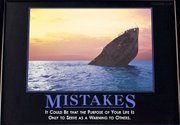 In this era of economic futility, corporations are often asked to resort to cruel tactics with their employees.
No, it's not downsizing to which I refer. Instead, it is the blight of motivational measures.
Sometimes this is manifested in something as simple as placing a placard in the workplace with a motivational phrase on it:
"It's not the situation; it's your reaction to the situation."
"You are never a loser until you quit trying."
"I can is 100 times more important than IQ."
"Hang in there, kitty — it's almost Friday."
Other times this wobbly encouragement is introduced through something as invasive as a motivational speaker. Spewing phrases such as "personal achievement" and "team building," these professional "inspirtainers" speak with the authority of a bumper sticker stuck to the back of a '96 Corolla.
But like the pathetic character of Matt Foley that the late Chris Farley so perfectly inhabited on "Saturday Night Live," these folks really can have an effect on workers. Typically, this is by compelling employees to work even harder so that they don't grow up to be a motivational speaker.
Thus it's nice to see that a site called Despair, Inc. has found a way to poke fun at this motivational trade with razor-sharp acuity.
The site claims, "We believe motivational products create unrealistic expectations, raising hopes only to dash them. That's why we created our soul-crushingly depressing Demotivators designs, so you can skip the delusions that motivational products induce and head straight for the disappointments that follow!"
So under a vivid poster-sized image of a grizzly bear catching a salmon in a waterfall, the caption reads: "AMBITION: The journey of a thousand miles sometimes ends very, very badly."
Or beneath a closeup of metallic cogs: "WORTH: Just because you're necessary doesn't mean you're important."
After my latest Culture Crumbs blog elicited not one solitary comment for the first time this year, I felt the need to purchase a Despair, Inc. poster that fit the occasion. In it, a man sits atop one of the ridges of Monument Valley, Utah, staring at the vast structures. His only companion is the Powerbook in his lap.
The caption reads: "BLOGGING. Never Before have so many people with so little to say said so much to so few."
Posters, mugs, mousepads and laptop skins are all available from Despair, Inc. I especially appreciated the models utilized to hawk the T-shirt versions of the products, who appear suitably burnt-out and downtrodden.
That's why it's even funnier to see one wearing a picture of a falling star landing among evergreen-laden hills.
"WISHES: When you wish upon a falling star, your dreams can come true. Unless it's really a meteorite hurtling to the Earth which will destroy all life. Then you're pretty much hosed no matter what you wish for. Unless it's death by meteor."
— Entertainment editor Jon Niccum explores facets of pop culture that have established a unique niche on the Internet in Net Worth. He can be reached at 832-7178.