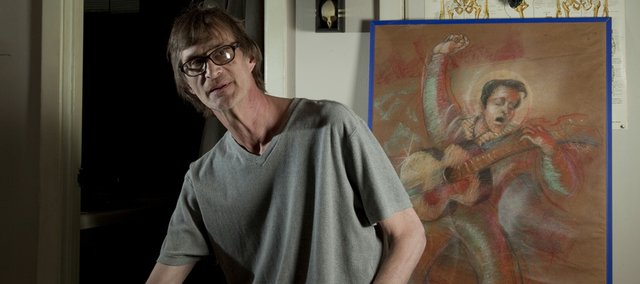 Past Event
Saturday, May 22, 2010, 8 p.m.
Granada, 1020 Mass., Lawrence
All ages / $10
What a difference a day has made
What a difference and more of the same
Greg Volpert's favorite song by his favorite band is "Indifference," a track from Moby Grape's 1967 eponymous debut.
But indifference is hardly what the Lawrence illustrator has experienced since he was diagnosed with cancer.
A concert called Benefit for an Artist is being staged for Volpert at 8 p.m. today at The Granada, 1020 Mass. Despite having never met face to face with anyone in Moby Grape, members of this classic Bay Area act, along with those of Jefferson Airplane and other regional musicians, are uniting to help Volpert offset his medical bills.
"The phrase 'a dream come true' comes to mind," he says.
The 59-year-old Volpert contributed the artwork for all five Moby Grape tribute albums, which is how he came to the attention of the band.
He says, "I first heard them in high school when I was 17. They were exciting, they just came roaring out of the chutes. They had glorious, folky harmonies and soulful lead vocals and killer guitar. It was an amazing combination. ... I've always wanted to see them live."
That's the plan, anyway.
Volpert is currently undergoing chemotherapy. The arduous treatment has left him severely weakened.
"I'm wondering if I'm going to have the stamina to be there the whole time," he says of the concert. "I need to. I'm counting on the support of people to help me get through it."
Bob Harvey, a founding member of Jefferson Airplane, began a long-distance friendship with Volpert after the artist designed a gig poster for him several years ago.
"He's a sweet soul," Harvey says of Volpert. "Ninety percent of the artwork for bands he's done for free because they didn't have money."
It was while collaborating on the artwork for a children's book written by Harvey called "The Legend of Elos Mountain" that the musician learned of Volpert's condition. Harvey contacted friend Debra Kennard, a Washington state-based promoter who had helped him with previous benefits, and together they set out to recruit talent for the Lawrence event.
Harvey says, "Greg has done everything for everybody, so I figured it was time somebody did something for him."
Art forms
Volpert relaxes in his studio apartment off 23rd Street, worn out by a morning of chemotherapy.
The small space is a cacophony of visual distractions. Walls are covered with framed Ringling Bros. showbills, turn-of-the-century postcards and psychedelic concert art. Meanwhile, shelves filled with comic books, records and art supplies compete for space.
"I've got about everything I own in this room," Volpert says. "I'm eccentric by default."
Also featured prominently is a framed Moby Grape concert poster and the album sleeve of the group's debut. (The band's quirky name came from the punch line of the joke, "What's big and purple and lives in the ocean?")
While music has always been a beloved hobby, art is Volpert's true passion.
"Art was the one thing I knew I could do. I was too sickly for sports. Art kept me out of a lot of fights in school. They threatened to beat me up unless I drew a naked lady for them," he says.
The Manhattan native became obsessed with the inked panels of Marvel Comics in high school, so he began to take drawing classes.
"It kind of opened my eyes to more academic form and sense of design," he says. "You learn a lot of mistaken anatomy from comics."
Eventually earning a degree from Salina Vo Tech in commercial design, he began working professionally designing T-shirts and sweatshirts. He continued to pursue his own art, which he describes as "stylistically all over the map — from cartoony to realistic to way-out abstract."
Volpert first learned of his illness Feb. 20. He had been prescribed Chantix to help him curb his smoking habit. But as soon as he went on the product, bizarre symptoms began manifesting themselves.
He says, "At first I thought it was prostate cancer. But it turned out it was something even worse: pancreatic cancer. These are hidden diseases. They just lurk, and you never find them in time. But I'm hoping that we have a tiny time advantage from the Chantix, having outed all those symptoms at once. Maybe we've got a window of opportunity there."
Volpert has been on chemotherapy since April 10. Unfortunately, the cocktail of drugs has left him unable to draw.
"My attention span is next to nothing. I can't focus on anything after 20 minutes," he says.
'Blessing of the audience'
Guitarist Jerry Miller has never met Volpert. And despite decades of touring, Miller has never once stepped foot in Kansas.
"I've played gigs with (Lawrence R&B; legend) Mike Finnigan before — that's about as close to Kansas as I've come. But I'll be there for Greg," Miller says.
As a founding member of Moby Grape, Miller earned high praise from his peers as an innovative, significant guitarist. (Prior to Moby Grape, he even contributed guitar on The Bobby Fuller Four's classic version of "I Fought the Law.")
Miller was recently ranked No. 68 in Rolling Stone's "Top 100 Greatest Guitarists Of All Time," placing him ahead of such heavyweights as Eddie Van Halen, Pink Floyd's David Gilmour and AC/DC's Angus Young.
"That was some kind of a popularity contest. But I was happy to get in there. There were some people I knew who were pretty deserving of getting in there that didn't, and some that got in there I didn't think should," Miller says.
So how is his guitar playing holding up at age 66?
Miller says, "It's just fine. It's ridiculous. I'm getting better and better."
In addition to The Jerry Miller Band and Bob Harvey, other acts slated to perform at the benefit include J.D. Nash and Red Circle, Paint Hands, Mojo National, Big Stack Daddy, Judy Coder and Cowgirl Swing, and a special appearance by Larry Hosford.
The 75-year-old Harvey, who has also never previously been to Kansas, terms his style "folk music, message music."
"I came out of bluegrass, and that's why I didn't really last in the Airplane after that first year," he recalls. "They said you gotta go hard rock and all electric, and I was playing upright bass. We were all playing acoustic instruments."
Harvey says it was "disappointing" when he didn't make it into the Jefferson Airplane crew that was inducted into the Rock and Roll Hall of Fame in 1996. But he also shares no illusions about the whole psychedelic era of rock, and its purported "peace, love and understanding."
"We would have never done (a benefit like this) back then," Harvey admits.
"We were too busy trying to be somebody. We did shows in Golden Gate Park for nothing, but that was just PR because thousands would show up. All we had to do was call two or three DJs in town who knew us, and the place would be packed. But it wasn't for a cause or for somebody. This is a new ballgame."
Miller agrees that, though the bands themselves might not have had the purest motivations, the fans — such as Greg Volpert — most certainly did.
"The audience was the cream of the crop — not so much the musicians," Miller explains. "It was the blessing of the audience. They gave and gave. The Grateful Dead and Big Brother and Jefferson Airplane were oftentimes very sour — Moby Grape was from time to time very sour. We had no tuners, and (the PA systems) weren't great. But the audience was right there with you, always."
What's that tune you're bringing?
Just part of what there is to find
What a difference a day has made