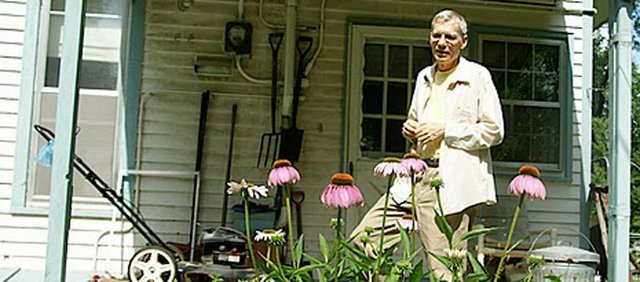 After managing the Herbs and Wellness departments during his 20-year tenure at Community Mercantile, 901 Iowa, herbalist Hal Sears is convinced of the health benefits of the elderberry.
"I recommend elderberry to protect and strengthen the immune system, and for all sorts of respiratory problems," Sears says. "It's good for the winter sicknesses — very effective against colds and flu, especially for children because it's so palatable."
In the early days of Sears' herbal education, he learned primarily by experimenting on himself. Forty years on, his practiced healing skills are a boon to friends and family. "I've been giving my granddaughter a regular course of echinacea and elderberry syrup since she was an infant," he says. "She's going on 3, and not one bad virus or cold."
Though Sears retired from the Merc in 2005, he still fields consultation calls from his old customers. "I recommend elderberry pretty regularly," he says. "There were some elderberry folks near Wichita — they made a very good concentrate of the juice. That's the stuff to get."
Wyldewood Cellars is based near Mulvane (population 5,500), just south of Wichita. Merry O'Callahan-Bauman and her brother John Brewer, a winemaker with a doctorate in physics, opened Wyldewood in 1994, looking for a way to make the family farm pay off. Their mother, Margaret Millican, a retired cardiac nurse and now a recognized national authority on elderberry propagation, suggested cultivating her favorite plant.
"Mom always said elderberries are really good for people," says O'Callahan-Bauman. "And she's right. Elderberries have kept me alive for the past 14 years."
Shortly after opening the family business, O'Callahan-Bauman was diagnosed with chronic obstructive airway disease, with a prognosis of "maybe two years to live." She was 47 years old, a mother of five, with three grandkids.
"I was a mess," she says. "I already had type II diabetes and severe osteoarthritis, and now this. But then something happened."
Elderberry products account for 75 percent of Wyldewood's business: wines, juice concentrates, jams, jellies and syrups — even fudge (think of a foxier version of chocolate and raspberries).
"I was making all these products and consuming a lot of elderberries, drinking a glass of elderberry wine every day, and I started feeling better. A lot better," O'Callahan-Bauman says. "My doctors were amazed at the changes."
Within two years, O'Callahan-Bauman was off all medications, taking only a daily teaspoon or two of elderberry juice concentrate, without any notable changes in diet and activity levels. Diabetes, arthritis, obstructed airway... gone.
"I've never had a flu shot. I've gone 14 years without a virus," she says. "I've used it on my grandkids and our animals. We sell cases of it to nursing homes. Doctors buy it to treat infants born with asthma. We had one guy use it for West Nile on his horse. It worked."
A long history
History is rife with testimonials to the health-giving powers, and the culinary delights, of the elderberry plant (Sambucus). It was cultivated in Stone Age villages found in Italy and Switzerland, and wine recipes from ancient Egypt authenticate its enduring gustatory appeal.
Native Americans mixed elderberries with dried meat and animal fat to make pemmican (a high-energy subsistence food), and used all parts of the plant to treat colds, fevers, headaches, indigestion, skin disorders and rheumatism.
Plenty of compelling anecdotal evidence, but where's the science?
In 1991, Madeleine Mumcuoglu, a virologist at the Hadassah Medical Center in Jerusalem, isolated an anti-viral compound (which she named AntiVirin), and three flavenoids (naturally occurring plant antioxidants) from the European black elderberry plant. Her initial studies indicated that AntiVirin was effective against human, avian and swine flu strains.
A study conducted by the University of Norway in 2004 confirmed Mumcuoglu's findings. Of the 60 flu patients administered her extract, by then marketed as Sambucol, 56 were completely symptom-free within two to three days, without the drowsiness and other side effects common to standard flu treatments.
In 2007, Mumcuoglu's extract was tested against the Avian flu strain (H5N1). Researchers from Retroscreen Virology, a British research institute associated with the University of London, found that Sambucol was "at least 99 percent effective against H5N1," and greatly diminished the infectivity of the virus.
Home-grown therapy
Most home cooks would be happy enough to make elderberry syrup for pancakes, coddle a few gallons of wine in the cellar or put up a few jars of jelly and jam. But where to find the elderberries?
In Lawrence, many people pass unknowingly by an elderberry every day. It grows in thickets along the Kaw, and on the edges of fields and vacant lots. It toughs it out alone in residential alleyways and takes center stage — in some of its fancier forms — in front-yard, ornamental plantings.
"It's abundant in our area, and very easy to grow," says Byron Wiley, one of the founders of the Lawrence Fruit Tree Project (LFTP). "That's the main benefit of growing native plants — they're adapted to our environment, meaning greater disease resistance and requiring little care."
Since 2007, the LFTP, consisting of a small core of regulars and a pool of volunteers, has planted fruit trees at New York School, Free State High School, the Ad Astra Cooperative House and at the Douglas County Jail, along with dozens of private garden plantings.
"The cultivars 'York' and 'Adams' are the best elderberries to plant for fruit production," Wiley says. "Or, if you have a friend with an elderberry patch, just take a shovel and cut off a chunk. They transplant easily."
Culinary and medicinal attributes aside, the elderberry is also a fine garden plant. "They get big, about 10 feet tall and nearly as wide, so give them room" says Wiley.
Ornamental cultivars have purple, golden or variegated leaves, and the hubcap-sized umbels of white flowers that cover the shrub in June yield large scapes of purple-black berries in August.
But if you grow elderberries primarily for fruit, Wiley adds a caveat: "Birds love elderberries, and birds are smart. You better get there first."