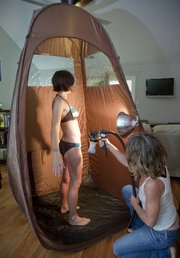 The results of a recent survey by the American Academy of Dermatology reveals the majority of people still idolize the bronzed look of a tan despite wanting to protect themselves from skin cancer.
Seventy-two percent of 7,000 respondents agreed that people look more attractive with a tan. Sixty-six percent thought a tan makes people look healthier.
The problem is, of course, that UV radiation from the sun and tanning beds can lead to the development of skin cancer, which is neither healthy nor attractive.
Is it any wonder that indoor tanning products are more popular than ever?
Concern about sun damage on her skin prompted Perry resident Melanie Galyon to start a new mobile spray tan business, White Teefe Spray Tan.
"I've been using self-tanning creams for quite a few years because I have had skin cancer, basal cell carcinoma, in the past," Galyon says. "In fact, I'll still have a flareup of it here and there. Being in the sun is hard for me not to do because I run and spend a lot of time in the garden and outside. And, I don't mind wearing the sunscreen if I can have some color, too."
A certified spray tan technician, Galyon brings a three-sided booth and an air gun to tanning parties at a client's home. Partygoers typically pay $20 per person for an all-over tan that lasts seven to 10 days. The hostess receives her tan for free.
"It's airbrushing, is what it is," Galyon explains. "The product is 100 percent natural and organic. It's called DHA (dihydroxyacetone), and it's a colorless sugar that reacts with amino acids in the dead skin cells. The coloring process is similar to how an apple begins to brown over time. It's completely safe, and easy."
Lawrence resident Vicki Motter has tried several tanning products, including spray tanning, and agrees there are better choices available these days.
"I've done the spray tan thing. Because I was going out of town for a wedding and wanted some color. I think it lasted about seven days," Motter says.
"But I like Clarins products, especially one called Intense Bronze Self-Tanning Tint. It's a liquid that you rub on your face to give you immediate color. Of course, they're discontinuing it so I just bought four bottles.
"Perricone makes a tinted moisturizer with an SPF of 15," she adds. "I also have more mainstream products that you can get at the grocery store. Like Jergens Natural Glow. It's a nice one at a great price, and they have one for the face and one for the body."
Dianne Bari, Lancome counter manager for Weaver's, 901 Mass., says Lancome cosmetics have boosted improvements in the "fake bake" products on the market lately.
"It's a pretty big deal in our industry," she says. "One of the nice things about the products now is that some of them are tinted, so you can actually see where you're applying it."
Bari says skin care companies have started to create creams and lotions with multiple benefits.
"At Lancome, for instance, we have a product called Flash Bronzer, and it's a tinted, anti-age, self-tanning face lotion," Bari explains. "So, it not only gives you a glow and tans you, but it diminishes lines and wrinkles and has an SPF of 15. It's kind of like four products in one."
Another welcome advancement is a more pleasant olfactory effect.
"All of our products are made with a caramel extract so you don't get that bad smell you used to get," Bari adds.
More like this story on Lawrence.com