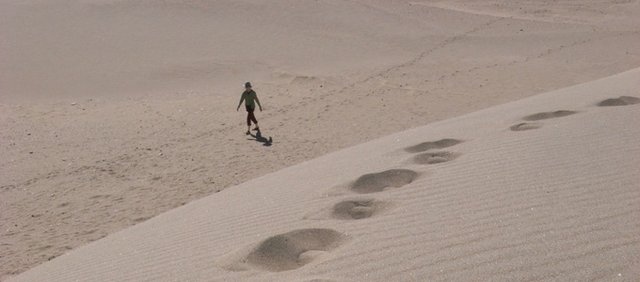 Vacation season has arrived. Like most people, I go on trips to relax, spend time with family and explore new sites. I also take lots of pictures. Although photography is usually not the main purpose of the journey, I always pack a camera. Not only is it a way to document an adventure, but it's a great tool to creatively engage with and experience the environment. I linger longer as I put some thoughtfulness into framing what I am seeing in the moment. If done in a visually interesting manner, vacation photographs can provide others with a unique glimpse of what I witnessed.
A good quality point-and-shoot, preferably one with some manual controls will suffice for most situations. Nothing can hinder your enjoyment of travel photography more than a heavy load of cameras and lenses. For the next several columns I'll discuss how to get the most out of your vacation photographs using simple gear and visually creative techniques good for any photographic opportunity or challenge.
Great Sand Dunes National Park
This 30-square mile dune field is located 11 hours southwest of Lawrence, 35 miles northeast of Alamosa, Colo. The Sangre De Cristo mountains create a backdrop to the north and east. Capturing interesting images of the dunes required paying attention to the quality of light and scale, or the relationship of objects in my viewfinder. To show off the dunes best, I needed the sun to be lower in the sky and at a 45-degree angle to the camera and the dunes. This occurred in the early evening when the sun cast plentiful shadows across the dunes.
To capture scale, it was critical to include both near and distant objects in my photographs. In one situation I used a wide-angle lens to incorporate footprints in the foreground and a distant figure in the background. This provided a sense of depth to the scene. In another example, I framed hikers descending the dunes while including the distant mountains and dune peaks as a backdrop. The relationship of the people to the towering landscape added necessary scale to the image.
Paying attention to the quality of light and the relationship of subjects in your compositions can enhance photographs on any journey. A photo gallery of images from the Great Sand Dunes can be seen online accompanying this story.