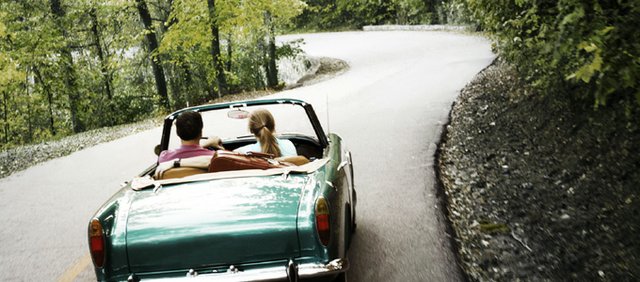 I tend to think that anyone who badmouths Kansas as a 'flyover' state isn't driving with their eyes open. Even if you never leave I-70, the Flint Hills at the very least are just as breathtaking as mountains and ocean views and all that.
But whether or not you appreciate the window views on your road trips this summer, those three-, five-, 10-plus-hour stints in the car sure are a lot more enjoyable if they fly by.
For my money, loading up on free podcasts before you hit the road is the best way to make trips do just that.
If you're a bit of a technophobe, don't let the whole podcast thing intimidate you — they're just glorified mp3s that you can manually download or have automatically downloaded for you. And from there you can put them on an mp3 player or on a CD to play in your car. (Here's a decent tutorial on subscribing to/downloading podcasts and here's one on how to burn them to a CD.)

MUSIC
Theme Time Radio Hour with Bob Dylan
croz.fm
I'll start with music podcasts, because there are just two as far as I'm concerned. And really just one: "Theme Time." This now-defunct show hosted by Bob Dylan is all the music you need — even if your road trip takes you to Alaska. All 100 hour-long shows are individually tracked and iTunes-ready, each one a fun mix of top-shelf music — for free. (These are not technically podcasts, but still, they are road-ready mp3s.)
KEXP Live Performances
tinyurl.com/kexp-podcast
This show from one of the best music stations in the country is a nice complement to "Theme Time." While Dylan plays plenty of newer music, KEXP's Live podcast is almost exclusively the latest, hot sounds. And by 'hot,' I don't mean Bieber, Miley and the like.

JOURNALISM
This American Life
thisamericanlife.org/podcast
"This American Life" is, in short, the gold standard of long-form radio storytelling. A variety of journalists tell all kinds of stories — from compelling dissections of current events to fascinating looks at forsaken strands of life. (Note: only the current week's podcast is available for free, but archived episodes are well worth the 99 cents.)
BBC Radio Documentaries
tinyurl.com/bbc-radio-documentaries
This is a brand new podcast series from the British Broadcasting Corporation — and like most things the BBC does, it's excellent.
Planet Money
tinyurl.com/nprplanetmoney
This might sound like the last thing you'd want to listen to, but really it in no way resembles most other financial journalism. It was created to make the intricacies of the recent financial meltdown something us laymen can wrap our minds around and continues to do just that — do yourself a favor and subscribe to this podcast.
Studio 360
studio360.org/podcast
An interview-based show from New York City with a Midwestern feel. It focuses on arts, music and pop culture — but is hardly limited to that.
Bill Moyers Journal
tinyurl.com/billmoyersjournal
This veteran journalist may have just retired, but his show's archive is still available in its entirety for free. It's a left-leaning current events show that focuses less on what Moyers thinks and instead puts the spotlight on leading thinkers in their respective fields.
Fresh Air
tinyurl.com/nprfreshair
Another current events and culture interview-based show. Host Terry Gross covers a wide variety of topics and the years-deep archive is a gold mine of discussions.

ENTERTAINMENT
The Moth
themoth.org/podcast
The Moth is a New York City-based group that celebrates the art of storytelling. All sorts of raconteurs tell all kinds of stories, generally to a live audience.
WTF
wtfpod.com
The title's an appropriate one for this podcast, because it's not an easy duck to pin down. It's comedy-laden, smart and irreverent to be sure — but host Marc Maron is so all over the map it would be a disservice to pigeonhole him any more than that. Just take a listen — but probably not with the kids in the car.
Doug Loves Movies
tinyurl.com/ilovemoviespodcast
This comedy podcast hosted by Doug Benson is a rollicking affair with interviews, game-show-style elements and whatever else makes for a good time. It's recorded live at the Upright Citizens Brigade in Los Angeles.
Sound of Young America
tinyurl.com/youngamerica
This show is sort of like "Fresh Air" except that the interviews are done by a fanboy (instead of an earnest journalist) with guests who are almost exclusively pop culture notables.
News from Lake Wobegon
tinyurl.com/prairiehome
This is Garrison Keillor's storytelling segment from his radio show "A Prairie Home Companion." They're dark, humorous tales told by one of the masters of weaving meandering yarns.
Superego
gosuperego.com
In short, the Saturday Night Live of podcast land.
Comedy Death-Ray
tinyurl.com/comedydeathray
Former Mr. Show writer/actor Scott Aukerman hosts a steady stream of the top comedians and artists.

MISCELLANY
Archive.org
archive.org/details/audio
This is quite simply one of the most vast treasure troves of online gold out there. If you're pretty sure it exists, it's probably here. If you're pretty sure it doesn't exist, archive.org may well prove you wrong. It's easy to get lost pinballing around the site, but with some time, you will no doubt collect hours-worth of random elements of aural culture. (Also not technically a podcast — just plain 'ol mp3s.)
Old Time Radio recordings
otr.net
A collection of 12,000+ old-time radio shows like Amos & Andy and Fibber McGee.
Studs Terkel (unabridged)
tinyurl.com/studsterkel-comingsoon
The vast majority of the interviews and radio programs by this colorful national treasure are not on the internet — yet. The Library of Congress announced this month that some 5,500 interviews are currently being digitized and will be available online within a couple years. You might need a couple iPods for that gold mine.

Safe travels!