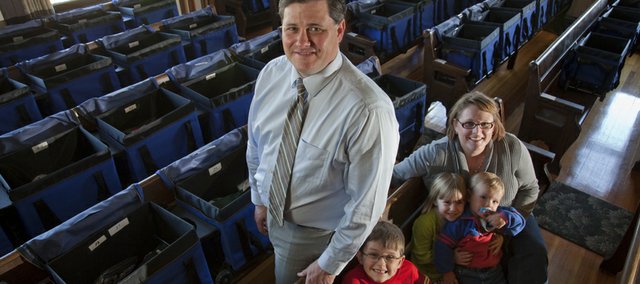 The inspiration of the Founding Fathers, his mother's death and his wife's encouragement contributed to helping Douglas County Clerk Jamie Shew achieve his childhood dream.
"Few people realize my election in 2004 fulfilled a dream that's been with me since I can remember," he says.
Shew can't point to a defining moment that shaped his aspirations but points to his preacher grandfather and parents' influence.
"They took voting and public service seriously," he says. "My teacher parents were hard workers, involved in the community year-round. They instilled those values in me."
As a child in Princeton, Mo., Shew devoured biographies of the Founding Fathers and books about revolutionary and constitutional America.
"I'd stand on our front porch making speeches and dreaming of political office," he says.
At 10, Shew was glued to the TV for the 1980 elections and became active in political campaigns in his mid-teens.
His porch antics paid off. He won the 4-H State Champion Public Speaking Award in 1988.
Shew graduated from Southwest Missouri State University (now MSU) with a B.S. in political science and history in 1994, then worked as a customer relations manager while working on a master's degree in communications and mass media. He returned home to Princeton when his mother became terminally ill.
"Mom was an amazing person. She's been a profound influence on me and made me who I am," he says. "Her death was traumatic for me, but it taught me how to live.
"She told me she had a wonderful life with no regrets," he adds. "I aim to do the same, be the best I can be, do the best job I can, live at a deeper level, not just on the surface, and appreciate my family."
After his mother's death in 2000, Shew moved to Lawrence as Kansas University's residence life complex coordinator, then worked for Metropolitan Community Colleges, Kansas City.
He married fellow MSU student Dawn in 2002. When expecting the first of their three children in 2004, Shew was invited to run for office. He hesitated.
"I felt the timing wasn't right," he says. "I was about to become a first-time father and wanted to complete my master's in public administration at KU.
"Dawn reminded me of my childhood dream and decision to live life without regrets. She encouraged me to seize the moment."
He did.
Shew's been in office since and remains passionate about life and his role. He receives particular satisfaction helping first-time voters through the election process.
"It's easy for us to become complacent about voting and forget people in some countries face death and walk hundreds of miles for the privilege of voting," he says. "I don't ever want to become complacent. If Wednesday's headlines are focused on results and not the voting process, I'll feel we've done a good job."
Shew turns 40 today. He's looking forward to his next phase of life.
"I want to keep growing and learning personally and professionally, and remember there are infinite possibilities before us," he says.
"Like my mom, I want to live life to the full and without regrets."