On the street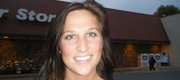 It happens every year. Inevitably each December, after stuffing envelopes and licking stamps, a prospective graduate student will realize his mistake: He forgot to change the name of the university for each of his purpose letters, sending the wrong letter to the wrong school. And if the applicant fails to notice or remember, the graduate selection committee will certainly spot the error. Rejected without a pause.
"One of the biggest mistakes students make is not paying attention to deadlines," says Roberta Pokphanh, program coordinator for KU's graduate studies office.
Unaware of deadlines or requirements, prospective students sometimes rush and scramble when applying to graduate school. And because of a few common mistakes, they're often denied admittance. But it doesn't have to work that way. Simply being aware of what steps to take can improve an applicant's chances.
The benchmark deadline for most graduate school programs is Dec. 15 (for the fall term). A lot goes into the application process, though, so preparing early is essential.
More than one school
Picking a school shouldn't be too much of a challenge. Students interested in graduate school should have a narrow interest in mind, limiting choices. However, applicants are advised to apply to more than one school, and in some cases as many as 10 to 12.
"For undergraduate programs it's OK to apply to just one school, but when you're applying to a graduate school program you don't want to do that," says Pokphanh. "Apply to some that you're really reaching for, some you're more confident about getting into, and certainly apply to some safe schools."
Don't neglect applying to your dream school — even if you think you don't stand a chance. When Michael Fauver, a graduate student at the Writer's Workshop in Iowa — the top school for creative writing in the nation — received his acceptance letter, he was nothing short of stunned.
"I was very surprised," says Fauver. "People get things they don't deserve every day. One day that could be you. Don't take yourself out of the running because you don't think you can do it. You might waste 50 bucks. There are worse ways of spending your money."
There is no magical formula for getting into graduate school. There are risky routes that, though not encouraged, could actually work. For instance, Pilar DiAsto, a graduate from Kansas State University with a degree in drama therapy, decided to take a leap of faith and apply to just one school.
"There were only three schools in the United States, at the time, for drama therapy," Pilar says. "I perceived that KSU was the most accessible."
To DiAsto's delight, she was accepted into the program. Others won't be as lucky, so applying to more than one school is vital.
Budgeting expenses
Just applying, without being accepted, can be costly. Application fees range from $40 to $75, depending on the program. For instance, KU's fee is $55 to $65. This can seem like a lot of money to apply several places at once, so it's important to budget beforehand.
The essential paperwork
There are three common documents to the graduate school application: Graduate Record Examination scores, a purpose statement and three letters of recommendation. Each element has different heft depending on the program.
The GRE costs $160, and it's important to take the exam before the application deadline. For some programs, earning a less-than impressive score is OK.
"It's just one component of a bigger application," says Pokphanh. "While (each element) is important, do understand that it's just one piece."
Every school requires some sort of statement of purpose. Like a cover letter, the essay should prove qualifications — but it shouldn't sound droll.
"It's the one item that makes you human," says Donald Asher, author of "Graduate Admissions Essays," a best-seller. "It's also the one item you have complete control of, so make it perfect."
Fauver says he wrote an excessively long rough draft, chronicling every relevant detail. He then spent two months whittling it down to meet the length requirement. Length requirements vary but should always be honored.
As for the tone of the letter, Asher says to sound lively yet professional.
"I tried to be as personal and professional as I could at the same time," says Fauver.
After crafting a good rough draft, Fauver recruited competent friends to help him edit and revise his essay — another essential step.
"Everyone needs an editor," says Asher. "I don't care how long you've been in the business."
Another important item is the letter of recommendation: Graduate programs usually require three.
"Students don't seem to realize how important that letter of recommendation is," Pokphanh says.
To get a good letter, students should find a way to stand out to professors, launching relationships early on. They should also perform well academically, and when letter time comes around, they should remind their professors of this.
"Remind your professors how they have known you," Pokphanh says. "Give them a list."
And make sure your letter is in on time. "This can be an awkward thing for students," says Pokphanh. "Do it politely. Just let the (letter writer) know you're checking up on application materials."
After taking the GRE, writing the purpose statement and collecting the letters of recommendation, don't be a dummy: Make sure you send the application to the right school.