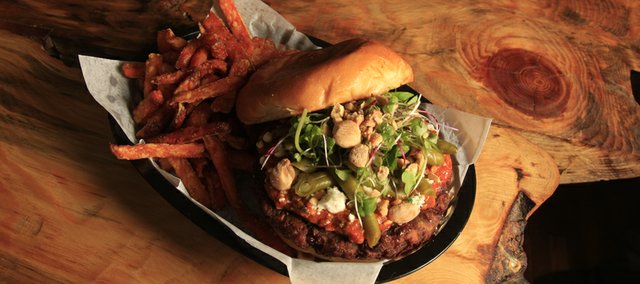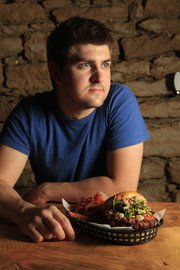 How does Rachel Lyle of Lawrence love the lentil burger from The Burger Stand at the Casbah? Let her count the ways:
"The flavor is great," Lyle says. "Plus, the texture is really nice. I don't know what's in it, of course, but it apparently doesn't rely on soy for all of the texture. And, the way they top it is really nice, too."
Lyle says she's not a vegetarian, but she's no stranger to meatless fare.
"I'm eating less meat all the time," she says. "Over the years, I've tried a lot of veggie burgers, and this is just a great one."
When Lyle asked the Journal-World to secure the recipe, Burger Stand co-owner, Simon Bates, who created the burger, was happy to oblige.
"I'm not a vegetarian either, but I eat a lot of burgers and I needed a break," he says. "So, the texture I was going for was solid and crispy — not meaty — but firm. And the trick is really the pan-sear or frying. That makes it nice and crisp."
Lentil Burgers
1 16-ounce bag of dried green lentils
1 cup Panko breadcrumbs
1 cup flour
1/2 cup Parmesan cheese, grated
3 tablespoons onion powder
2 tablespoons garlic powder
Salt and pepper to taste
Oil for frying
Cook lentils in lightly salted, boiling water until tender. Strain until no liquid remains. Mix with remaining ingredients and let cool slightly. Form into patties, using additional bread crumbs if mixture sticks to your hands.
Either pan sear the patties in 2 tablespoons vegetable oil until crispy over medium heat OR deep fry in 350 degree oil until crispy. (The Burger Stand at the Casbah uses the deep-fry method.) Makes 10-12 burgers.
Serve with your favorite burger toppings, especially feta cheese and almonds.