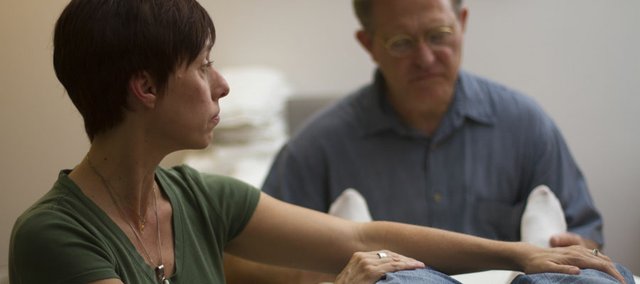 Photo Gallery
Lawrence Reiki Circle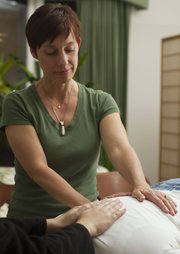 Reader poll
Yes

26%

127 votes

No

73%

352 votes
479 total votes.
Stressed? Feeling stuck? Lacking energy? Reiki might help.
I sampled a free treatment at a Lawrence reiki circle.
Reiki Master Marta Schwartz introduced me to reiki practitioners Nadine and Doug Koch, and Kali Vukas, whose hands were to ready to impart healing reiki energy. I was invited to lie, fully clothed, on the table, and asked to share my ailments.
Where to start? We could be there all night. Discretion won.
"I'm just bent out of shape and uptight," I proffered.
Schwartz placed a tissue over my eyes and laid her hands gently on my forehead. Others' hands rested on my shoulders, knees and feet. I'm unused to having so many hands on my body, but instead of tensing, I felt myself relax. The hands on my knees felt extraordinarily hot. Post-traumatic tension from a recent (first) zumba class danced away, and my knees sank into the table.
"Now this shouldn't be happening," squawks my mind. "I mean, they aren't actually doing anything."
My body won. Its well-guarded tension evaporated, and my racing mind quieted. Hands shifted positions, and within 20 minutes my body, mind and spirit felt connected and peaceful.
"Reiki is the power of unconditional love," Schwartz explains.
That's it. I felt bathed in love's power.
What is it?
Reiki (pronounced ray-key) is a combination of two Japanese words meaning "universal life force energy." It's a hands-on energy technique developed in the early 1900s by Dr. Mikao Usui, to heal people, animals and plants, even challenging situations. Its healing power is passed on through a series of "attunements" given by reiki masters.
"Attunements open up and clear any resistance to the recipient's energy channels, allowing energy to flow so healing can take place," says Schwartz, owner of White Stone Wellness Center, 1201 Wakarusa Drive.
Once channels are opened and the person is "attuned" to reiki, the ability is never lost.
There are four "attunements" for level I Reiki and one for level II. Level I is particularly helpful for physical ailments including pain and swelling reduction. Level II reinforces physical healing powers and adds the ability for emotional, spiritual and long-distance healing. Masters are attuned by fellow masters to attune others.

Does it work?
Level I practitioner Kali Vukas has witnessed reiki's power working with shelter animals.
"I took a semi-feral kitten with a severe upper respiratory infection to a relatively quiet room and attempted to give her reiki," she says.
"At first she just wanted to get away. I kept my hands near her without touching her to ensure she didn't feel trapped or restrained. After a few minutes she leaned into my left wrist like it was a pillow. She wrapped her left paw over my wrist and lay there purring for 30 minutes while I gave her reiki."
Doug Koch's massage therapist wife introduced him to reiki.
"When Nadine was first attuned she asked to practice on me," he says. "I have an open mind so I agreed. It's hard to explain reiki rationally, but I know chronic pain from an old injury was significantly reduced. I was also surprised to experience psychological shifts."
Koch, photography coordinator at Kansas University, was so intrigued he did level I and II, and he recommends it for couples.
"We use it all the time," he says. "It provides a framework for us to focus in loving ways and remember what makes us happy. We also use it individually, and on situations that need healing."
Schwartz affirms reiki's power. In 1997, suffering from severe fatigue and burnout and ready to close her massage practice, she saw a leaflet advertising a reiki workshop.
"I saw the words 'self-healing,' knew I had nothing to lose, and signed up for the class," she says. "After the first session my internal batteries felt recharged, and a sense of happiness, peace and hope filled my entire being."
She completed reiki II and a one-year reiki master apprenticeship in 2001. Her business and her life are flourishing.
"My hands are always with me so I can help wherever I'm needed. I use Reiki everyday in my home and office," she says. "I've experienced its power in my own life, and seen it work powerfully in others' lives. My goal as a master reiki practitioner is to empower others to facilitate their own healing in any way I can."