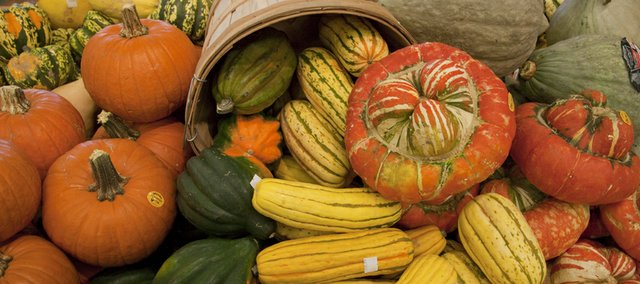 Tuesday, November 2, 2010
Photo Gallery
Winter squash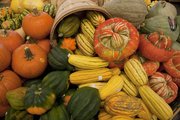 A look at some of winter's most flavorful squash.
Winter squash
What they are: Winter squash is the general term for a large family of hard-skinned squash found in the Americas. They are native to Central and South America, but are now grown heavily in North America. They are members of the Cucurbita genus. The hard skin of the winter squash isn't edible like that of the tender summer squash varieties.
Season: Winter squash are available year-round, but are at their peak in the fall, which is also when local varieties are ready.
Nutrition: On average, 1 cup of cubed winter squash has 39 calories, no fat, 2 grams of fiber, 3 grams of sugar, 32 percent of your daily vitamin A, 24 percent of your daily vitamin C, 3 percent of your calcium and 4 percent of your iron, according to www.nutritiondata.com.
How to pick them: Choose rock hard squash with smooth, unblemished skin (unless it's the warted type, naturally) that's free of bruises and cuts. Pick ones that are matte, not shiny, and have thick stems rather than thin green ones.
How to store: Keep squash in a cool place that is dry and has good air circulation according to Aliza Green's "Field Guide to Produce." The thicker the skin, the longer a squash can last in the right conditions. Squash with the thickest skins can last for months. If the seed pod is mushy, avoid using it, but if it's a squash with a "neck," the neck can still be used if that flesh is firm.
— Sarah Henning
What do I do with ...?
Got a food the intimidates you? We'd love to hear what foods you'd like to know more about. E-mail Sarah Henning at shenning@ljworld.com.
Next food up? Game meats
What is autumn without squash? Whether it's pumpkins on your porch or roasted butternut on your table, winter squash is nearly synonymous with fall.
But there is more to the winter squash family than the usual suspects of butternut, pumpkin and acorn. There are the toothsome Japanese varieties like kabocha, red kuri and sweet dumpling, the beautiful delicata and hubbard, and even the unusual, so-ugly-it's-cool turban.
For more, we run down the squash making the rounds this season.
Kabocha: These round, flat squash are Japanese in origin and their taste is deep and honeyed, according to Aliza Green's "Field Guide to Produce." The flesh is dense and fine, making it almost fiberless.
Delicata: An old heirloom variety, delicata (also called peanut squash) has been making a comeback recently. It has a relatively thin skin and therefore will not keep as long as other squashes, but its yellow flesh isn't stringy and is quite moist, according to Green.
Turban: A very sweet squash, the turban is named for its likeness to the head wrap and is popular as a centerpiece because of its unusual shape and its deep cavity, which can be used as an elegant vessel for soup. Also related to the turban is the buttercup squash, which is small, dark green and very sweet.
Baby blue Hubbard: Hubbards can come in several colors from blue to gray to orange to green, both dark and light. They can be shaped like a teardrop or a toy top. Their hard skins make them great for storage and their sweet yellow flesh also makes them perfect for pies.
Sweet dumpling: A Japanese variety that has sweet, pale yellow flesh, which has what Green terms as a texture similar to a potato.
Red kuri: Another Japanese variety, these squash look a lot like a kabocha dyed orange, but beneath the red skin is a yellow flesh reminiscent of the hubbard, according to Green.
Spaghetti: This squash's thick strands can be steamed and cooked just like pasta, hence the name. The flavor is mild and sweet and takes well to what you'd normally put on wheat-based spaghetti — tomato sauce.
Butternut: The king of winter squash, this smooth, long-necked squash has a creamy orange flesh and a lot of it. It's extremely popular both as an eating squash and as a growing squash.
Acorn: A small, stringy squash, acorn is as widely available as the popular butternut. Traditional acorn squashes are green and orange and shaped like, well, an acorn. But the carnival variety is a bit more showy, with a buff-colored base and green and orange markings.
Pumpkin: Jarrahdale, calabaza and the plain ol' pie pumpkins are the most popular eating pumpkins. What makes the difference between carving pumpkins and eating pumpkins is the flesh. Eating pumpkins typically have fewer seeds and pulp than carving pumpkins, meaning they have more flesh for your dinner table.
Savory Butternut & Black Bean Burritos
1 tablespoon canola oil
1/2 medium-sized onion, chopped
3 cups peeled butternut squash, cut into 1/2-inch cubes
1/2 teaspoon ground cumin
1/4 teaspoon cinnamon
1/2 teaspoon salt
2 cups cooked black beans, drained and rinsed
8 flour tortillas
1 1/2 cups grated reduced-fat Monterey jack or Cheddar cheese
Light sour cream, fresh cilantro, and salsa for garnish
Heat oil in heavy skillet over medium heat. Add onions and sauté for 5 minutes. Add squash cubes and continue to cook over medium heat, stirring often until squash is just tender. If your mixture begins to stick, add a little water (or apple juice) to help steam the squash. When squash is just tender, add cumin, cinnamon and salt. Stir carefully to distribute spices. Add the beans and heat through. Preheat oven to 350 degrees. You're now ready to assemble the burritos. In a large oblong baking dish (not oiled) lay out one tortilla. Place 1/8 of the bean mixture down the center, top with 3 tablespoons of cheese and roll up tightly. Continue to do this with remaining ingredients, lining up your burritos in the pan as you go. Bake uncovered for approximately 15 to 20 minutes until burritos are heated through. Serve burritos topped with a dollop of sour cream and a sprinkling of chopped fresh cilantro, with salsa on the side. Makes 8 burritos — enough for 8 polite adults, 6 hungry adults, or 4 teenage boys.
— Recipe from "The Rolling Prairie Cookbook" by Nancy O'Connor.
Sweet Dumpling Squash and Spice Mini Muffins
2 1/2 cups all-purpose flour
1/2 cup granulated sugar
1/2 cup packed brown sugar
1 teaspoon baking soda
1 teaspoon ground nutmeg
1 teaspoon ground cinnamon
1 teaspoon ground ginger
1/2 teaspoon kosher salt
1/2 cup milk
1/3 cup buttermilk (low-fat)
1/3 cup low-fat ricotta cheese
1 large egg
2 tablespoons vegetable oil
1 tablespoon vanilla extract
1/2 cup sweet dumpling squash roasted and pureed
Preheat oven to 350 degrees. Line a mini pan with mini muffin cups and lightly coat them with cooking spray. In a large bowl combine the flour, sugar, brown sugar, baking powder, baking soda, nutmeg, cinnamon, ginger and salt. Set aside.
In a separate bowl combine the milk, buttermilk, ricotta cheese, whole egg, egg white, vegetable oil, vanilla extract and the squash. Whisk together until smooth. Pour into dry ingredients and mix just until all ingredients are moist.
Spoon the batter into the mini muffin cups and fill about 3/4 full. Bake for about 10-15 minutes.
Muffins should be lightly golden brown. A toothpick inserted into the center of a muffin should come out clean when done. Remove from the oven and cool in the pan for 5 minutes before removing and letting them completely cool.
— Recipe from www.melissas.com.
Roasted Kabocha Squash and Green Tomatoes
1 medium kabocha squash (about 3 pounds)
2 pounds green tomatoes
1 1/2 pounds red onion
1 1/4 pounds gold potatoes
6 cloves garlic
2 tablespoons olive oil
1 teaspoon salt or to taste
Peel the squash, seed it, and cut it in 3/4-inch cubes. The best method to do this is to cut the squash in half with your biggest, sharpest knife and scoop out the seeds.
Then lay the halves cut side down and slice them in wide strips. Lay the strips on their sides and cut off the thick, hard rind in pieces, then cube the orange flesh.
Cut the green tomatoes in 1-inch chunks. Peel the red onions and cut in thin wedges. Scrub the potatoes and cut them in pieces no larger than the squash pieces. Peel the garlic cloves and slice the larger ones in half lengthwise.
Toss all the vegetables together with the olive oil and salt until they are evenly coated, spread them on two baking sheets, and roast them at 400 degrees for about 1 hour, 15 minutes to 1 hour, 30 minutes.
Stir and turn the vegetables a couple times in the course of the cooking time. They should be perfectly tender, with crisped, browned edges here and there.
— Recipe from www.melissas.com.
Acorn Squash, Pears and Russian Banana Fingerling Potatoes
2 tablespoons balsamic vinegar
1 acorn squash, seeded, cut into 8 wedges
1 pound Russian banana fingerling potatoes or other small potatoes washed thoroughly, cut in half
1 pound cipolline onions or other small onions, peeled and quartered
3 tablespoons extra virgin olive oil
1 pear, cored and cut into wedges
4 sprigs thyme
1/2 cup gorgonzola cheese
1/4 cup hazelnuts, toasted and chopped
Salt and pepper
Toss the squash, potatoes, and onions with 2 tablespoons of oil and a little salt and pepper. Spread evenly on a baking sheet or in a large casserole dish and roast 40 minutes in a preheated 350 degree oven. Toss the pears and thyme in the remaining olive oil with salt and pepper and distribute evenly over the roasted vegetables. Return to oven and roast 15 minutes longer. Arrange the hot vegetables on an ovenproof serving platter, drizzle with the balsamic vinegar, and crumble cheese over the top. Place the entire platter in the oven for 2-3 minutes to lightly melt the cheese. Sprinkle with hazelnuts and serve immediately.
— Recipe from www.melissas.com.
Hubbard Squash Pancakes
1 cup all-purpose flour, unbleached
1 teaspoon baking powder
1/2 teaspoon salt
1/2 teaspoon allspice, ground
1 egg
2 cups hubbard squash, cooked and pureed
3 tablespoons maple syrup or molasses to taste
3 tablespoons milk or buttermilk
1 tablespoon unsalted butter melted
In a bowl, sift together the flour, baking powder, salt, allspice and cinnamon. Reserve. Beat the egg in a separate bowl, add the squash puree, maple syrup or molasses, milk or buttermilk, and melted butter. Blend in the dry ingredients to form a smooth batter. To make each pancake, spoon a heaping tablespoon of batter onto a lightly greased preheated griddle, flatten with a spoon to about 1/2-inch thickness, and cook until the bottom side is golden brown, about 3-4 minutes. Turn and cook on the other side until golden brown, about 5 minutes longer. Grease griddle as needed to prevent burning. Serve immediately.
Variations: Stir 1/2 cup chopped walnuts, pecans, or hazelnuts into the batter just before cooking. Also, 1 part whole-wheat flour to 2 parts all-purpose flour can be used.
— Recipe from www.melissas.com.
Pea-Stuffed Red Kuri Squash
1 whole red kuri squash
1/3 cup brown rice
2 small carrots, diced
1/4 cup peas, shelled
2 tablespoon oil
1 whole onion chopped
1 clove garlic chopped
1 celery chopped
2 tablespoons hazelnuts chopped
Salt and pepper to taste
Sauce
2 tablespoons oil
1 whole onion chopped
2 cloves garlic chopped
1 3/4 cups crushed tomatoes
1 tablespoon tomato paste
Salt and pepper to taste
Preheat the oven to 350 degrees. Cut the squash in half lengthwise and scoop out the pit and seeds. Sprinkle the flesh with salt and leave the halves upside down to drain.
Meanwhile, make the filling. Simmer the rice in a covered pan of salted water until just tender (about 30 minutes). Drain. Parboil carrots and peas and drain. Heat oil in a pan and fry onion and garlic until translucent. Add celery, carrots and peas.
Stir together rice, parsley and hazelnuts and season well. Dry the squash and pile filling into one half of it. Top with second half of squash.
Make the tomato sauce. Heat oil in a pan and add onion and garlic. Fry, stirring, until soft. Add tomatoes and tomato paste. Simmer for 5 minutes, stirring occasionally, and season well.
Place squash in a baking dish with a lid, if you have one big enough, otherwise use foil to cover. Surround it with the sauce. Cover and cook for 45 minutes until squash is tender. Serve hot or cold with a crisp green salad.
— Recipe from www.melissas.com.
Ginger and Turban Squash
2 pounds turban squash, halved lengthwise and seeded
1 tablespoon unsalted butter
1 medium onion chopped
1 tablespoon ginger root
1 clove garlic minced
1 tablespoon chopped crystallized ginger
Preheat oven to 425 degrees and lightly grease a baking sheet. Put squash halves, flesh sides down, on a baking sheet and roast in middle of oven 30 minutes, or until flesh is very tender. When squash is cool enough to handle, scoop out flesh into a bowl and discard skin. When squash is roasting, in a skillet cook onion and ginger in butter with salt and pepper to taste over moderate heat, stirring, 5 minutes, or until onion is golden brown. Stir garlic and cook, stirring, 1 minute.
Puree squash and onion mixture in food processor. Top with crystallized ginger.
— Recipe from www.melissas.com.
Delicata Squash Stuffed with Dried Fruit and Nuts
2 delicata squash cut in half seeds and pulp removed
1/4 cup pine nuts, toasted
2 tablespoons brown sugar
1/4 cup dried cranberries
1 1/2 cups gala apples, peeled diced small
1 tablespoon dry sherry or Madeira
1 tablespoon butter melted
1 cup bread crumbs preferably from a sweet bread or whole wheat bread
Combine all ingredients except for squash. Heat oven to 350 degrees. Place squash cut side down on a baking sheet. Bake for 30 minutes or until squash is slightly soft. Remove squash from oven; carefully remove the inside flesh leaving about 1/2 inch of outside skin intact. Dice the squash into uniform pieces (approximately 1/4-inch cubes) and add to stuffing mixture. Place mixture back into the 4 squash cavities. Return to oven, continue baking for 30 minutes or until squash is soft and topping is browned. Serve immediately.
— Recipe from www.melissas.com.
Spaghetti Squash with Tomatoes, Basil and Parmesan
3 pounds spaghetti squash halved lengthwise, reserving one half for another use, and the seeds discarded
2 tablespoons olive oil
1/4 cup fresh basil leaves, shredded (plus additional for garnish)
1/4 cup oregano dried
3 tablespoons parmesan cheese, freshly grated
1 cup cherry tomatoes, thinly sliced
In a glass baking dish arrange the squash half, cut side down, pour 1/4 cup water around it, and cover the dish tightly with microwave-safe plastic wrap. Microwave the squash at high power (100 percent) for 12 minutes, or until it is soft when pressed, and let it stand, covered, for 3 minutes.
In a large bowl whisk together the oil, 1/4 cup of the basil, the oregano, and 2 tablespoons of the parmesan, stir in the tomatoes, and season the mixture with salt and pepper. While the squash is still warm scrape it with a fork to form strands, add the strands to the tomato mixture, and toss the mixture until it is combined. Divide the mixture between 2 bowls, sprinkle the remaining 1 tablespoon Parmesan over it, and garnish it with the additional basil.
— Recipe from www.melissas.com.