Wednesday, November 3, 2010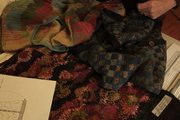 From their unassuming headquarters on Canaan Farm in Tonganoxie, Peruvian Connection has clothed women for almost 35 years in luxurious natural fibers from the Andes Mountains and around the world.
Co-founder and owner, Annie Hurlbut Zander, took time to reflect on the business' unexpected beginnings, the loss of her mother and co-founder, Biddy Hurlbut, and Peruvian Connection's future, which begins this week with a new store opening on the Country Club Plaza in Kansas City.
Cathy Hamilton: Peruvian Connection did 50 million dollars in sales last year and employs almost 200 people, all told. And it all started with one sweater. How?
Annie Hurlbut Zander: I first went to Peru to do archeological research when I was a sophomore at Yale. About five years later, I went back and lived there as an anthropologist doing my thesis on women who sell their wares in primitive markets, including hand-made alpaca garments, which I loved.
When I came back for my mom's 50th birthday party, I brought her a sweater that I thought made her look fun and sexy and lively, thinking fifty was the end of the road [laughs] that being 34 years ago. My mom and her friends loved the sweater so much, they went crazy for it. So, Mom took the sweater to (Kansas City designer) George Terbovich, who was the manager of the folk art department at Halls at the time.
CH: And you went back to Peru?
AHZ: Yes. A couple weeks later, I was living back in Cusco and I got an order for 35 of the same sweaters in the mail. It was quite an interesting piece I had found for my mom and I had no idea where to begin. I scoured the markets, trying to find something that resembled it. Next thing you know, I got a piece of paper out, and sketched the thing. It was my first design and I'm not a designer, I can tell you that. I had no formal training. Plus, I had no clue how to put it in sizes –– small, medium, large and extra-large. So, I went about finding friends of mine among the expatriate community who were American sizes, because the native population is a lot shorter.
CH: That one order changed your career trajectory, then?
AHZ: Yes. I came back to the states after I'd finished my year in fieldwork and went up and down the coasts in my old beat-up car selling to high-end fashion boutiques. One of our favorites was Henri Bendel in New York, which was just as famous as Barney's in that era, for discovering fresh design talent.
CH: Then came your second big break, a huge hit in the press.
AHZ: Three or four years after we started the business, I was at the Jacob Javitz center at the National Fashion and Boutique Show. Into the booth walked a writer for the New York Times. She saw a couple things she took a fancy to and asked if I'd be able to bring them down to the Times the next day. I immediately canceled my flight and went down and, after they took a bunch of pictures, she asked if I had time to have a cup of coffee. I was so naïve, I cannot tell you. I spent an hour telling her what it was like starting the business, about growing up on a farm in Kansas and watching the corn shrivel in August, and about the women in the Andes. I had no idea I was being interviewed. A month later, the story hit the Times and it went out on the wire services. The next thing we knew we had over 5,000 catalog requests. It was the equivalent of Oprah, in those days. It was a business-launching event.
CH: You responded to the demand with a mail-order retail business, which grew exponentially. Why did you decide to start opening storefronts?
AHZ: Initially, we thought of retail stores as a solution for end-of-season overstocks. So, we opened our first store in Lawrence, then in Santa Fe, Maryland and Vermont. Later, we expanded to Germany and England. More recently, in 2008, we opened our first-ever full-concept store in Washington, D.C. And this week, for the first time since being in Hall's, we're back on the Plaza in a collaborative store we're doing with an antiquarian called Peruvian Connection + Prize.
CH: Tell us about your mother, Biddy, and her role in the success of Peruvian Connection.
AHZ: We were full partners. She was very much involved. In the early days, there were just three or four of us, My role was the marketing end of it and Mom handl
ed the operational part of it. As the business grew, we had a COO and general managers who did the day-to-day things, but Biddy was very involved with the operation of the fulfillment center and call center. She was beloved, as was my dad (Gordon Hurlbut.) Mom was the one who always showed up with the chocolate turkeys at Thanksgiving. Mom and Dad died very close together and it was a huge blow to Peruvian Connection.
CH: Have you ever been tempted to move the business out of Tonganoxie?
AHZ: Not seriously. Over the years, people have said, 'What you need to do is move to a warehouse in Lenexa,' or whatever. But, you know what? This context out here … we have people from Lawrence and Kansas City, but the core of our people come from right here around Tonganoxie. And they love working with their neighbors and their nieces and their kids. It's a community here, and the turnover just doesn't happen. People just come and stay.
For more information: www.PeruvianConnection.com