Wednesday, November 3, 2010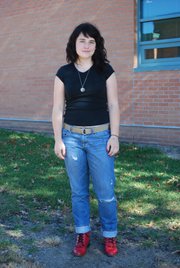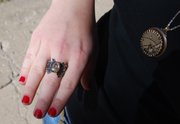 Age: 18
Sign: Libra
Occupation: Student and Hostess at La Parilla
Hometown: Shawnee, Oklahoma
Time in Lawrence: 16 years
What were you doing when you were scouted? Working in the LHS Photo Lab.
How would you describe your style? I don't wear anything new. I like things with history, character, and a story to them.
What are your current favorite fashion trends? Lace-up boots and steampunk jewelry, a somewhat Victorian-style of jewelry mixed with industrial themes.
What are your least favorite fashion trends? Wearing very little at all, like skin-tight dresses, especially if you can't pull it off. I say layer it up!
What would you like to see more of in Lawrence? We have some great vintage shops, but I'd like to see more because that is where I buy the majority of my clothing. I'd also like to see more art galleries and student work up around the community.
What would you like to see less of in Lawrence? Really bad college drivers and new development, versus rebuilding and upgrading what we already have. We have some great spaces with fabulous character, so I think we should avoid unnecessary expansions.
Do you have any fashion influences? All of the staff at ATC — I look to see what they are wearing every time I shop there. Also, I recently inherited many pieces from my 102-year-old great aunt's wardrobe, so I've been integrating her old hats and other clothing items into my daily wear.
Do you have any piercings or tattoos? I have my ears pierced, and I just turned 18 so maybe I'll consider getting a tattoo.
People say I look like… Zooey Deschanel and another local doppelganger that I haven't had the chance to meet.
Tell us a secret: I won second place in a baton twirling competition a few years back.
More like this story on Lawrence.com