Wednesday, November 3, 2010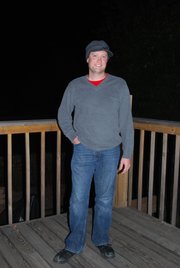 Sign: Gemini
Age: 31
Occupation: Advocacy and Protection Specialist for Adults with Disabilities
Hometown: I consider Lawrence to be my hometown.
Time in Lawrence: 7 years
What were you doing when you were scouted? Heading for Johnny's to watch football and eat pizza.
How would you describe your style? Relaxed. I like to look good without spending a lot of money or working very hard.
What are your current favorite fashion trends? Layering collared shirts underneath sweaters — kind of an old-school preppy look, and shirts with a good fit.
What are your least favorite fashion trends? Those tights that look like jeans and buying brand new things that are made to look vintage or old.
What would you like to see more of in Lawrence? Corner bars in residential neighborhoods, similar to northeastern neighborhoods in Minnesota — you know, hole in the wall joints that people go to who live nearby. I'd also like to see more organ grinders with trained monkeys and more vibrancy.
What would you like to see less of in Lawrence? Hipsters and bad bands.
Do you have any fashion influences? I can't say I have any specific influences. I like neutral colors, dark colors, and plain apparel that doesn't display the brand. I try to be fashion incognito.
Do you have any piercings or tattoos? I have one tattoo.
People say I look like… James Spader, the actor from Pretty in Pink.
Tell us a Secret: I hate when I'm sleeping with my girlfriend, and either her nose or my nose is whistling.
Tell us about your hat: It's a Stormy Kromer Hat. Stormy Kromer was a train conductor, and his hats kept blowing away, so he asked his wife to make him a hat that would stay put on the trains at night. She came up with the design, basically a fabric that wraps around the front to keep it in place—it also doubles as an ear-band that can be pulled down over your ears.
More like this story on Lawrence.com