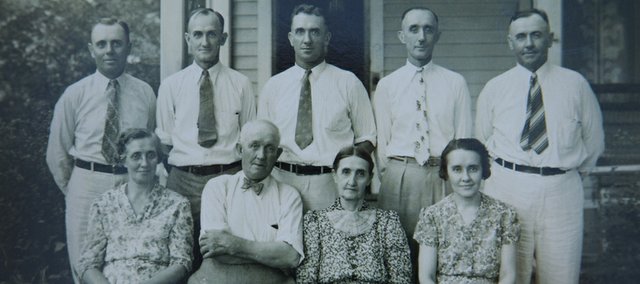 Thursday, November 4, 2010
Photo Gallery
Old Lawrence Families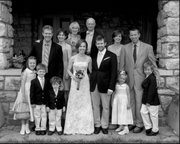 A look at some of Lawrence's oldest families and their modern-day members.
Old Lawrence names
Of course, there are more families than just these few that have meant a lot to Douglas County over the years.
It's nearly impossible to get them all in a single story, we admit.
But if you have a suggestion or two of a family whose roots are as strong and old in Lawrence as Kansas University, send an e-mail to staff writer Sarah Henning or call her at 832-7187.
We'd love to catch up with history.
Reader poll
A generation or two

26%

137 votes

Pretty far back, but I lose track when it gets too complex

24%

127 votes

I have a detailed record

48%

251 votes
515 total votes.
Flory. Bowersock. Poehler. Colman.
Those are some of Lawrence's oldest families, but those names aren't dead and gone. In fact, they're thriving and their descendants are still here living in the town their relatives helped build.
So, who are the modern day folks living with a long Lawrence legacy? We caught up with just a few members of Lawrence's oldest families.
Bowersock-Gower-Hill
An item in the Lawrence Daily World from June 11, 1910 tells you just how much of a formidable man J.D. Bowersock was.
"... Mr. Bowersock is too well known to need any introduction."
That item from 1910 details Bowersock's decision to run for a seat in the state legislature. Bowersock had already been the town's mayor, a congressman and founder of The Lawrence National Bank, The Lawrence Paper Company, The Consolidated Barb Wire Co., The Bowersock Mills & Power Co. and The Bowersock Opera House.
Bowersock died in 1922, having watched Lawrence prosper in large part to his industrial efforts since he first arrived to a depressed economy in 1877. He came to Lawrence as the son-in-law of James H. Gower, who helped found a flour mill and later, along with Bowersock, took control of Lawrence's Kansas River dam.
His family is still here, and still owns two of the businesses Bowersock helped to found: The Lawrence Paper Company and The Bowersock Mills & Power Co. His great-grandsons, Justin and Stephen Hill own those businesses, respectively, and are still highly involved with the community.
"We feel that every citizen has a responsibility to carry their share of the load," says Stephen Hill, who works with daughter Emily at Morgan Stanley Smith Barney, and who runs the power company with another daughter, Sarah Hill-Nelson. "In my day, I did my share of things, and my two daughters who live here have carried on, they're on different boards. It's just part of our obligation."
The Hill name roese to prominence when Bowersock's daughter, Hortense, married Irving Hill, he of Irving Hill Road, for folks familiar with Kansas University. Maybe not so ironically, the family also has another street named for it, Gower Place, which sits off Tennessee Street between 15th and 16th streets.
Flory
Flory is a name almost as common as Smith in these parts. It's so common, in fact, that county commissioner Jim Flory says he has actually run across Florys in the area that he's never met.
"I meet Florys that I didn't know, sure. There's quite a group of us," Flory says, who notes half the family is near Pleasant Grove and the other has roots near Lone Star Lake. "We're all related, some more closely than others."
The Florys came to the Willow Springs area in 1864, Flory says, and the family grew along with its various agricultural businesses. Now, according to Peoplefinders.com, there are at least 65 people with the Flory surname in and around Lawrence. Some of the family have remained in the farming industry, while some have gone on to more urban occupations, including real estate and optometry.
"Every September we have the Flory reunion at the Lone Star Church, see the newer generations coming along," says Jim, who represents the county's third district and has held a number of high legal positions, including District Attorney of Douglas County and Assistant Attorney General of Kansas. "I remember when I was a kid going to it and it seemed like there would be 70 or 80 people here and now it's typically 40 to 50 folks there, some years it's more and some it's less."
Poehler-Smithmeyer-Pendleton
Walk through Old West Lawrence and it's easy to see how the Theodore Poehler and his mercantile-minded family left their mark on Lawrence.
"Those Poehlers, they built several houses in Old West Lawrence that still stand," says local historian Katie Armitage.
Among Poehler's current descendants are the members of the Pendleton family, of Pendleton's Country Market, 1446 E. 1850 Road. John Pendleton's great-grandmother was Matilda Poehler, daughter of Theodore. Another Poehler daughter, Clara, married into the Smithmeyer family, which is another longtime area clan.
Karen Pendleton says her husband John's family not only has a long history in Lawrence, but also was deeply involved in helping German POWs ensconced on the grounds of the old canning factory John's grandfather, William, ran during World War II.
"John's grandmother Marie would always have a German prisoner at war that would come be a handyman at the house," Karen Pendleton says. "And we actually have letters from prisoners of war who wrote back after the war telling them how bad it was there and how they appreciated being treated so nicely."
Ernst-Schaake-Altenbernd
Walk into Ernst & Son Hardware at 826 Mass., and you might assume Rod Ernst, is the Ernst or maybe the son in "Ernst & Son."
But he's neither.
"I'm the son of the son," he says.
The store's been around since 1905, and its founder, Ernst's grandfather, remembers seeing covered wagons pass by at the family's homestead near Eudora.
Ernst's great-great-grandparents came to the area separately in the mid-19th century and met here, settling in Franklin, where they lived there when Quantrill and his raiders barreled through. Later, they came to live in the bottoms east of 1900 Road on the Wakarusa River.
Ernst says his family has been here long enough that his family is intermarried with another long-standing Lawrence family, the Schaakes.
Larry and Janet Schaake say their family came here around 1888 and that originally a set of siblings settled here, leaving relatives behind in Germany and in other U.S. cities like St. Louis. Though most famous for their seasonal pumpkin patch, the Schaake family once owned a mill downtown. The Schaakes note that they are also related to another family with an old Lawrence name, the Altenbernds.
Richardson-Colman-Smith-Wulfkuhle
On his mantel, Larry Smith has the second diploma ever issued by Kansas University.
And if that weren't history enough for you, Smith can trace his lineage back to the New England Emigrant Aid Company. Yep, the people who first came to Lawrence, though Smith and his history-minded cousin Virginia Wulfkuhle, are clear that their relatives weren't among the very first to settle in Lawrence. But still, that's a long time in Lawrence.
The name of the family that came over from Massachusetts? Colman. The Colman family married in a member of the the Richardson clan, Flora, and produced lines that can be directly traced to both Smith and Wulfkuhle. Wulfkuhle says both sides in the family came to Lawrence specifically to be involved in the abolitionist movement and to be involved in the creation of a new educational institution — the very one that issued the diploma on Smith's mantel.
"Both of those families were very interested in education, they came here because they knew there was going to be a university. And they were very much involved, particularly the Colmans, were very much involved with the abolitionist movement," Wulfkuhle says. "They came to the Lawrence area, they came to Douglas County for a reason, I mean, they didn't just wander in."