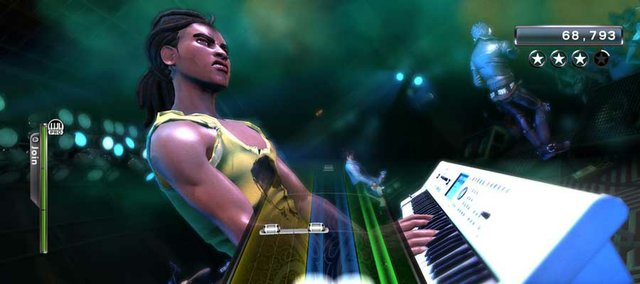 Thursday, November 4, 2010
When it comes to sequels, developer Harmonix takes a decidedly innovation-driven approach, instead of the "more of the same" philosophy so many other developers seem to embrace. Besides, the streamlined Rock Band store negates the reason for traditional titles because you can download what you want from weekly releases. With all the new features, ways to play and a new instrument, Rock Band 3 is the most robust rock rhythm game out there. It is also as essential to those who already own a previous version as those trying it for the first time.
Rock Band has always been first and foremost a party game –– something that a group can enjoy as both a player and a spectator –– but there were some setbacks that consistently plagued previous versions. For the eager drummers, strummers and button mashers, getting a song started was always plagued by accidental choices made from other band members. This is no more as the designated leader of the band makes each gameplay choice save for player specific decisions such as character selection and difficulty, so feel free to wail away at the drums while the group picks a song. On the subject of difficulty, there's nothing more annoying than that one guy who wants to play but keeps failing all the time. Now difficulty can be adjusted mid-song (although you will have to start the song over) and no fail mode can be applied to a single player instead of the group as a whole. For those of us with an intimidating amount of songs (I personally have more than 600 songs to choose from after importing Rock Band 2) a filter system not unlike that used by iTunes allows you to sort and select songs with ease instead of rummaging through the whole list. I was also pleased to see that, as expected, everything I had previously downloaded and imported from previous games moved over with ease.

Instruments have always been a strong focus with Rock Band since the brand established to integrate the concept of a full band instead of a single guitarist. Keyboard seemed like a logical addition, although I must admit that it limits what you can play when you have one in your band. You have the choice of purchasing the keyboard peripheral or using an adaptor with any midi keyboard to play on your own; there is an option (all instruments mode) to use your guitar peripheral to play the keyboard notes. With only five notes on the highway, keyboard is just another fun and basic way to play along with your favorite songs much like the other instruments, but here's hoping that Harmonix keeps up with keyboard-centric download tracks in the future.

If you're looking for a challenge, pro mode is now available for all instruments and it ups the ante significantly. Guitarists will need to purchase a whole new guitar peripheral that includes a full neck of buttons and strings to strum or an upcoming Fender Squire guitar that detects the notes you play in addition to being a fully working guitar when hooked up to an amp. Drummers will need symbols attached to the drum kit and the keyboard comes ready for pro mode out of the box. As previously mentioned, any midi keyboard or drum kit can be used in pro mode with an adaptor, so this may not have to be a big purchase for some musicians.

As you can expect, pro mode is very difficult, even on the easier settings (pro mode has its own difficulty settings), but even then it takes some getting used to. The game felt very picky in these modes, especially when you consider that you have to keep track of two octaves on the keyboard, 15 frets on the guitar and seven surfaces on the drums. On the other hand, my musician friends had a blast using the keyboard for "Power of Love" or jamming on their own drum kit to "Tom Sawyer," a song that I find impossible in pro mode. There are also tutorials for each pro instrument, which I would recommend despite the fact that it is a mix of new and old concepts in one big lesson. I must commend Harmonix in one regard: pro mode does the best job I've seen to date of helping a player learn to play an actual instrument. While the regular game may be fun and take lots of time to perfect, it in no way compares to trying to play the real thing. As someone who typically plays hard or expert with all instruments, I was struggling to keep up with easy and medium in pro mode. In terms of guitar, especially if you bite at the upcoming Squire, prepare yourself for years of practice if you've never had a guitar lesson. With the Doors track pack that released with the game I noticed that for an additional fee you could download pro versions of the songs, which I hope shows that Harmonix has plans to keep the pro song list as dynamic as the regular one, albeit at a price.
The game modes, namely online and offline play with co-op or competition have remained pretty much the same. Band and rocker creators have been updated and add a lot more customization to logo creation and physical attributes of your members. You can now also create the stand-in members to your band, which just further makes it feel like your own. Costumes and clothing work a little different this time around, with unlocks being the key to what you wear and how it looks instead of a slew of items from the beginning. It seemed like a bit of an odd choice considering that I was able to make a character with specific control over eye and lip types but then my clothes were limited to only a handful of pre-made outfits. Rest assured as you play you unlock items at a decent rate and can highly customize your rocker after only a couple of hours.
Rock Band 3 is a clear one-stop shop for all your rock/rhythm needs. Those who seek an updated title will get more than 80 new songs and enough tweaks to the biggest gripes of the previous titles to necessitate this one. If learning to play a real instrument is your thing, this is the best choice out there if you want to forgo lessons and learn through gaming.

I must admit that all of this amounts to a pricey endeavor, almost every new feature to Rock Band 3 requires a supplemental purchase ranging from $30 to more than $200 for each item, which I feel will turn off all but a very niche group. At the same time, you can play any instrument in this game with the three peripherals all Rock Band players already have. It is also disappointing that some tracks didn't make it, you have to pay $10 to bring over Rock Band 2's tracks (hope you hung on to your instruction manual) and the keyboard currently reduces your available songs to the Rock Band 3 tracklist. These are all minor gripes for a game that is almost flawless in all other regards. Harmonix knows music gaming and Rock Band 3 just proves that its latest title is also its crowning achievement.
Gameplay: 10.0
Graphics: 8.0
Sound: 9.0
Multiplayer: 10.0
Replay Value: 9.0
Overall: 9.0