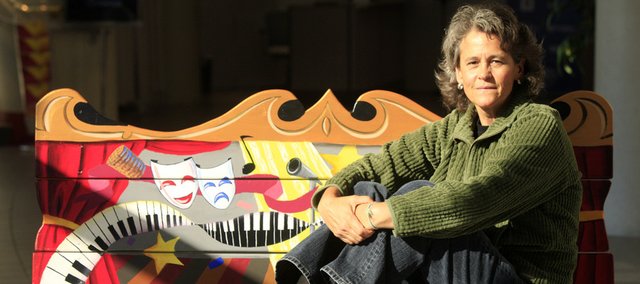 Originally published November 6, 2010 at midnight, updated November 5, 2010 at 7:14 p.m.
Five of Lawrence's top artists will be recognized Sunday afternoon during a ceremony and reception for the 15th annual Phoenix Awards.
The awards will be presented at 2 p.m. at the Lawrence Arts Center, 940 N.H.
Among the recipients of this year's accolades are a lighting designer, a KU professor of art, a local actor and an art educator.
This year's awards will also posthumously honor a downtown musician.
Read their stories below:
Anthea Scouffas
When Anthea Scouffas started working at the Lied Center as director of education, there was already a solid base for her to continue expanding her goal of educating people about art.
That was more than five years ago, and since then, she's worked on a number of projects to help Lawrence students become more active in the arts, earning her this year's Phoenix Award for art educator.
"I'm really glad that I'm able to work at an arts facility where arts education is very important and where collaboration is very important," Scouffas said.
The Lied Center had a solid partnership with both the Lawrence school district and U.S. Bank when Scouffas started, and from that she built more programs. She said she tried to draw students into the center, and every kid in the district can come to one show per year for free. But expanding out and getting art into the classrooms is equally as important to Scouffas.
"We try to help integrate art into the classroom," she said. "We try to show teachers how they can bring arts into the everyday classroom."
Introducing children to the performing arts starts young at the Lied Center under Scouffas' watch. One program, Performing Arts 3to5, allows 3- and 5-year-olds to sit on the stage with performers.
Lawrence second-graders learn about the arts and environment through a program that includes a visit to the Baker Wetlands and a special performance at the center.
Scouffas said it's really easy to work with the Lawrence school district, because it has a strong basis in the arts, especially music. That mentality, which is especially prevalent in Lawrence, helps Scouffas do her job and love it.
"For me, this is all about community, and that's why I really love the arts, because I think the arts really helps," she said. "It's a place where people can come together in the community."
John Staniunas
Lawrence theater fans might know what John Staniunas looks like. He acts in Kansas University Theatre productions every once in a while, and will appear later this month in its production of "A Midsummer Night's Dream," which will take the show back to its original Shakespeare-era pronunciation.
What viewers might not know is that he is also the chair of the theater department, choreographs shows and regularly directs them. These skills are part of what won him this year's Phoenix award for performing arts, and he said he was honored to even be nominated.
"I think it's really important for Lawrence that the arts are supported and that the people who do arts in this city are rewarded for their efforts," he said.
In his 13th year at KU, Staniunas has pushed the school to be at the top of its game, and was involved in creating a new program in musical theater. He says students in his program get a real-life experience to prepare them for the theater business.
"The interesting part about the university theater is it's really run like a professional company," he said. "The students are trained to be doing what they're doing."
Staniunas said every show starts from scratch, and students are taught in their classes how to produce, create sets, and other skills they'll need for the theater business. The school is training students to continue participating in the arts after college, part of what he says makes University Theatre special.
"I think the University Theatre is one of the treasures of Lawrence because it's not just supporting the mission of the university, it's supporting the mission of the arts in the community," he said.
Staniunas doesn't just contribute arts to this community, though. In 2005 he earned a Fulbright scholarship through the university and traveled to Lithuania to open a musical. He was the first American director to direct an American musical in the country, and now travels back and forth between there and Lawrence.
When he's home, though, he works to keep the arts relevant.
"I think it's really important that KU remains committed to the arts," he said.
Dalton Howard
Susan Craig used to see Dalton Howard regularly. Her office was in the KU Art and Architecture Library, inside Spencer Art Museum on campus. Howard was a guard at the museum, but she noticed his affinity to the arts when he came into the library on a regular basis.
"I had not realized his contributions in music until I saw his nomination," said Craig, who is the chair of the Phoenix Award committee.
Howard died in August 2010, but his legacy lives on in Lawrence, partially through his Phoenix Special Commissioners' Award.
Howard played in local bands throughout the years, such as the Go-Cats in the late '70s and early '80s. Steve Wilson, who wrote a tribute to Howard in the Journal-World shortly after his death, said guys like Howard helped bring the rock scene back to Lawrence.
Craig said he was a fixture in the downtown scene, often playing in concerts in front of the U.S. Bank building.
"He was just part of the arts scene in Lawrence for a number of years," Craig said. "He did contribute in several areas. He was a musician, an artist and encouraged the arts."
Fine arts was also an interest of Howard's, who graduated from KU with a degree in painting. He contributed to the murals inside Liberty Hall, and worked in the Lawrence area as an artist until 1992. He also joined the Spencer Art Museum staff as a guard, which is where Craig finally met him.
Wilson called Howard an "Everyman in a million" for his contributions to the art world and to Lawrence. And that's what his posthumous award will recognize him for.
Ron Chinn
Ron Chinn remembers where it all went wrong.
He was in the early years of his lighting design career, working the lights for a production of "The Ballad of Black Jack" in Baker University's auditorium.
The entire cast was on stage for the opening number. The music was playing. The performers started singing. The lights wouldn't turn on.
"It was a full house of 1,000 people," Chinn said. "It was pretty embarrassing."
Chinn laughs when he recalls the story and is quick to add the mistake was only momentary; a classic case of "the show must go on."
That was then.
What started as a hobby is now getting Chinn recognized. His contributions to the Lawrence arts scene have earned him the 2010 Phoenix Award for design arts.
"It came as a surprise," Chinn said. "But a good surprise."
Chinn has been volunteering at Theatre Lawrence, 1501 N.H., since 2002 and also serves on staff as the theater's technical co-director. He takes every opportunity to share his passion with anyone interested in his craft, leading tours of the lighting equipment and talking endlessly about the technical side of the performances.
"We don't have too many bells and whistles," he said. "But I like to show off the ones we do have."
Chinn said he prefers controlling the spotlight to being in it. He enjoyed performing but said being behind the scenes fit more closely with his shy personality. He doesn't mind that people don't always recognize his work. He enjoys the sporadic, indirect compliments he gets from the audience.
"Every once in a while you get that lighting cue that gets a reaction," Chinn said. "It's like delivering the punchline."
Chinn has also trained and taught new lighting designers. He talks with the various performers who come and go. The Lawrence arts scene has enabled Chinn to meet people from all walks of life, something he said has added to his overall experience.
"To spend any time in the arts you've got to enjoy it," Chinn said. "And I do."
Carol Ann Carter
Creating and teaching art is what Carol Ann Carter needs to do.
If you ask her, she'll tell you it's about as simple as that.
And what Carter says she needs to do has also gained her recognition.
The Kansas University professor of art has had her works displayed in exhibits and installations in Europe and the United States. She's won numerous prestigious awards on the local, state and national level.
Recently her experience and skill played a part in earning her this year's Phoenix Award for visual arts. It's an award she's pleased to receive.
"Whether the award is local or regional or national, it doesn't really matter," Carter said. "This award comes from the community in which I live, and that's what counts."
Carter has been teaching for 35 years, the last 14 of them at KU. The act of balancing profession with passion is a skill that years of experience have played a role in developing. Carter said she enjoys both equally.
"Teaching is a way to celebrate the creative process," Carter said. "I rely on teaching and the students to give me an outlet — and give them an inlet — to what I'm doing."
And what she's doing has allowed Carter to see art in many parts of the world, recently returning from sabbatical in Oslo and London.
She attributes her success to her passion for art as well as to people she's met along the way. Former mentors introduced her to new possibilities such as graduate school and teaching. Other artists' work has also helped to inspire her.
"It's important to have people and places to bounce the ideas back and forth," she said.
Carter stays involved with the Lawrence community through her interaction with the Lawrence Arts Center. A product of museum schools from an early age, Carter said one thing she can do is give back. By supporting the arts center she is able to support local artists and children.
Carter has developed a relationship with the community, and says the community in turn has developed a relationship with her. She's also developed a relationship with the students she teaches and artists she's collaborated with, something she says is important to the production and inspiration of her work.
"Most artists prefer to work solo and I've done that for years," Carter said. "But I'm really much more interested in what we can share with each other."
Carter will be sharing some of her work in the coming months when she attends an exhibition and symposium in North Carolina.
More like this story on Lawrence.com