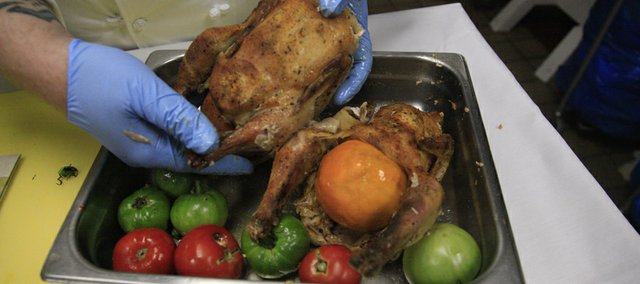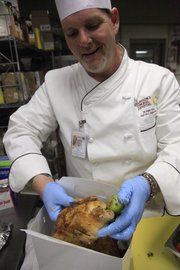 When Don Williams sits down to plan his menus, he does so with farmer and a seed catalog.
Seriously.
"I'm sitting down right now with the producers, like Pinwheel Farms, for instance, and I pick from her seed catalog what I might want grown for the next year. And she actually grows it for me," Williams says of Pinwheel Farms owner Natalya Lowther. "That way I have an idea which direction my menus are going to head six months down the road. I'm able to put some forethought into it, and I'm basically able to get what I need when I need it."
Williams, the food production manager at Lawrence Memorial Hospital, has been working with Debbie Miers, the hospital's director of food and nutrition services, to bring local food into the fold. So far, LMH has used fresh veggies, prepared items and locally raised meats from food producers including Clark Family Farms, Pinwheel Farm, Tomato Allie, Amy's Meat's, Local Burger and Knapp Family Farms.
"Our goal is to bring local produce and local foods into our cafeteria," says Miers, who has been recruiting local producers during the past few years. "During the height of the season, you can find fresh vegetables on the line, fresh items being prepared, such as zucchini and eggplant and fresh sweet corn and that sort of thing."
Right now, the items are only available in the cafeteria, and it's pretty clear the food staff is happy to highlight the local ingredients.
"We have a sign up that says Clark's chicken today. Or if we're roasting chickens and it's there chickens, we'll put Clark's roasted chickens for say. And trust me, people know it," Miers says. "When we have fresh vegetables, i.e. on the salad bar or the sandwich bar, we'll say where it's from with a little sign."
Miers says she hopes to get local items on the patient menu, but that it may take more time because of the careful dietary guidelines designed for hospital patients. She did say, however, that Local Burger's veggie burger would be on the patient menu soon.
Working directly with the farmers has allowed Williams to cook with ingredients at season's peak, as well as with ingredients he'd normally have to special order from his larger distributors.
"With some products that aren't available from vendors, well, I know I'm roughly I'm going to get what I need when I need it, because I'm having it grown specifically for me," Williams says. "Other people are buying it, too, but I commit to buying so much so the grower doesn't take a loss and I'm able to utilize that product."
Of course, working with small farms and producers is different in other ways, too. Both Lowther of Pinwheel Farm and Jane Wohletz of Tomato Allie say that they weren't able to supply LMH this year with as many goods as the year before. But Wohletz says it's not a problem because Williams is so easy to work with.
"It's just a simple partnership," Wohletz says. "I call him to tell him what I have and he tells me what he wants and I deliver and he gets it's fresh, and I think it's a great deal."
And it's a fun deal as well, as Wohletz works at the hospital and loves hearing from co-workers who've just eaten her food.
"It's fun because people say, 'Oh, they've got your tomatoes!'" she says, laughing.
Williams says he hopes the partnership he has going with local producers can continue to grow. As a man with family farms in his background and a passion for food, he's happy to support the community with every local purchase.
"I look at it as almost a partnership with the community growers and producers to help utilize our local resources," Williams says. "What's produced in Douglas County, stays in Douglas County. We're eating it."
It's been great for the producers, too. Margaret Clark of Clark Family Farms says that having the hospital as a client has helped to make her business more annual than seasonal — a boon for any farmer.
"This kind of spreads our business out over the year," Clark says, acknowledging that the hospital is the farm's biggest single customer. "I just appreciate local businesses looking to local suppliers. I realize it's way handier dealing with Sysco or any of the food service places, and it's nice that they are making the effort to deal with a smaller producer."