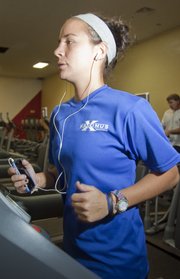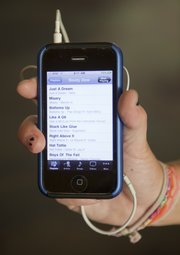 Gary Mullane's playlists
Gary Mullane's Interval-training playlist, including warm-up and cool-down songs:
"Another One Bites the Dust" by Queen
"We Will Rock You" by Queen
"Bad Company" by Bad Company
"Change" by Deftones
"My Own Prison" by Creed
"Rooster" by Alice in Chains (Mullane says "If this song doesn't get you working out, I don't know what will.")
"The Outsider" by A Perfect Circle
"Testify" by Rage Against the Machine
"Stone Sour" by Looking Through the Glass
"I Am the Highway" by Audio Slave
"The Trooper" by Iron Maiden
"Crazy Train" by Ozzy Osbourne
"All That She Wants" by Ace of Base
"Shooting Star" by Bad Company
"We Are the Champions" by Queen
Theme from "Rocky"
And Mullane's "moseying day" playlist:
"Cracklin' Rosie" by Neil Diamond
"If You Could Read My Mind" by Gordon Lightfoot
"Sweet Caroline" by Neil Diamond
"Summer Wind" by Frank Sinatra
"Southern Cross" by Crosby, Stills and Nash
Staying motivated while trotting on the treadmill can be an uphill battle. To spur them on, many local exercise enthusiasts use a secret weapon — customized workout playlists.
Gary Mullane, manager of Maximus Fitness Center, 3400 S. Fourth St., is a big proponent of using music to motivate in the gym.
"It's great for integral training, which is bringing the heart rate up and back down," he says. "That's best for weight loss. Music is perfect for that because the length of an average song is between 2 and 5 minutes, and that's exactly the right time to keep your heart rate up and bring it back down."
Mullane has six playlists on his iPod, containing songs ranging from Frank Sinatra to Disturbed, which he alternates — fast, slow, fast, slow.
"It doesn't matter what you pick as long as you're alternating the Disturbed with the Frank Sinatra. If you listen to Sinatra back to back you might lose a little bit of your steam. But, if you alternate them and gear your movement to the tempo of the music, your workout will usually go faster because you're not concerned about the time. They're more effective."
On his so-called moseying days, Mullane likes soft rock from the '70s by the likes of Neil Diamond, Gordon Lightfoot and Jim Croce.
"That's what I'll put on if I'm just working a certain area with weights or cooling down," he says.
Kansas University student Jordan Woertz of Lawrence prefers rap to ramp up her running sessions.
"I don't usually listen to rap at all, but I made a playlist just for workouts because it gives me something to run to. I listen to a deejay, RJD2, too, and he just does beats."
Woertz's friend and KU student Alex Wages, Lawrence, listens to an eclectic mix of tunes in her ear buds.
"At the beginning of my run when I reed to get going, I listen to really fast rap, like Girl Talk, who's a deejay," she says. "Then, in the middle of my run, when I need something motivating, I'll do Florence the Machine's 'Dog Days are Over.' I like Broadway showtunes. 'Jersey Boys' is a great soundtrack to run to. I couldn't run to country, but I like classical music for a cool-down."
Dru Huff, Lawrence, a personal trainer at Maximus, has one playlist on her phone.
"I call it 'Booty Do,'" she says. "My favorites are 'Teach me how to Dougie' (California Swag District), and my go-to artist is Li'l Wayne. I don't head-banging metal music. That gives me a headache. I'm a country girl, so I can listen to country. But, not slow country."
Huff says the one song that gets her pumped up if all else fails is "Animal" by Nickelback.
"That's the one from college that I go to if I don't want to move at all." she says.
Lee Williams, president of the Lawrence Bicycle, says riding with headphones on is frowned upon by the cycling community.
"Personally, I wear them," he says. "I usually do have headphones on, but they may not always be in my ears. If I'm in group — like we're doing a pack ride or something — I may have music in the background with them dangling below my ears so I can hear traffic, or if somebody says something to me."
"If I'm on the road by myself, I usually have them in, but I have them low enough that I can hear cars coming up behind me."
Williams tastes range from bluegrass to heavy metal. He says he'll use a harder set of tunes during a training mission or while doing intervals.
"I like a lot of Black Sabbath, so if Sabbath comes on, my pace will pick up by a couple miles an hour," he says. "I listen to a band called Kraftwerk who has a whole album associated with the Tour de France, and it's electronic. I used to run a fair amount and cycling takes so much longer that it's difficult to get a set of music you can customize for a particular ride. So, I tend to shuffle."
Sometimes, Williams admits, randomly selected songs can have the opposite effect on his motivation and, in fact, slow him down.
"I've got my kids' music on my iPhone, so there's stuff from, like, The Backyardigans," he says. "There are times when that will come up when I'm riding and it's very frustrating because I just can't reach around and change the song."