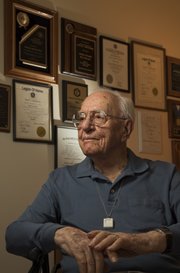 Myrle Hemenway, 93, exemplifies constancy and commitment. He was married for 64 years, taught for 52, and has just celebrated 62 years of perfect attendance at Kiwanis meetings.
"My friend Ray James invited me to join Missouri Valley Kiwanis in 1946," he recalls.
His perfect attendance record started in 1948.
"It doesn't mean I attended every club meeting," he says modestly.
"It means I attended the equivalent of 52 meetings a year. Make-up attendance can be achieved by doing other things like working on projects and attending board meetings."
However you cut it, Hemenway's service commitment is pretty extraordinary.
He inherited his work ethic from his parents on their farm in Orchard, Neb. He milked cows and gathered hay at 5, earned his first "wage" at 10, and ploughed fields at 11.
"Calvin (brother) and I got $3 a month for hauling water to Garfield elementary school on our horse and buggy," Hemenway explains.
"We didn't get an allowance, but our parents let us keep the $3."
He graduated from Garfield High School in 1934 and worked for a year on the farm to save money to attend Wayne State Teacher's College. He graduated with a B.A. in 1939, married Leone in 1940 and received his master's degree from the University of Nebraska in 1954, and his doctorate in school administration in 1963. He taught and coached at several junior and high schools in Iowa and Nebraska, including 11 years as Hastings junior high principal. He was a professor in the University of Colorado's education department from 1996 until his 1985 retirement and was active in the North Central Association (of Colleges and Schools.) In 1976 the U.S. Department of Defense invited him to travel to Japan, Okinawa and the Philippines to accredit their schools.
Despite being heavily involved in academia, the lives of his two children, and the NCA, Hemenway remained committed to the Kiwanis. He served on the board of directors, as lieutenant governor, and participated in many projects including fundraisers like the Kiwanis worldwide project to raise $75 million to eradicate iodine deficiency throughout the world.
In 1982 he assumed publication of the Boulder club's monthly newsletter "Kiwanis Kwips." It won first place in the district's bulletin contest four times and first place in the 1988 international contest. In 1996, the Rocky Mountain Board of Trustees asked him to edit the bimonthly Rocky Mountain Kiwanian (it's circulated throughout the U.S.) It received a first-place international award in 1998-99.
His name appears on the Kiwanis International Tablet of Honor in appreciation for his many services, and it's also inscribed on a wall plaque at the Kiwanis international headquarters in Indianapolis. He was presented with a lifetime membership by the organization in 1998.
Hemenway moved to Lawrence in 2004 after Leone died, to be near his son Bob (then Kansas University's chancellor.) He joined the local Kiwanis.
"I love the fellowship of the meetings and hearing about the great things the members do," he says.
"I'd like to see more people become active in Kiwanis and serve the children in our communities."
More like this story on Lawrence.com