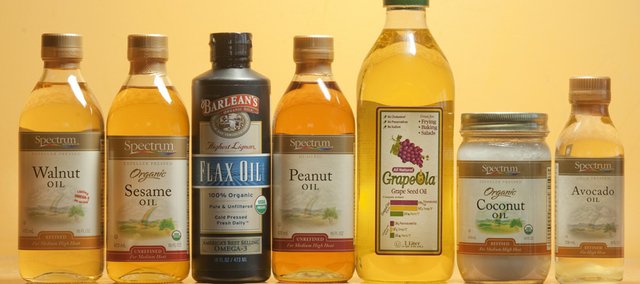 Tuesday, November 9, 2010
In the world of cooking oil, two kinds seem to be king: Generic vegetable and extra virgin olive.
Every bottle seems to cry: Use us for cooking! Use us for baking! Use us cold for salad dressings!
But there's a lot more to oil than just the basics. And, for our definition of basics, we're including all types of olive oil and everyday vegetable oil, including similar, mild cooking oils created from corn, sunflower, safflower and rapeseed (canola). Beyond those usual suspects, and readily available for home use, oils are pressed from all sorts of foods, including avocados, coconuts and walnuts.
Here's what they are, their nutritional profiles and the best ways to give them a try.
Avocado. Just like the flesh of the fruit popular in tropical cuisine, avocado oil is high in heart-healthy monounsaturated fats. The flavor is nutty and the oil is ideal for frying and sautéing.
Coconut. Solid below 76 degrees, coconut oil can be the consistency of shortening or melted to a true oil. The melted version is a frosty white rather than a warm yellow or brown like most eating oils, and, if purchased unrefined, smells sweetly of coconuts. The most abundant of coconut oil's medium-chain fatty acids is lauric acid, which is also found in human breast milk. Coconut oil is ideal for baking and sautéing.
Grapeseed. The grape seeds that are pressed to make this oil are actually byproducts of the wine-making industry. It works well for sautéing, as well as for homemade dips and salad dressings.
Peanut. Peanut oil is high in monounsaturated fats, making it heart-healthy. It stands up to heat well, making it ideal for frying, stir-frying and sautéing. Though, of course, it is not suitable for consumption by people with peanut allergies.
Sesame. With its strong flavor, this oil is typically used in Asian cooking, but because of the oil's high antioxidant content, you may want to use it more than just occasionally. A 2003 study out of Annamalai University in India suggests that cooking with sesame oil can lower blood pressure. Sesame oil can stand up well to heat, meaning it works well in frying, stir-frying and sautéing. But its flavor also lets it stand out when used in cold dressings or dips.
Walnut. While not a cooking oil, walnut oil works well as a substitute to olive oil in vinaigrettes and other homemade dressings. Walnuts are especially high in essential fatty acids.
Flax. Flaxseed oil is high in essential fatty acids, including the omega-3 fatty acids found in fish. Therefore, flax oil is often used as a supplement, but can be eaten as part of a meal, and works well as a salad dressing. As with walnut oil, the fats in flax oil don't do well when heated, and it should not be used in cooking.
Recipes
Seared Tuna with Cumin
2 tablespoons crushed cumin seeds or ground cumin
1/4 teaspoon garlic powder
1/4 teaspoon salt
1/8 teaspoon cayenne pepper
4 (6-ounce) tuna steaks
2 tablespoons unrefined coconut oil
2 tablespoons lime juice
2 tablespoons roughly chopped cilantro
1 lime, cut into wedges
In a small bowl combine the cumin, garlic powder, salt and cayenne pepper; stir to blend. Sprinkle the cumin mixture evenly over the tuna, coating it completely. Heat oil in a large skillet over high heat until hot. Place tuna in skillet, and partially cover the skillet. Sear for about 3 minutes. Turn the fish over and sprinkle with the lime juice. Continue to cook until lightly browned on the outside and opaque in the center, about 3 minutes.
Transfer tuna to plates, garnish with cilantro and lime wedges and serve.
— Recipe from www.wholefoodsmarket.com.
BBQ Avocado and Ginger Prawns
3/4 cup of extra virgin avocado oil
Juice of 1 large lemon
1/3 cup of soy sauce
2 tablespoons of honey
3 garlic cloves (crushed)
2 teaspoon grated ginger
1 teaspoon of ground marjoram
kilogram (2.2 pounds) of fresh prawns (shelled)
Mix the avocado oil, lemon juice, soy sauce, honey, crushed garlic, ginger and marjoram in a bowl, then add the prawns and stir well. Cover and place in a refrigerator for 24 hours, turning occasionally.
Thread prawns onto skewers and cook over barbecue, brushing with avocado oil. Serve with cooked rice or salad, garnish prawns with lemon juice. Serves four.
— Recipe from www.olivado.com.
Roasted Beet and Goat Cheese Salad with Sherry-Walnut Vinaigrette
10 small red beets
1/2 cup sherry vinegar
1 teaspoon Dijon mustard
1/4 teaspoon agave nectar or honey
1 clove garlic, finely chopped
1/2 cup walnut oil
1/4 cup olive oil
Salt and pepper to taste
1 pound baby spinach, roughly chopped
5 ounces arugula, roughly chopped
1/2 cup walnuts, toasted
4 ounces goat cheese, crumbled
Meanwhile, whisk together vinegar, mustard, agave nectar or honey and garlic in a small bowl. Slowly whisk in the oils and season with salt and pepper. Set vinaigrette aside.
After beets have cooled enough to handle, remove and discard skins and cut into bite-size pieces. Mix beets with half of vinaigrette, then mix spinach and arugula with the rest of the vinaigrette. Transfer greens to plates and top with beets, walnuts and goat cheese.
— Recipe from www.wholefoodsmarket.com.
Tofu and Sesame Noodle Salad
1/4 cup reduced-sodium tamari
2 tablespoons toasted sesame seeds
1 tablespoon agave nectar
1 tablespoon finely chopped garlic
2 teaspoons hot chile sesame oil
Salt to taste
1/2 pound dried pad Thai-style rice noodles
1 cup thinly sliced green onions
2 small carrots, thinly sliced
1/2 English cucumber, halved lengthwise and thinly sliced
1 red bell pepper, thinly sliced
1 (6-ounce) package baked tofu, cut into 1-inch cubes
Cilantro sprigs
In a large bowl, whisk together tamari, sesame seeds, agave nectar, garlic and oil to make a dressing; set aside.
Bring a large pot of salted water to a boil. Meanwhile, soak noodles in a large bowl of cold water until pliable, about 15 minutes; drain well. Add noodles to boiling water and cook, stirring occasionally, until just tender, about 6 minutes. Rinse thoroughly in cold water, drain and transfer to bowl with reserved dressing; toss well.
Add green onions, carrots, cucumbers, peppers and tofu and toss gently to combine. Transfer to bowls, top with cilantro and serve.
— Recipe from www.wholefoodsmarket.com.
Spicy Vegetable Chow Mein
1 (10-ounce) package uncooked Chinese egg noodles
2 tablespoons sesame oil
3 tablespoons low-sodium soy sauce
2 tablespoons Chinese rice wine
2 tablespoons rice wine vinegar
2 teaspoons lime juice
1/2 to 1 teaspoon red pepper flakes
3 tablespoons peanut oil
2 cloves garlic, thinly sliced
1/2 cup chopped onion
2 tablespoons finely chopped ginger
1 celery stalk, thinly sliced
1 large carrot, halved lengthwise and sliced
1 cup snow peas, strings removed
1 cup shiitake mushrooms, stemmed and sliced
1/2 cup bean sprouts
Cook noodles according to package directions and rinse under cold water. Drain thoroughly then toss with 1 tablespoon of the sesame oil. Set aside. Whisk soy sauce, rice wine, vinegar, lime juice, pepper flakes, and remaining 1 tablespoon sesame oil in a small bowl to make a sauce; set aside. Heat 1 tablespoon of the peanut oil in a wok or large skillet just until smoking. Add noodles, reduce heat, and brown one side until firm and slightly golden, about 4 minutes. Turn over, heat 1 more tablespoon peanut oil and brown other side. Transfer to a large plate and set aside.
Heat remaining 1 tablespoon peanut oil in same wok. Add garlic and onions and cook until softened. Add ginger, celery, carrots, snow peas, mushrooms and bean sprouts and cook on high heat, stirring constantly, until almost cooked through. Add reserved sauce and cook until vegetables are tender but still crunchy. Serve over noodles.
— Recipe from www.wholefoodsmarket.com.
Flaxseed Oil Dressing with Herbs
3 tablespoons apple cider vinegar or lemon juice
1 tablespoon chopped chives
1 tablespoon chopped parsley
1/2 teaspoon dried basil
1/2 teaspoon dried oregano
1/2 teaspoon dry mustard
1 large clove garlic, roughly chopped
3 tablespoons flaxseed oil blend
Pinch of cayenne
Salt and pepper
In a blender or food processor, combine vinegar, chives, parsley, basil, oregano, mustard, and garlic and blend until smooth. Slowly add oil in a fine stream and blend until slightly creamy. Season with cayenne, salt and pepper.
— www.wholefoodsmarket.com.
More like this story on Lawrence.com