Originally published November 11, 2010 at 8:56 a.m., updated November 11, 2010 at 8:56 a.m.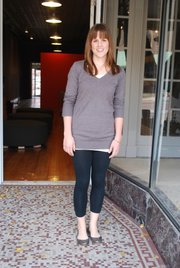 Name: Caroline Mathias
Age: 32
Sign: Leo
Occupation: Owner of FoxTrot Shoe Store
Hometown: El Dorado, Kansas
Time in Lawrence: 5 years
What were you doing when you were scouted? Working at Fox Trot on Mass Street.
How would you describe your style? Tom-boy chic. I typically wear more basic pieces.
What are your current favorite fashion trends? Over-the-knee boots, leggings with longer tops, and vintage apparel.
What are your least favorite fashion trends? Items that aren't weather-appropriate, like flip-flops during the fall.
What would you like to see more of in Lawrence? Bicycle lanes, high-fives, and fist pumping.
What would you like to see less of in Lawrence? Mosquitoes and flies!
Do you have any piercings or tattoos? I have pierced ears.
Do you have any fashion influences? I look at The Sartorialist, a fashion blog, but I'm mostly influenced by my friends and other people that I see around town.
People Say I look like… someone's relative or Hillary Swank.
Tell us a secret: I once inadvertently killed a bat that was living in my apartment window.
More like this story on Lawrence.com