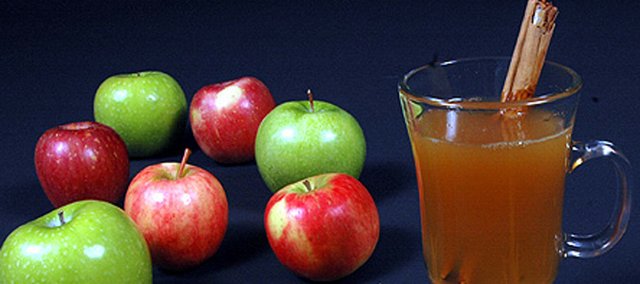 Originally published November 12, 2010 at 10:19 a.m., updated November 20, 2010 at 11:29 p.m.
Apple cider is one of the joys of autumn, right up there with turning leaves and pumpkin-flavored anything.
That said, there are more ways to enjoy the fall drink than just hot or cold.
"We've always used it at Thanksgiving. We baste our turkeys with cider and it really changes the gravy, as you might imagine, the drippings," says Shelly Schierman, co-owner of Louisburg Cider Mill with husband Tom. "And my husband's pretty famous for his turkey gravy at Thanksgiving and I think it's because of the cider, it's his little secret."
In fact, cider works well in any place you'd normally put water in baking or cooking, especially when working with other seasonal items, says Nancy O'Connor, the director of education and outreach at The Community Mercantile, 901 S. Iowa.
"If you're sautéing vegetables but they need a little liquid, instead of adding water to steam them, you can add apple cider and it just imparts a little sweetness," says O'Connor, who recommends combining cider with squash, pears, sweet potatoes, and, yes, more fall apples, in any recipe you'd use water. "I use it a lot this time a year if I have cider in the refrigerator anyway, especially in recipes that use winter squash, it just brings out the sweetness."
That said, cooking that way is a trick only to use with seasonal apple cider, not apple juice says O'Connor.
"When you use that clear, processed apple juice, it's so generic that mostly it tastes sweet, rather than flavorful," O'Connor says. "You could substitute it, but it wouldn't have that effect of that nice, complex, deep apple taste that you get from cider."
Apple Cider Cheddar Fondue
1 pound medium or sharp cheddar, finely diced
4 tablespoons flour
2 cups apple cider
1 1/2 tablespoons fresh lemon juice
1/8 teaspoon pepper
Sourdough, whole-grain or rye bread, cut into 1-inch cubes
Mix cheese and flour in a bowl. Combine apple cider and lemon juice in fondue pot. Bring to very low simmer; do not let it boil. Add a handful of cheese and stir constantly until the cheese is fully melted. Continue to add one handful of cheese, stirring constantly and melting the cheese fully before adding the next handful. After all the cheese is fully melted, stir in pepper. Serve fondue with a basket of cubed bread for dipping.
— Recipe from www.organicvalley.coop.
Maple Pork 'n' Sweet Potatoes
3/4 cup barbecue sauce
1/3 cup maple-flavored or pancake syrup
1/4 cup apple cider
2 teaspoon chili powder
3/4 teaspoon ground cinnamon
5 medium sweet potatoes (1 1/2 pounds), peeled, thinly sliced
1 small onion, thinly sliced
1 pork tenderloin (1 pound)
Heat oven to 425 degrees. Mix barbecue sauce, syrup, cider, chili powder and cinnamon. Place potatoes in 13x9-inch baking dish; top with onions. Pour half of the barbecue sauce mixture over potatoes and onions.
Bake 15 minutes. Place meat over potatoes and onions; top with remaining barbecue sauce mixture.
Bake an additional 30 minutes or until meat is cooked through.
— www.kraftfoods.com.
Wild Rice Pilaf with Cranberries
12 ounces chicken stock (or try homemade vegetable stock)
1/2 red onion, diced (medium-sized)
6 ounces brown rice
2 shallots, minced (medium-sized)
1 stick celery, minced
1/2 red bell pepper, chopped (medium-sized)
1 tablespoon salted butter
1 cup apple cider
6 ounces wild rice
2 garlic cloves, minced
2 ounces dry white wine
2 ounces dried cranberries
Plump the cranberries in the wine for about 20 minutes. Drain the cranberries and reserve the liquid.
Pre-heat the oven to 350 degrees.
To make the brown rice: In a large ovenproof saucepan, sauté the onions, shallots, and celery in the reserved cranberry liquid and butter until the onions are translucent. Combine with the brown rice and stock. Bring the liquid to a boil and cover the pot tightly. Add the red bell pepper and cook in a 350-degree oven until the rice is tender and has absorbed all the liquid, about 40 minutes.
To prepare the wild rice, bring the apple cider, stock and wild rice to a boil in a medium sauce pan. Cover the pot tightly, and cook in a 350-degree oven until the rice is tender and has absorbed all the liquid, about 90 minutes.
Combine both rices and the plumped cranberries.
— Recipe from www.organicvalley.coop.
Cider-Glazed Turnips
3 tablespoons butter, divided
2 pounds turnips, peeled and cut into sticks
2/3 cup apple cider
3 tablespoons brown sugar
Sea salt and freshly ground black pepper
2 tablespoons chopped fresh parsley
Preheat oven to 400 degrees. Grease a 9x13-inch baking dish with 1 tablespoon butter, then arrange turnips in dish in a single layer. Combine remaining 2 tablespoons butter, cider, sugar, salt and pepper in a small pot and cook over medium heat until melted and well combined. Pour this mixture evenly over turnips.
Cover dish with foil and bake for 20 minutes. Stir turnips and continue to bake, uncovered, stirring occasionally, until fork tender and liquid has reduced, 20 to 30 minutes more. Sprinkle with parsley and serve.
— Recipe from www.wholefoodsmarket.com.
James Kloepper's Louisburg Cider Mill Cider Doughnut Bread Pudding
4 ounces unsalted butter
1/2 cup brown sugar
1/2 cup sugar
5 large eggs, lightly beaten
2 cups heavy cream
1/2 teaspoon ground cinnamon
1/4 teaspoon ground nutmeg
1 tablespoon pure vanilla extract
1 cup raisins
16 cider doughnuts
1/4 cup apple brandy or 1/4 cup apple cider
Preheat oven to 350 degrees. In food processor or mixer, combine butter and sugar briefly, just until it forms into a ball. Add eggs, heavy cream, cinnamon, nutmeg, vanilla, and Calvados. Process until blended. Lightly butter a 9x13 baking dish. Break up the doughnuts into 1-inch pieces and layer in the pan. Scatter the raisins over the top. Pour the egg mixture over the doughnuts; soak for 5-10 minutes. You may need to push the doughnut pieces down during this time to ensure even coverage by the egg mixture. Cover with foil and bake for 35-40 minutes. Remove foil and bake for additional 10 minutes to brown the top. The doughnut bread pudding is done when the custard is set but still soft.
Make the bourbon sauce:
1 1/2 cups heavy cream
2 teaspoons pure vanilla extract
1/4 cup sugar
1 tablespoons corn starch
1/4 cup bourbon or 1/4 cup apple cider
Heat the cream, vanilla and sugar in a saucepan over high heat, whisking, for 3 minutes. Dissolve the cornstarch in the bourbon. When bubbles form around the edges of the cream, whisk in the bourbon mixture. As the cream boils up, remove the pan from the heat and continue whisking vigorously until thoroughly blended and slightly thickened. Place over low heat for 1 minute. (This is not a thick cream sauce, it is meant to be fairly thin.)
Make the spiced whipped cream:
2 cups heavy cream
1/8 cup granulated sugar
1/4 teaspoon ground cinnamon
1/4 teaspoon ground nutmeg
Beat the cream with an electric mixer until soft peaks form. Add the sugar cinnamon and nutmeg. Continue to beat mixture until it forms stiff peaks.
To serve: Cut the pudding into 3x3-inch pieces. Place in center of serving plate. Spoon the bourbon sauce over the pudding. Top with spiced cream garnish with a sprig of fresh mint. Serves 8 to 10.
— Recipe from www.louisburgcidermill.com.
More like this story on Lawrence.com