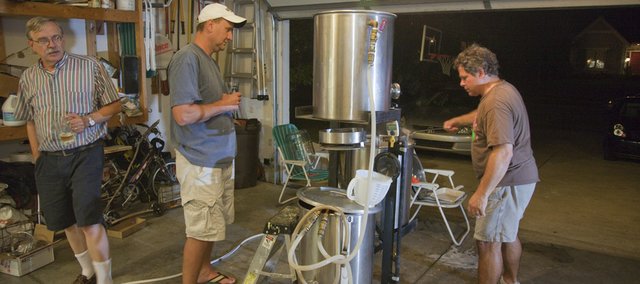 Monday, November 15, 2010
Little did Paula Pepin know 21 years ago when she bought her husband John a present for their first anniversary that the gift would ignite a passion in her husband for home beer brewing.
Photo Gallery
Home brewing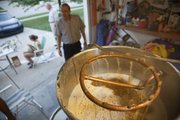 "I bought him a home-brewing kit because I wanted him to have a hobby that would keep him at home," explains Paula.
"I couldn't afford good beer back then," says John. "So I saw this as a way to learn how to make it myself."
Over the years, John has honed his brewing skills and the hobby has become a unifying element not only for their marriage but for their neighborhood. The couple, with their two children, Ian, 13 and Oliver "Ollie," 10, often plan vacations around the hobby.
In 2008 the family went to Yakima, Wash., for the hops harvest, and on a recent trip to San Francisco, Paula made sure to bring her husband back a bottle of Pliny the Elder, a malt beverage that received an A+ rating from "Beeradvocate Magazine." "I wrapped it in bubble wrap and was so glad it made it back on the airplane in one piece."
While Paula tends to steer clear of the brewing process, she has learned how to use her husband's brews to complement one of her favorite hobbies: cooking.
"Stouts make really good marinades," she says, "and I tenderize beef with beer much like others use wine."
But her favorite is her chocolate porter cake.
The couple's passion for beer extends beyond their family as John provides root beer and cream soda to his children's school functions, and donates his services to community endeavors. "I've been approached by organizations who use auctions as fundraisers and I like to donate brew sessions for those," says John. "People learn the process, have fun, and then have something to take away from the experience."
Another side benefit of the brewing hobby is the effect that it has had on the Pepin's neighbors. John and Paula moved into their home in West Lawrence in 1999 and have become, as neighbor Linda Cowles says, "the nucleus of the neighborhood — the social hub."
"Paula became the neighborhood mom for a lot of the kids," says Cowles. "They were always at their house."
Last Christmas when snow curtailed many of their neighbors' holiday plans, the Pepins opened their home to those brave enough to trudge through the bitter cold. At the Pepins they found warmth, community and "beer!" Paula adds.
As John has gained expertise brewing porters, pilsners and ales, he began sharing his joy and guiding others through the process. "He has spent hours with our son Charles who comes down here when he is in town," says Cowles.
A personal goal of John's is to get others to appreciate beer as much as he does. "I love that challenge when people tell me that they don't like beer," he says.
Just last week, a friend's 84-year-old mother, Jane Delnevo, was in Lawrence from her home in Woodstock, Oxfordshire, England, and told John she didn't like beer. "Hang on," John told her.
"I went and gave her a glass of hefeweizen, and she took a sip and said, 'Quite right!' "
"Quite Right" — a sentiment that aptly sums up what Paula's present all those years ago has meant to the couple and to those close to their home and hearts.
More like this story on Lawrence.com