Monday, November 15, 2010
"Life isn't a destination; it's a pilgrimage," says Bruce Curtis.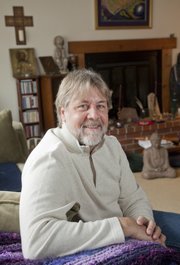 "I consider myself a traveling pilgrim. I want to serve and empower others, and become all I can be."
Curtis felt the stirrings of spiritual searching and the presence of the sacred in his early childhood in Queens, N.Y., and his young adult years in Connecticut. He enjoyed music, baseball, camping, tennis, coin and stamp-collecting and writing, but often paused to ask himself who he really was, who guided the Universe, and how he could make a difference in the world.
Such questions influenced his decision to study philosophy at the University of Michigan with the intention of becoming a lawyer.
"If you get good law you, get good justice," he explains. "I thought I might be able to make a difference in the justice field but kept putting it off because I was still searching for spiritual meaning."
After graduating from UM with a philosophy degree in 1973, he traveled to his grandparents' home state California and started attending spiritual circles, meditating and reading ancient texts.
"I wanted spiritual creativity and the rigor of discipline," he says. "I explored and looked for the connections between the scientific and the spiritual realms and attended many workshops and conferences that explored both connections."
He became a firefighter with the California Forestry Service.
"It was such a great, wild adventure," he says.
"I was out in the great outdoors, exposed to the vastness and breathtaking beauty of nature, and was able to serve when raging fires threatened that beauty."
He developed an interest in holistic health during travels around the Yucatan in 1975-76, and when he later worked in a Berkeley health food restaurant.
His outdoor adventures were somewhat curtailed when he married in 1978, and then worked as many as three jobs at a time to support his two children and his wife's graduate studies. He divorced, obtained an MA in theology and a M.Div. from the Graduate Theological Union in 1997, and was ordained.
"I knew I didn't want to minister within one of the mainline churches," he says.
He led workshops on spirituality, meditation and used ancient practices and texts from the world's oldest religious traditions as a foundation for and link to relevant 20th century living. He also organized conferences to explore the relationship between science and spirituality.
Curtis met holistic health practitioner and fellow pilgrim Marianne Lonergan and they married in Scotland in 2000. While attending a science and spirituality conference at Imperial College in London, they were invited to become co-editors of the internationally renowned Journal of Alternative and Complementary Medicine.
They did this for four years before moving to Lawrence in 2004 to pursue energy medicine doctoral work. An on-going interest in the importance of nutritional health and the use of probiotic whole foods led them set up their Living Foods USA business.
Curtis loves his sojourn in America's heartland.
"Lawrence is a great place," he says.
"I love the people and pretty much everything's enjoyable. It's an ideal place for personal and spiritual growth, and developing deeper connections."
More like this story on Lawrence.com