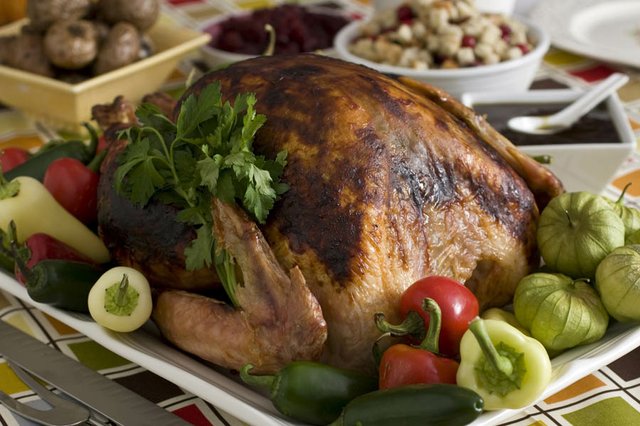 Originally published November 16, 2010 at 7:41 p.m., updated November 16, 2010 at 7:41 p.m.
We know it's hard to believe, but once upon a time, your grandmother held her first Thanksgiving dinner.
Yep, it happened.
Waaaaay back then, your grandmother (or father/mother/aunt/family martyr or whomever it is who traditionally hosted your annual turkey day) was a total novice at running a huge family holiday. It's hard to picture, but everybody's got to start somewhere.
And, every once in a blue moon those family duties shift and suddenly you find yourself staring down a 22-pound bird that's not defrosting fast enough.
It does happen, and if you're a Thanksgiving first-timer (or a many-timer looking to streamline things) we're here to help. We've got a Thanksgiving guide full of the kinds of checklists that can take some (not all, sorry!) of the stress out of the holiday.
So, pull up a chair and read it through. Then, keep this guide handy the day of and we're pretty sure things will go off without a hitch.
And if they don't? Who cares? It's a holiday. Have fun, relax and don't stress if your bird needs to go in for an extra hour or the pie crust burns.
It's just Thanksgiving.
Turkey how-to: Better know a bird
Chicken about turkey? Don't know your livers from your gizzards? Not sure how to defrost the bird? (Pro tip: If you haven't started, you might want to begin defrosting that sucker NOW).
There's one place to get all those answers and more: Butterball. These folks have been doing turkey forever — OK, since 1954 — but what matters is that they have people on hand who can answer your questions.
They've got a hotline! Videos! Calculators! A mobile site! In fact, it's almost too much.
So, here's what we recommend for a first-timer:
Watch
Don't have time to watch? Here are a few highlights:
Thaw breast side up.
Refrigerator thawing takes 24 hours for every 4 pounds of turkey. (So, you need 5 whole days for a 20-pound bird)
Cold water thawing takes 30 minutes for every pound. Change the water every now and then to speed up the process.
Place thawed turkey, breast-side up, on a flat rack in a shallow, open pan, about 2 inches deep.
Don't forget the meat thermometer — place it in the lower portion of the bird's thigh, being careful not to touch the bone.
Cook the turkey in a 325-degree oven. The turkey is done when the meat thermometer reaches 180 degrees.
Work and plan ahead
Remember those kids who would do their homework on Friday night so they'd have the rest of their weekends to themselves? Yes, we know they're dorks and all, but they were on to something, especially as it translates to Thanksgiving. The more you plan or do ahead of time, the better.
Planning hints:
Compile your recipes.
Create a grocery list for all items in those recipes except for the turkey (which should be defrosting NOW).
Construct a timeline for turkey day — know when you need to do what so dinner happens on time.
Figure out what you can make ahead. Some things to try: Rolls, casseroles (green bean and sweet potato), dressing, cranberry sauce and pie.
Or, plan on what your guests are bringing and double-check to make sure it's happening.
Note: Some things, like mashed potatoes, are best made the day of, but at least you can plan to boil and mash them rather then using up valuable oven space by baking a casserole the day of.
Extra credit
Try baking from scratch the day before. For bread ideas, check King Arthur Flour. For ideas on pie, see our story on desert alternatives.
Emergency contacts: Check out Whole Foods for an entire section of "Thanksgiving Favorites" recipes.
Forget something? Know when the stores close.
Did you or a guest forget butter, cranberries or (gulp) the turkey? Here's a list of Lawrence's major groceries and their hours on Thanksgiving Day:
Hy-Vee: Open until 2 p.m.
Dillons: Normal hours, though some departments will be closed, or close early
Checkers: Normal hours.
The Merc: Closed. But open normal hours the day before.
Emergency contacts
Hy-Vee, 3504 Clinton Parkway, 832-0044
Hy-Vee, 4000 W. Sixth St., 832-9449
Dillons, 1740 Mass., 842-2942
Dillons, 3000 W. Sixth St., 843-0652
Dillons, 1015 W. 23rd St., 841-3366
Dillons, 4701 W. Sixth St., 838-0100
Checkers, 2300 La., 843-0023
The Merc, 901 S. Iowa, 843-8544
Count on your table manners
What do you need to set the table? You probably have most everything on hand, but you may want to pick up a few extra things for the big event.
Table basics:
Dinner plates
Glasses
Place mats
Napkins (Paper or cloth)
Silverware: Forks, spoons, knives
Towels, trivets or cloth napkins for each hot item
Bowls or plates for each item in the meal (turkey, green bean casserole, cranberries, bread, potatoes, sweet potatoes, stuffing, dressing, etc.)
Chairs enough for everyone
And table space for everyone, too. Ask for guests to bring a card table if you think it might be a bit too tight.
Ice enough for everyone. Take care not to run out.
Extra credit
l Salad plates
Bread plates
Silverware: Salad forks
Gravy boat
Fancy carving knives
Butter dish
Sugar bowl
Bread basket
Wine glasses
Table cloth
Pitcher for ice water (or sangria, if that's how your Thanksgivings roll)
Emergency contacts
Try locally owned stores to get something unique for your holiday table:
Weaver's Department Store, 901 Mass., 843-6360
The Bay Leaf, 717 Mass., 842-4544
In the kitchen
What you need in the kitchen may be more than what you use daily for things like boiling pasta water and making stir-fry. Take inventory of what you have and figure out what you absolutely need to get and what you can do with out.
Basic cooking tools:
Meat thermometer
Roasting pan/rack
Basting brush
Hot pads/oven mitts
Potato masher/hand beater
Cookie sheets (for warming/baking rolls)
Wooden spoons
Ladles
Measuring spoons, cups
Pans, pots
Knife large enough for carving
Pie pans
Extra credit
Turkey roaster
Stand mixer
Oven-to-table stoneware
Emergency contacts
Big box stores will have any of the kitchen or table items you're missing:
Bed Bath and Beyond, 3106 S. Iowa, 842-4439
Target, 3201 S. Iowa, 832-0660
Wal-Mart, 3300 S. Iowa, 832-8600
Wal-Mart, 550 Congressional Drive, 841-1700
Wrangling leftovers
For health and safety reasons, your leftovers should be headed to the fridge within 2 hours of you sitting down to dinner. Got lots? Here's how to handle them:
Make sure to have paper plates or cheap Tupperware to send food home with guests.
Use shallow Tupperware for dense items — deep Tupperware can be a breeding ground for food-borne illness.
Be nice to your drains and disposals. Roto-Rooter advises never to put fats or cooking oils down the drain as they solidify in pipes. Also, avoid putting poultry skins, celery, fruit and potato peels in the garbage disposal, as they won't be sufficiently broken down because of their stringy, fibrous and starchy natures.
Freeze what you don't think you'll be able to eat by the end of the weekend.
Emergency contacts
Douglas County Extension Services, 2110 Harper St., 843-7058. Or checkout our leftover guide.
Need a game to watch?
Unfortunately, the KU men's basketball team doesn't start its Thanksgiving tournament until Friday night (check www.kusports.com for more), but there are three NFL games for you to chose from on turkey day:
NFL Games
Patriots at Lions, 11:30 a.m., CBS
Saints at Cowboys, 3:15 p.m., FOX
Bengals at Jets, 7:20 p.m., NFLN
Emergency contact
911 for the Lions, Cowboys and Bengals, who are in last place in the NFC North, NFC East and AFC North, respectively.
— Staff writer Sarah Henning can be reached at 832-7187.
More like this story on Lawrence.com