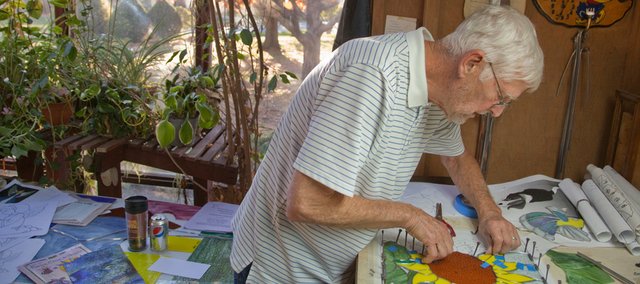 Friday, November 19, 2010
Past Event
Sunday, November 21, 2010, 10 a.m. to 5 p.m.
Community Building, 115 W. 11th, Lawrence
Not available
Hundreds of colors illuminate the room as the sun glistens off the glass in Harvey Murphy's workshop. Murphy is a craftsman specializing in stained-glass pictures.
He spends the morning tracing, scoring, cutting and grinding to form pieces of glass that will fit together to form a picture. The process is similar to putting together a puzzle, but with an advantage.
"Others have to find the right piece to fit," Murphy said. "I get to make the right piece to fit."
When the puzzle is complete, Murphy will add it to the rest of the pieces he has put together in preparation for this weekend's event.
Sunday, Murphy and about 130 other artists and craftsmen will participate in the 34th annual Holiday Bazaar. The Bazaar, sponsored by the Lawrence Parks and Recreation Department, features handmade arts and crafts including, pottery, stained glass, paintings, candles, woodwork, quilts and much more.
Duane Peterson, special events supervisor for the department, said it is the 11th year in a row that the Bazaar has sold out with 130 artists. Peterson expects 3-5000 visitors throughout the day.
"It's a unique event because it kicks off the holiday season," Peterson said. "This is the place to go if people need to find Christmas gifts."
He said the prices are not bad either.
"With the economy how it is, artists are selling things at a more reasonable price that is in tune with peoples' budgets," Peterson said.
For Murphy, the best part of the Bazaar is the interaction with visitors. He has been participating in the Bazaar for six years now and looks forward to catching up with fellow craftsmen and sharing his passion for glass with visitors.
"My satisfaction and pleasure comes from the challenge of doing the work and then showing off," Murphy said. "I enjoy talking to people about glass and listening to what they have to say."