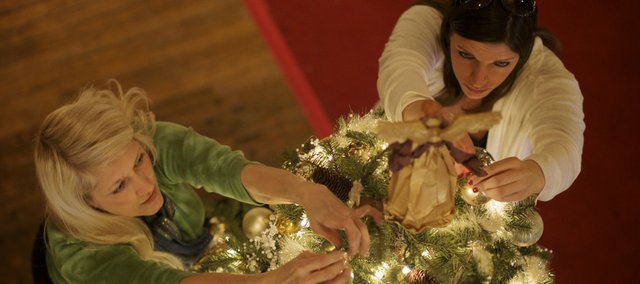 Originally published November 21, 2010 at midnight, updated November 24, 2010 at 3:42 p.m.
Fifty trees have been chopped, plucked and decorated. They will be put on display for the 24th annual Festival of Trees event, a benefit for The Shelter Inc.
The fundraiser launches with a viewing from 10 a.m to 8:30 p.m. Nov. 29 at Liberty Hall, 644 Mass. And the yearly auction will kick off at 7:30 p.m., just after a patron party that starts at 6 p.m. Nov. 30, also at Liberty Hall. Tickets are $35 for the auction and $3 for adults at the public viewing.
"No matter how much money we make it's always a good event for us," says Judy Culley, director of The Shelter. "Not only is it great because it makes money for us, but we really want to raise people's awareness about the needs of children in the community and give a nice Christmas gift to the city of Lawrence by putting this together."
Last year's event raised $38,500, with 55 trees on display. More than 300 people paid to attend the auction. All of the money went to the Shelter Inc., an agency which served nearly 2,000 children last year. In its residential program, the Shelter Inc. served more than 400 children, and about 1,100 children participated in its prevention programs. The Shelter specializes in placement and prevention programs, as well as offering emergency shelter for children. The Festival of Trees is the agency's biggest fundraiser.
One of last year's biggest money-makers was a colorful tree laden with characters from Dr. Seuss' books: Horton, the Lorax, the Cat in the Hat. Each tree has a theme and a name, and that tree was called "Seuss is loose at VNA." Staff from Visiting Nurses Association, including Mitzie Gimblet, decorated it.
"It was a special tree," says Gimblet. "I really enjoyed working on it."
The tree fetched $2,600, with other trees from last year pulling in anywhere from $400 to $2,000.
Some agencies use the trees to broadcast a message or provide information about an organization. For instance, there has been a Breast Cancer Awareness tree covered with pink ribbons. There have been Girl Scouts and Cub Scouts trees in the past, too, while others have featured more relaxed themes.
Last year there was a New Year's Eve tree, which was decorated with party favors and colored party hats. There has also been a Candy Land tree before. This year there will be a tree called Retro Rudolph.
"That one sounds like fun," says Culley. "There are all kinds of trees that people come up with. Until they actually show up you don't really know what it means when you look at the title. Then you look at the tree, and it's unbelievable."
Many of the people and agencies that assemble and decorate a tree once end up doing it annually.
"The great thing about it is we not only have people who do it every year but we also have new people who do it every year," says Culley. "And every time I think we've seen every kind of tree there is, we see something new."
Gale Vic has been involved in the event for more than a decade. This year she will embrace a Southwestern-theme for her tree. The tree is shaped like a cactus and is speckled with chili peppers.
Her favorite trees tend to be the ones put together by children's organizations like Girl Scouts and CASA.
"It's a really nice holiday tradition," she says. "It's such a nice way to kick off the holiday season."
More like this story on Lawrence.com