Sunday, November 21, 2010
Past Event
Saturday, December 4, 2010, 11 a.m. to 1 p.m.
Downtown Lawrence, Lawrence
Not available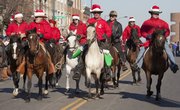 Robin Dunn is starting to get excited. The event that kicks off her holiday season is nearly here: The Downtown Lawrence Old-Fashioned Christmas Parade will take place at 11 a.m. Dec. 4, launching at Seventh and Massachusetts streets and heading south.
"It kicks of the Christmas tradition, I think for us and the crowd," Dunn says.
It will be the 18th year for the event, which features only horse-drawn carriages, allowing no mechanical entries. And for the past six years Dunn has pulled the carriage that carries the parade's most popular rider: Santa Clause.
"Every year we try and have something outstanding in the parade," says Dunn. "We always have something unique that makes it outstanding. Most of these are personal wagons, carriages, not company owned. That's what makes it so homey and festive."
Last year the parade featured an eight-horse hitch from Ames Percheron Farm. This year's parade will have several four-horse carriages. One if the highlights will be the Wells Fargo Stagecoach, a carriage originally constructed in 1895, which debuted last year. "That will be a lot of fun," says Phil Bradley, chairman for the parade's committee. "It is just a wonderful tradition in Lawrence and in that aspect no different than any other year."
Entries for the parade are still trickling in, but Bradley expects more than 80 participants. Several of the carriages in the parade are reminiscent of life more than 70 years ago. There will be a an old hearse with a casket in the back, as well as a milk delivery wagon. One new carriage that will lope downtown comes from South Dakota. People from the McCrossan Boys Ranch, a nonprofit organization devoted to helping troubled boys ages 10-18 years old, will haul horses and a carriage 300 miles to be in the parade.
Two of the parade's biggest sponsors are Wells Fargo Advisers and the City of Lawrence, says Bradley, but more than 50 businesses have contributed this year. And around 200 people have written checks out to the parade.
"No one makes any money doing this. There is no paid staff," Bradley says. "It all goes to the parade."