Sunday, November 21, 2010
Past Event
Sunday, December 5, 2010, noon to 5 p.m.
Health Care Access Clinic, 330 Maine Street, Lawrence
Not available
Photo Gallery
6th Annual Holiday Homes Tour preview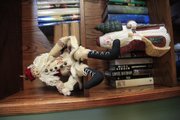 Sharon Stultz will feature her extensive Santa Claus collection when she opens her home for the sixth-annual Holiday Homes Tour on Dec. 5, 2010. The tour benefits the Health Care Access Clinic.
They say the holidays are truly more about giving than receiving, and Sally Zogry, development director for Health Care Access, hopes the giving spirit is alive and well this year in Lawrence.
Residents can purchase tickets from various locations throughout the city and come view the company's Holiday Homes Tour on Dec. 5. All proceeds benefit Health Care Access, providing medical coverage for low-income Douglas County residents.
"This is one of our two main fundraising events, awareness events, for the year," Zogry says. "This is our sixth annual. We have very nice people in the community who love to decorate; they open their homes."
Zogry says a gift and bake sale, held at Bella Sera Condominiums, 4500 Bob Billings Parkway, will serve as the home base for the whole event, with tickets available for purchase, maps to all of the participating houses, donated baked goods for sale and free hot chocolate and coffee. She says participants of the tour can get their bearings there first before heading out to view the decorated homes, or just come in from the cold for a while and relax.
"People can take a break, look around and buy cookies," she says.
Jean Milstead, a returning contributor to the tour, says she's excited for this year's event and says the cause is a good one.
"If we can provide in some way shape or form some additional health care to individuals that can't afford it, then we should. Thank goodness we have doctors, dentists, nurse practitioners who will donate their services, because that's what makes this all available. It's a great thing and we're lucky to have it in our community."
Milstead says the harsh realities of health care costs were made apparent to her after she retired and found out what her insurance could cost in the future.
"I retired in 2000 and worked for Douglas County Bank, and they had a wonderful benefit program, but when it comes time for me to purchase that same health care it would have cost me over $1,500 a month. Health insurance is very important. People wait for insurance because of cost, and this way they can get treatment."
Milstead has family, in the form of a twin sister, coming to help her with her decorating. She says she already has her holiday scheme planned out, a unique gold and silver theme.
"I don't use red for Christmas," she says. "I leave the decorations out for a long time, and I've gotten tired of red."
Another contributor to the event, first year participant Sharon Stultz, has the special perspective of also being a member on the board of directors for Health Care Access. Like Milstead, she believes in the necessity of the assistance.
"I think it's pretty important, I'm actually a new board member," she says. "I did spend a day at the clinic, and it's amazing the type of people they get and the services that are required and, I have to say, it wouldn't be around if it weren't for the generosity of the people of Lawrence and the doctors. There's definitely a need for it."
Stultz says compared to some organizations, Health Care Access has been resilient in regards to funding during the current economic downturn, though the homes tour is always a major piece of the fundraising puzzle for the organization.
"I think we're actually pretty lucky, they're still steady (donations). We have several service projects that help bring in the money, and we also partner with other organizations that have been very generous for us."
Stultz is decking her halls with traditional Christmas ornamentations this year, decorating with green, gold and red. She plans on showing off a large collection of Santa Clauses as well.
Another first-year donor, Lawrence resident Mary Ann, is going all out with a diverse and festive feel in her home this holidays.
"It'll be traditional decorations — a Christmas tree, garland on the fire place, kitchen table set for children to eat at, dining room table set for adults to eat at. We have some Southwest things in the hearth room, it will have some Southwest décor to it. By that, I mean storyteller dolls, a Southwest nativity. It's just sort of a gaudy, traditional Christmas. "
Ann says she's enthused to be a part of the tour, and respects Health Care Access' professionalism.
"They can take a dollar and do more with a dollar than any organization I know," she says. "They have great support from the medical community. I know, or am acquainted with, a couple of the doctors who work for it. It's just — I think it's great. And it's much needed."
More like this story on Lawrence.com